NoDa Brewing, Olde Mecklenburg take Craft Freedom fight to court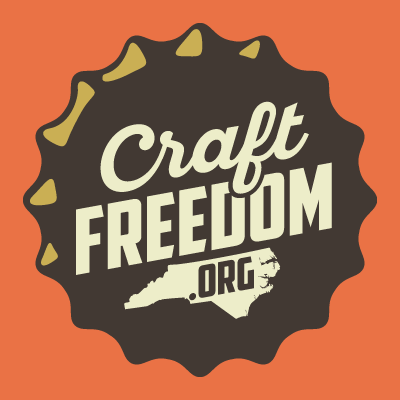 After repeated attempts to change North Carolina's self-distribution laws via state legislature, Olde Mecklenburg Brewery and NoDa Brewing Co. made good on their promise to bring their battle to the courtroom.
On Monday morning, the two breweries, along with the organization that has resulted from this fight, Craft Freedom, sued the state of North Carolina, claiming that the current distribution laws "violate multiple provisions of the North Carolina Constitution."
That was from a statement prepared by Bob Orr and Drew Erteschik, the attorneys who will represent the two breweries and Craft Freedom. The statement went on to say current laws "punish our state's craft breweries for their hard work and success."
The 22-page lawsuit was filed in the Wake County Superior Court and addresses the quick ascension of craft beer in this state, noting that North Carolina is 11th in the nation for beer production and also has created more than 10,000 jobs and provides more than $300 million in annual revenue.
The lawsuit then argues that the state "is artificially suppressing this economic growth … through two unconstitutional laws." The first being the current distribution cap, which states that a brewery must give up all distribution rights to a third party after exceeding 25,000 barrels. The second refers to the state's franchise law, which the lawsuit says "forces craft breweries to enter into oppressive, one-sided contracts with distributors that literally last forever, and which require the breweries to turn over control of their product – including pricing – to the distributors."
"The Distribution Cap and Franchise Law are the opposite of the American Dream," the lawsuit goes on to say. They punish small business owners for their hard work by stripping them of their businesses when they achieve 'too much success,' forcing them to hand over their businesses to private parties who reap the profits.
"These laws violate multiple provisions of the North Carolina Constitution, which has never tolerated protectionist schemes of this kind."
This is yet another chapter in the ongoing battle between Craft Freedom and the state distributors, one that the latter has come out in front of every time, most recently by the stripping down of a bill introduced in the House that would have raised the distribution cap to 200,00 barrels. By the time that bill passed over to the Senate, all language pertaining to distribution and franchise laws for North Carolina breweries was removed.
That 11th-hour surprise change caught many off-guard, and also was what prompted the beginnings of this lawsuit being filed. While there was a last-ditch attempt by Rep. John Bradford (R – Mecklenburg) to try and bring the two parties together in late April for a compromise, not much hope was seemingly placed on that happening.
Speaking three weeks ago, Olde Mecklenburg founder John Marrino said he was ready "to go full throttle on the legal front at this point."
"We have zero confidence that the distributors at all are serious in talking with us," he added.
As the case was just filed Monday morning, no timeline has been set regarding a trial date/additional next steps. Defending the state position will be the office of N.C. Attorney General Josh Stein. Laura Brewer, communications director for the attorney general, had no comment on the case other to say "our office is reviewing it."
There's reason for the breweries to feel confident as other states have seen similar cases that sided with the brewers, most recently Texas. Last August, a Texas state district judge ruled that a bill which became law in 2013 stating brewers could not receive monetary compensation from distributors for their distribution rights was unconstitutional.
However, the office of Texas' attorney general (which represented the state Alcoholic Beverage Commission) appealed the ruling, and it currently is waiting to be heard in the Third Court of Appeals in Austin – which is an indicator of the long process that could await Craft Freedom, even if the two breweries are initially victorious.
"This is a drastic step to take," NoDa co-owner Todd Ford said. "And it's obviously an expensive and time-consuming step to take. That's one of the reasons we chose not to go this route to begin with. But if you don't have any other options, this is what you have left."
Before the lawsuit was filed, Marrino remained optimistic that the laws would be changed, albeit if they had to go a different avenue to do so.
"The thing is, we're not just representing NoDa and OMB," he said. "There are 150 other breweries that will benefit if we're successful. We're quite happy to do the work. It's fortunate and unfortunate that we're first in line but we're going to win and then this whole industry is going to benefit, and that's a good thing."