Obama to Nominate Charlotte Mayor Anthony Foxx as next Secretary of Transportation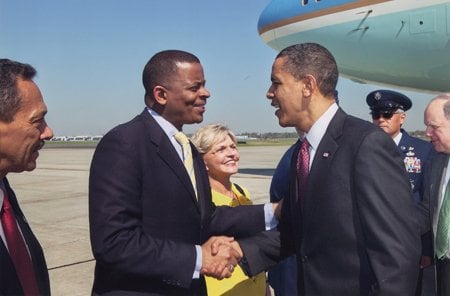 Congratulations to Anthony Foxx, who, as McClatchy's Franco Ordonez reported today, will be nominated by President Obama as the next United States Secretary of Transportation (he still has to be confirmed). Since Foxx first ran for mayor, we've covered him extensively. Here is a look back at some of those stories and interviews:
From October 2009:
Man of the Past: If elected, Anthony Foxx would be Charlotte's youngest mayor, by one year. But for a young guy, he has quite a history with the city. And that's what he's counting on
By Jen Pilla Taylor
From January 2011:

The Mayor Will See You Now: In his first year as mayor of a city still recovering from the banking meltdown and suddenly dealing with a school-funding crisis, Anthony Foxx has been thrust into a role he did not expect: the city's psychologist-in-chief. But that doesn't mean he's been able to stay above the political fray

By Jen Pilla Taylor
From June 2011 (on this blog):
Anthony Foxx and Jim Rogers on the Democratic National Convention
From October 2011:
One on One with Anthony Foxx: The mayor discusses education, jobs, the CRVA, the DNC, and more
By Richard Thurmond
From May 2012 (from blog The DNC In The CLT)
Bonus Q&A: Anthony Foxx: Foxx believes the Charlotte in 2012 Convention Host Committee's civic efforts will speak louder than political rhetoric
By Jarvis Holliday
From September 2012:
Mayor Foxx's Moment: The DNC could be Anthony Foxx's breakout moment. Here's how
By Richard Thurmond
And over on his blog Poking the Hornet's Nest, Greg Lacour has written about Foxx a lot, including today not long after the news broke.