Olde Mecklenburg Brewery Brings Home Gold Again
Fat Boy victorious in Baltic Porter category at European Beer Star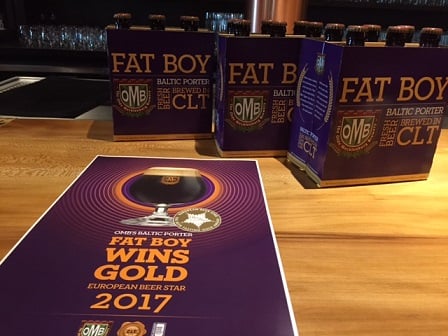 For the second time in three years, Olde Mecklenburg has gone overseas and had one of its beers stand taller than any other.
On Wednesday, it was announced OMB's Fat Boy won the gold medal at the 2017 European Beer Star competition. The year-round beer placed first in the Baltic Porter category. And while a top beer award is always a nice feather in any brewery's cap, OMB sales director Ryan Self made it clear how the brewery thought of this competition.
"This is our Super Bowl," he says. "Any accolade is a great honor, but this is the one we look at and you see the judges … their palates are so in tune to European beers. It's like judging an IPA contest in San Diego – nothing's going to sneak through and everything is going to be judged very rigorously."
In 2015, Olde Mecklenburg's Mecktoberfest won the brewery's first EBS gold medal, in the Marzen category. Self says all praise goes to the brewers for both medals, especially considering the competition. A record 2,151 beers from 46 countries were entered in the overall contest.
"The big thing for us is that we're a German-style brewery and (Fat Boy) is a very classic European-style beer," he says. "And so going up against those (breweries) that literally invented and perfected the style, and winning is a tribute to our brewers.
"My other hope is this continues pushing Charlotte and all of the local breweries into a bigger spotlight. When people look at this list and see Sam Adams or Sierra Nevada win and say 'Oh, I know who those guys are' but I imagine some seeing Charlotte, North Carolina and thinking, 'There are breweries there?' So this helps get the word out to others the way we know about the beer scene here."
OMB owner John Marrino was on hand in Nuremburg Wednesday to accept the award (along with attending a trade show) and in a prepared statement said, "To win a second international gold medal in Germany is validation that our beers are world class, true-to-style and pure. We're grateful to be recognized for our dedication to quality and traditional brewing methods. We're an American brewery with German inspirations, so to compete in Germany and win gold is the absolute highest honor we could achieve."
Like all of Olde Mecklenburg's beers, Fat Boy abides by the German Reinheitsgebot purity law, brewed with only hops, malt, water and yeast. The porter is OMB's heaviest hitter at 8.3 percent ABV, and its dark complexity and character bring notes of chocolate, fruit and toffee. The barrel-aged version of Fat Boy has also been a popular yearly event at the brewery; look for the 2018 release this February.
To celebrate the award, Olde Mecklenburg will be handing out samples of the Baltic porter Friday beginning at 11 a.m. (limit one per person and, of course, you have to be 21). The sampling runs the entire day until OMB closes at 11 p.m.
"We'll let the whole city try it if they want to," Self says.