Olde Mecklenburg's airport bar opening this week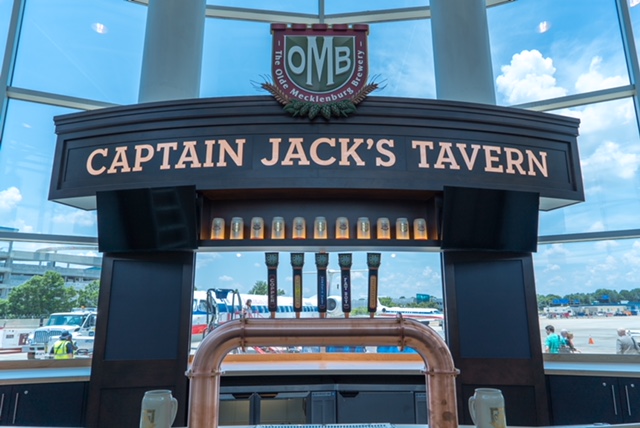 Charlotte Douglas Airport is set to get its first full taste of local craft beer.
Captain Jack's Tavern is Olde Mecklenburg's latest expansion and will open at the airport sometime this week (finishing touches are being put on, so there was not an exact date as of this post, but this will be updated when it gets announced).
While OMB beer (along with a few other Charlotte breweries) can be found in existing airport restaurants and shops such as Carolina Beer Co., Bad Daddy's and 1897 Market, this is the first local taproom to be featured at the airport – with another right behind it (we'll get to that part at the end of this article).
"OMB is Charlotte born and brewed, and OMB brews are not available outside the Charlotte region," said Olde Meck marketing manager Jocelyn Ruark in a press release. "The airport is a great opportunity to showcase our beer to travelers and to highlight how we contribute to making the Queen City a special place to visit and live.
"For traveling Charlotteans, at the airport we're their last taste of home and their first welcome back. That is invaluable to us."
Captain Jack's Tavern will be located near the beginning of Concourse E near gates E4 and E5. The bar will feature four of Olde Mecklenburg's most popular beers – Captain Jack Pilsner, Copper Altbier, Fat Boy Baltic Porter and Hornet's Nest Hefeweizen. The final tap is a rotating seasonal, which will begin with Munzler's Vienna Lager.
The tavern seats 14 at the bar, with ample space around the room as well. Olde Meck is working with HMS Host in this space, with OMB providing the beer and HMS running the bar. Small bites such as salads and sandwiches will be available as well.
"We were asked by HMS Host to participate in their Concourse E plans and we happily accepted," said Olde Meck founder John Marrino in the release. "We appreciate and value HMS prioritizing a truly local brand in Charlotte's airport instead of a global conglomerate beer that you can find anywhere."
"It's just another way of showing travelers from all over the world that Charlotte is a special place, and a great place to live."
Olde Mecklenburg will also soon have company in Charlotte-Douglas, as NoDa Brewing's airport taproom is coming along as scheduled. NoDa is targeting an August opening for its taproom, which will be located in Concourse A and feature 12 taps, food and cans to go. Stay tuned for an update on this in a month.