On Tap: Charlotte Craft Beer News & Notes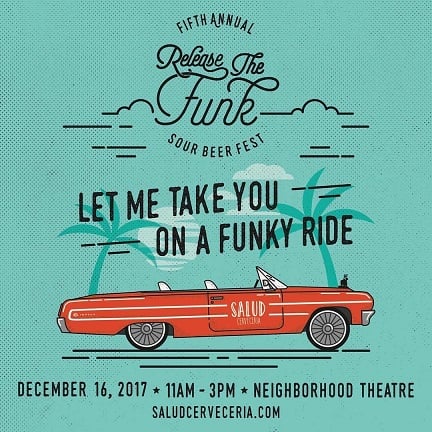 Here's a rundown of the latest happenings in local craft beer:
–This month marks ticket sales for two of Charlotte's premier beer festivals. First up is Salud's Release the Funk 5: Let Me Take You on a Funk Ride sour festival on Dec. 16, where tickets went on sale Wednesday. This annual festival brings together some of the top sour beers and wild ales from local, regional and national breweries – some of which sign special permits to pour exclusively and have their only North Carolina appearance at this Neighborhood Theatre event. Tickets, which are $70 and available online only, can be purchased at saludbeershop.com or saludcerveceria.com. Look for more to come on this event as it draws closer, and it's advised to get tickets sooner rather than later, as half of the allotment sold in one day.
Another must-attend festival, Brawley's Black & Blue, is changing it up a bit for its ninth year as far as ticket sales go. While previous years had online sales, this year all tickets will be sold at Brawley's on Nov. 26 at 4 p.m. Those interested will be able to line up at the shop beginning at 11 a.m. Tickets are $65 for the event, which takes place March 17 at Visulite Theatre, with a limit of two tickets per person. There are only 350 tickets for B&B 9, and it is assured all will be gone the day of sale.
–It's approaching winter ale/beer season and while I'll have a rundown on local ones to watch out for in the next couple weeks, there's one non-local (aside from Highland's Cold Mountain, of course) that people flock to: Great Lakes Christmas Ale. And the Ohio brewery is celebrating its "first pour" of the spiced ale brewed with honey with special events at two Charlotte craft beer locations: Growler USA in Ballantyne (Thursday at 6 p.m.) and Uptown's Flight (Nov. 12 at noon). And if you can't make it to either of those events, you're in luck, as packaged bottles just hit local craft shops this week.
–Two local craft beer anniversaries for Saturday: Three Spirits Brewery is celebrating two years beginning at noon. This event will feature new beers from Three Spirits, along with live music, face painting and a "crafts and drafts market" featuring local vendors. With an anticipated large crowd, the brewery is shutting down the front parking lot, with parking available behind Three Spirits or at the Woodlawn Lynx Blue Line station. It's also the three-year anniversary for Craft Tasting Room and Growler Shop. Beginning at 11 a.m., the SouthEnd shop will serve up pints all day for $3.
–Finally, with Stranger Things premiering its second season recently (no spoilers!), Unknown Brewing is bringing back "Strange Brew." This event, which takes place Saturday from 6:30 to 10 p.m., pulls back the rules on brewing beer. The idea is to create unusual, strange and unexpected beers. All bets are off so prepare your palate, as you'll be the judge on what crazy beer was your favorite. Twenty local and regional breweries are scheduled to participate, including Birdsong, Blue Blaze, D9, Dreamchasers, Lenny Boy, Legion, NoDa, Sycamore and Triple C, among others. There will also be live music as well as "strange" food and games/activities. Tickets are $25 and can be purchased here.