Opinion: The Madness of King Gun
Arming teachers isn't a 'bad idea.' It's crazier than that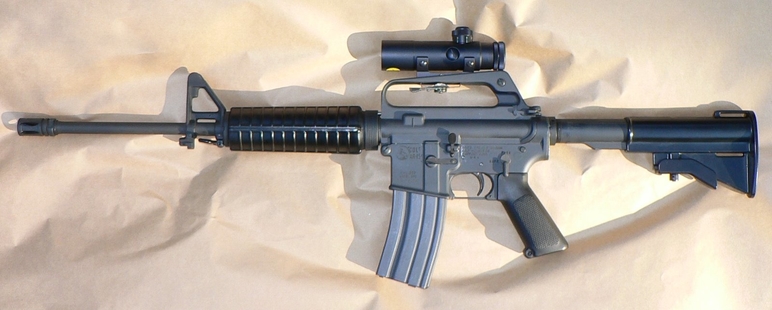 Two news stories about North Carolina and guns:
According to federal data released this week, more North Carolinians died from gunshots in 2016 than in any of the previous 35 years.
A new poll by Elon University, in conjunction with The Charlotte Observer and The News & Observer in Raleigh, shows that 78 percent of public school teachers in North Carolina think that arming teachers in school is—using the poll's language—a "bad idea."
I have an issue with that language. Arming teachers isn't a "bad idea." It doesn't even rise to the level of a "bad idea." It's a self-evident absurdity, as one of the teachers interviewed grasped: The notion "reads to me like a bad Onion article … You don't even trust me to heat a child's lunch for liability reasons in case it gets too hot, but you're going to give me a gun?"
Right. I have my own theory about the arm-the-teachers gambit: It's a handy diversion, a cynical red herring designed to steer attention away from any workable solution to gun violence in schools and society at large; and an intentionally ridiculous facsimile of a policy that merges tidily with the American right's long-term goal to privatize public schools. (I've heard and seen numerous teachers in interviews and online express some variation of, "Who in the world would want to teach in a school with armed teachers? Who would send their kids there?" Exactly.)
But regardless of motive, the proposal has a distinct gaslighting effect. Engaging it on its own terms, if only to debunk it, makes you feel as if you've entered the realm of the insane. "Look, I don't want to die, and I don't want to kill anyone," said one of the teachers from the Elon poll. "I want to teach."
"The chance that a teacher would shoot a bad guy coming into the classroom with an AR-15 is very slim," said another. "An accidental shooting or a student getting hold of the gun is much higher."
"Teachers holstering weapons inside school buildings will not provide a feeling of safety and comfort to our children," said a third, "particularly for our black and brown students."
These things actually need to be said? You run into the same kind of cognitive dissonance from experts trying to "make sense" of the state's rash of gun deaths (from the Observer):
Though experts say they're unsure what's behind the increase, they point to a number of possible causes.
Some say the opioid epidemic has helped spur more illegal drug trafficking, which in turn has spawned more drug violence.
Among the many homicides that police have attributed to drugs: 37-year-old Cornelius Drayton was fatally shot at a Charlotte gas station last June after people in two cars met for a drug deal.
Others believe there are simply more people toting guns these days.
As more people carry guns, "there inevitably will be a rise in the number of people who use that gun in some sort of altercation," said Mike Turner, chair of UNC Charlotte's criminology department.
I sympathize deeply with Ames Alexander, the veteran investigative reporter forced to type those sentences with a straight face. Yes, it does appear that a thriving drug trade and the nearly unlimited availability of guns leads to an increase in people getting shot.
I don't intend this as a call for gun control legislation, which the Parkland shooting survivors are handling as well as anyone could. But it is a plea for the sane among us to recognize madness when we see it, and not to get caught in an extended argument with it. It's futile and exhausting at a time when we all need to guide our time and energy toward civic action that accomplishes something. The proper response to "arm the teachers" is to laugh bitterly and, when the time comes, vote.