Party Like It's 2012—with 15,000 Members of Media and 6,000 Delegates Coming
DNC Host Committee selects thirteen local venues to hold welcome events over two days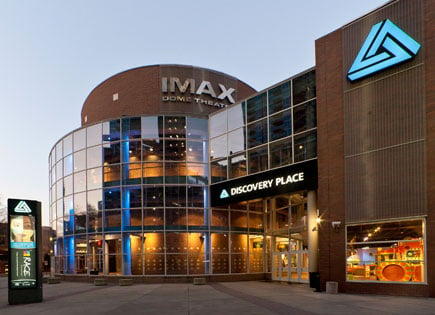 The Charlotte in 2012 Convention Host Committee has announced a total of thirteen venues they've selected to host welcome events for the approximately 15,000 members of the media and 6,000 delegates who are expected to arrive in Charlotte the first week in September for the Democratic National Convention.
Usually I write about parties over on the Dusk Till Dawn blog, but this is DNC style, baby (and several months away). Though it's probably not fair to tell you about events that the vast majority of you reading this won't be able to attend (unless you're a journalist or delegate).
But there are a few reasons why you should care:
1) With the welcome events beginning Saturday, September 1, this stretches convention-related activities and events to nearly a full week of economic impact in Charlotte. Previous announcements from the DNC touted events beginning September 3 (at Charlotte Motor Speedway) and ending September 6 (at Bank of America Stadium).
2) The Media Welcome Event will take place September 1 at NC Music Factory. I couldn't think of a better place to host as many as 15,000 credentialed members of media from around the state, country, and world. Sitting on thirty-seven acres with fourteen venues (from Bask On Seaboard and Butter NC to VBGB Beer Hall & Garden and Wet Willie's, to name a few), the Music Factory has the kind of appeal you would want journalists to write home about. Plus, there aren't many venues in Charlotte that are housed in decades-old brick buildings—those tend to get torn down to make way for shiny, new high-rises, rather than be renovated the way the Lazes family did.
3) The Delegate Welcome Event will be held Sunday, September 2 and be spread over twelve venues throughout Charlotte and surrounding areas. The delegates, who presumably are coming from all fifty states, will get a chance to see some of our best cultural arts venues and tourist attractions. A hope is that some would enjoy themselves enough to return to vacation here with their families. The chosen dozen are: Charlotte Museum of History, Duke Mansion, Daniel Stowe Botanical Garden (in Belmont), Carolina Raptor Center (in Huntersville), U.S. National Whitewater Center, Wadsworth Estate, NASCAR Hall of Fame (which was the site of a media reception the DNCC hosted two weeks ago), Mint Museum, Discovery Place, Bechtler Museum of Modern Art, Harvey B. Gantt Center for African-American Arts + Culture (named after the Charlotte icon whose story the DNC will share with the world), and Levine Museum of the New South.
4) Multiple events over two days at multiple venues means there will be increased opportunity for local businesses to provide services, according to the Host Committee. They'll need event planners, caterers, florists, and more. Charlotte in 2012 will begin seeking event planners to plan the events at each venue, through requests for proposal (RFP) it will release on Thursday through the vendor directory that can be found at charlottein2012.com. The committee will also hold an Event Planner Information Session that day at Duke Auditorium inside Mint Museum. Visit eventplannerinfosession.eventbrite.com to register to attend.