Peak Season
Fall is the perfect time to pack up the car and make the short trip to the beautiful N.C. mountains. We take you through six great escapes with crisp air, postcard-worthy views, and plenty of peace and quiet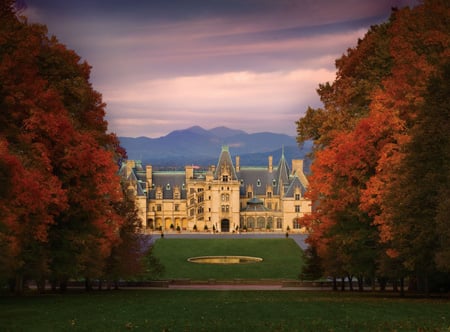 With air as crisp as the locally grown apples, the nearby N.C. mountains are one of the major perks of living in Charlotte. In as little as two hours, you can be in the midst of postcard-worthy scenery with rolling, tree-covered mountains in hues of orange, yellow, and red. Snap scenic shots of rushing waterfalls or relax by trickling streams in the southern Smokies, or head to the High Country for music and heritage events, serious hiking, or a winding drive along the Blue Ridge Parkway. There's no greater time to head for higher ground than the fall, so break out the bluegrass and hit the road.
Asheville
Distance: 130 miles, 2 hours
Where to stay: Located in the heart of downtown, the Haywood Park Hotel is a 1920s department store turned boutique hotel. (From $159, 828-252-2522, haywoodpark.com) A stay here includes all the extras (think: champagne at check-in and turndown service with chocolate truffles), and you'll be within easy walking distance of the Civic Center, Diana Wortham Theater, Grove Arcade, and more. Asheville has a long list of charming bed-and-breakfasts all over the city and sprinkled throughout the suburbs and nearby mountains. Check the Asheville Bed & Breakfast Association's listings to find the one that best matches your travel style. (877-262-6867, ashevillebba.com)
Where to eat: An Asheville institution, Laughing Seed Café has been a fixture on Wall Street since 1993 and offers a vegetarian menu with a global fusion flair.
(828-252-3445, laughingseed.jackofthewood.com)
Swing by Table for an intimate atmosphere, and choose from eclectic menu items like grilled baby octopus with pork belly, cantaloupe, shiso, dill, and black sesame. (828-254-8980, tableasheville.com) For fine dining in an uncommon setting, head north to the small town of Weaverville and snag a table at the Weaverville Milling Company Restaurant. A working gristmill until 1965, the space now offers a rustic atmosphere along with its specialty—N.C. mountain trout. (828-645-4700, weavervillemilling.com)
Insider Tip: The city's eclectic River Arts District, situated along the French Broad River, is home to the studios of more than 165 local artists, creating everything from sculpture to raku pottery. (riverartsdistrict.com)
What to do: The majestic Biltmore House and its always-changing tour is a must-see, especially now that your ticket includes admission to The Vanderbilts at Home and Abroad. Located in nearby Antler Hill Village & Winery, the new exhibit offers a fascinating look at the lives of George, Edith, and Cornelia Vanderbilt. (877-BILTMORE, biltmore.com) The brainchild of E. W. Grove (also the founder of the grand Grove Park Inn), the Grove Arcade was originally envisioned as a mixed-use development but became a federal building during World War II. After a long period of dormancy, it was restored to its original intent in 2002 with new shops, restaurants, and apartments. (828-252-7799, grovearcade.com) Asheville has long been a mecca for beer aficionados, and Green Man Brewing Company was one of the first breweries on the scene. (828-252-5502, greenmanbrewery.com)
Blowing Rock & Banner Elk
Distance: 110 miles, about 2.5 hours
Local produce stands stacked with juicy mountain apples, moccasins, and boiled peanuts dot the winding climb along Highway 321 as you approach this northwestern N.C. region known as the High Country. Blowing Rock and Banner Elk, with their parks, antiques shops, ice cream parlors, and deep-rooted Cherokee and Catawba heritage, are mountain getaways, perfect for those looking for a romantic retreat, an action-packed weekend, or a little bit of both. —V. B.
Where to stay: Listed on the National Register of Historic Places, the Green Park Inn offers Victorian style in the heart of Blowing Rock. This inn, with its iconic green horse statue parked in front, offers golf, a restaurant run by an award-winning chef, and the chance to stay where Eleanor Roosevelt, John Rockefeller, and Henry Fonda once did. (From $129, 828-414-9230, greenparkinn.com) Banner Elk Winery & Villa, nestled in lush, rolling hills surrounded by grape vines and a blueberry orchard, is a self-contained retreat. Regal rooms make relaxing easy, and a stroll through the kitchen's garden follows a farm-to-table dinner. (From $198, 828-260-1790, bannerelkwinery.com)
Insider Tip: For a back-roads route to a popular scenic lookout, take Green Hill Road from Highway 321 near the Greek Park Inn on a winding tour past beautiful homes and stunning views until you find Thunder Hill Overlook on the Blue Ridge Parkway. The viaduct bridge is also worth fighting the crowds. Best times for a view of changing leaves? The second or third weeks in October.
Where to eat: With choices like Canadian elk Denver leg (aka rump), grilled and served with roasted acorn squash and fresh berries, the Gamekeeper is not for the picky eater. Its mountain charm and upscale dishes make it a favorite among the locals. (828-963-7400, gamekeeper-nc.com) For dramatic views—and live jazz—hit up Canyons for Sunday brunch. Having evolved from a speakeasy to a brothel, dance hall, casino, grocery store, and tavern, this spot offers a wide-ranging menu, from nachos to N.C. pan-seared trout. (828-295-7661, canyonsbr.com) At Crippen's Country Inn and Restaurant, fill up on standards like New York strip or share some adventurous appetizers—cornmeal-dusted oysters, braised N.C. rabbit spring rolls, or country-fried S.C. quail. (877-295-3487, crippens.com)
What to do: Move over, Punxsutawney Phil. For thirty-five years, fuzzy black-and-brown worms have been this area's winter-weather predictor. The Woolly Worm Festival—with arts vendors, music, requisite turkey legs, and a race of the woolly worms—spawns worm-themed parties at locals' homes. (Oct. 20-21, downtown Banner Elk, woollyworm.com) In nearby Seven Devils, Hawksnest Zip Line offers a new Eagle course, which is nearly three miles long. Fly over creeks and trees at speeds up to fifty miles per hour, 2,000 feet up. (From $70, 800-822-4295, hawksnestzipline.com) Walk a mile in the shoes of the Cone family (who made their money in textiles) as you hike the many trails in the expansive Moses H. Cone Memorial Park.
Highlands & Cashiers
Distance: 160 miles, about 3.5 hours
Overshadowed by Asheville for far too long, these sleepy mountain towns are just a three-plus-hour drive from Charlotte (minus the winding one-lane U.S. 64, which takes you into the heart of both towns). Since they're so close to Georgia, Highlands and Cashiers have been more popular with Atlantans, but with an emerging dining and retail scene coupled with some of the best hiking trails and scenic waterfalls, there's a reason this area is no longer a secret to Charlotteans. Cashiers is the laid-back, more casual version of Highlands, which boasts high-end stores and dining, along with the four-star Old Edwards Inn. —B. M.
Where to stay: Highlands Inn boasts thirty-one rooms with cozy traditional décor and a large covered porch perfect for enjoying hot cider. Open from April to November, the historic inn offers guests a daily hot country breakfast and a nightcap. (From $139, 828-526-9380, highlandsinn-nc.com) For a more upscale visit, book a room at Old Edwards Inn and Spa. This sixty-eight-room property (which will have ninety rooms plus an additional pool come spring) provides a secluded getaway with a private pool, outdoor stone fireplaces surrounded by Adirondack chairs perfect for roasting s'mores, and several rooms with balconies overlooking Main Street. (From $280, 866-526-8008, oldedwardsinn.com) Planning an extended stay or need more room? Rent a cottage or cabin through Sotheby's. (828-526-4104, sothebys.com) This international premier real estate company offers luxury rentals throughout Highlands. For Cashiers properties, consider renting through Cashiers Resort Rentals, through which you can find homes that are pet friendly and boast waterfall views. (cashiersresortrentals.com)
Insider Tip: Head down U.S. 64 about six miles from Highlands and pull off at Whiteside Mountain. The two-mile trail isn't a difficult hike; but the hike's not the reason you're here. During the peak of the autumn season, usually the second or third week of October, you'll take in a colorful view that spans four states—North and South Carolina, Georgia, and Tennessee.
Where to eat: Foodies should make a reservation at Madison's Restaurant & Wine Garden, where Chef Johannes Klapdohr uses produce from the restaurant's organic garden in every dish. (828-787-2525, oldedwardsinn.com/dining) For Southern cooking—i.e., shrimp and grits—head to The Orchard Restaurant. (828-743-7614, theorchardcashiers.com) The casual atmosphere coupled with locally caught fish and specialties (fried green tomatoes!) makes this a local favorite.
What to do: A trip to this area wouldn't be complete without a visit to some of the area's stunning waterfalls. Stop by Bridal Veil Falls in the Nantahala National Forest and catch a glimpse of the sixty-foot-high falls. For the shopper, hit up one of Scudder's Galleries' nightly antique auctions. (828-526-4111, scuddersgallery.com) Bid on vintage jewelry or nineteenth-century French and English antiques, or just watch as others battle it out. For vintage finds, shop Summer Place Antiques, where interior designer Susan Young stocks her shop with rehabbed chandeliers and sconces from Western Europe, and Americana and twentieth-century antiques from New England. (828-743-9151, summerplaceantiques.com)
Hendersonville & Flat Rock
Distance: 100 miles, 2 hours
Hendersonville and Flat Rock, located just south of Asheville, due west from Charlotte, have all of the elements of a Hallmark Channel movie: quaint cafés, chic boutiques, and architecture so picture-perfect it helped downtown Hendersonville earn a listing on the National Register of Historic Places. The region is also hailed as the apple capital of N.C., and as all Hollywood producers know, few spots are more perfect for lunch and l'amour than apple orchards. The pastoral landscapes are ablaze with color in the fall. Take in the views during an afternoon drive along the Blue Ridge Parkway or hike the trails at DuPont State Forest, then check into a historic inn or log cabin and sip hot chocolate in front of a roaring fire. All you need for a romantic retreat is a Fair Isle sweater and a sweetie. —J. H.
Where to stay: Spend a weekend cuddled up in a historic inn or secluded cabin. To add some spark to your stay, opt for a fireplace suite at the Claddagh Inn. (From $105, 828-693-6737, claddaghinn.com) Built in the 1880s, the inn is just a few blocks from all the shops and restaurants in downtown Hendersonville. The Elizabeth Lee Inn (From $225, 828-808-5305, elizabethleighinn.com) is a historic bed-and-breakfast where the intimate guest rooms and front porch dotted with rocking chairs will inspire romance. Nestled on eight acres near DuPont State Forest, Blue Ridge Cozy Cabin is a private retreat for two. (from $125, 828-693-0975, blueridgecozy.com)
Insider Tip: One of the best sites for leaf peeping is Jump Off Rock. The scenic overlook offers panoramic views of the Blue Ridge Mountains and is a favorite spot for photographers looking to snap a postcard-worthy image of the N.C. mountains.
Where to eat:Hendersonville and Flat Rock are known for barbecue, but the pastoral landscape means farm-fresh fare pops up on local menus. Regional farms and an on-site organic garden at Seasons at Highland Lake Inn provide some of the ingredients for dishes like panca-marinated pork tenderloin and smoked salmon carpaccio. (828-696-9094, hlinn.com/dining) West First Wood-Fired Pizza serves up gourmet pizzas—the goat cheese pizza is the local favorite—baked in a wood-fired oven. (828-693-1080, flatrockwoodfired.com/restaurant) The small plates at Never Blue mix Lowcountry favorites with traditional Mexican fare, and they're the perfect size for sharing. (828-693-4646, theneverblue.com)
What to do: Lace up your shoes and stroll through the streets of historic downtown Hendersonville. Learn about the history of the region through the many exhibits and archives at the Henderson County Heritage Museum and explore the Carl Sandburg Home National Historic Site for a glimpse of the homestead that inspired the writer's poems. (828-693-4226, hendersoncountymuseum.com; 828-693-4178, nps.gov/carl) In the evening, take in a show at the Flat Rock Playhouse. (828-693-0731, flatrockplayhouse.org) Need a dose of nature? DuPont State Forest has around ninety miles of trails, complete with spectacular waterfalls, and some of the best fall colors in the state. (828-877-6527, ncforestservice.gov/contacts/dsf.htm)
Chimney Rock & Lake Lure
Distance: 100 miles, under 2 hours
As the iconic backdrop to films like The Last of the Mohicans and Dirty Dancing, these towns, just a short drive west of Charlotte, offer the irresistible combo of lake and mountains. Fall is a great time to visit, with pleasant temperatures and exquisite views of Hickory Nut Gorge, nestled between the Blue Ridge and Smoky mountains. Mingle with some of the locals as you stroll through Chimney Rock Village and cast your ballot for best scarecrow in the town's annual contest, held October 6-31. A chat with some of the residents will reveal that once you visit, you may never want to leave. —V. B.
Where to stay: Chances are, driving down Main Street in Chimney Rock, you'll be drawn to The Esmerelda Inn & Restaurant, built in 1891, with its impressive, wooden façade and rocking chairs that beckon from the porch. Clark Gable once used this charming spot, with its spectacular views, as a hideaway. (From $159, 828-625-2999, theesmerelda.com) Rumbling Bald Resort has three restaurants, two golf courses, tennis courts, a Lake Lure "beach" front, a pub, and multiple options for rooms and villas. It's so big, you get a map when you check in. Be sure to check out Bedrock, a quirky lounge decorated in vines, funny signs, and other knickknacks, inside the golf course-side Luna del Sol restaurant. (828-694-3000, rumblingbald.com) The 1927 Lake Lure Inn & Spa offers sunset cruises and surrounds its guests with hundreds of antiques. Enjoy complimentary hors d'oeuvres daily at the Moose & Goose Lounge or pamper yourself with a spa treatment. (From $135, 828-625-2526, lakelure.com)
Insider Tip: Your best bet for the most expansive views is Chimney Rock State Park. Climb to the top of "the Rock," and seventy-five-mile views—sometimes all the way to Charlotte—await.
Where to eat: A hearty country breakfast awaits at Huckleberry's Bakery & Country Store. Order the Huck Pucks for three fluffy pancakes piled with fresh apples, walnuts, Brie, and a caramel-drizzled topping. (828-625-2643, huckleberrysbakery.com) Medina's Village Bistro is the hands-down local pick for good food anytime. Just across the street from the state park entrance, the humble restaurant serves up enormous sandwiches—get yours on the soft-and-tasty pretzel bread. (828-989-4529, medinasvillagebistro.com) The Esmerelda Inn & Restaurant has some of the best views of Chimney Rock from its dining room, and the service is superb. Have a s'mores-roasting party or go high-end with chef specialties like Hickory Nut Gap pork shoulder. (828-625-2999, theesmerelda.com)
What to do: Chimney Rock is a dry town, so before deciding to dine there, hit up one of the four area vineyards. Parker-Binns Vineyard, just a fifteen-minute ride down Route 9 from Lake Lure, offers nice bottles of red and even a berry wine that surprisingly isn't too sweet. Chances are, owners Karen and Bob Binns and their affectionate mutt, Lulu, will greet you in the tasting room. ($5 for a taste, 828-894-0154, parker-binnsvineyard.com) Hit up Chimney Rock State Park for an invigorating hike to the 2,450-foot-tall Hickory Nut Falls or climb up to Exclamation Point—not for the faint of heart—for amazing views.
Bryson City & Cherokee
Distance: 180 miles, 3.5 hours
Bryson City isn't your typical sleepy mountain town. Directly west of Asheville, it's smaller and a bit more isolated than many of its sister towns, but that only adds to its charm. It's also packed with so many things to do and see—from outdoor activities like hiking and whitewater rafting to beer tastings and live music—that you'll want to spend more than just a few days. Add in the performances, shopping, and attractions at nearby Cherokee, which is just an easy twenty-minute drive away on pretty, windy roads, and this little mountain
community offers just the right mix of history, culture, and adventure. —A. A.
Where to stay: Built in 1923, the Fryemont Inn is listed on the National Register of Historic Places and has all the charm of an old mountain lodge (including enormous stone fireplaces and rocking-chair porches) plus modern conveniences. (From $105, 800-845-4879, fryemontinn.com) Check Great Smokys Cabin Rentals for a broad selection of cozy mountain cabins. (800-655-9771, greatsmokyscabinrentals.com)
Insider Tip: Some of the best hiking trails can be found at the end of the Road to Nowhere, otherwise known as Lakeview Drive. Begun in the 1930s, the road was never completed, and ends in a tunnel within Great Smoky Mountains National Park. On the other side, there are several hiking trails that meander through the forest. (
greatsmokies.com/roadnowhere.html
)
Where to eat: Housed in the historic Bryson City Bank building, the adorable Cork & Bean offers organic espresso and coffees, an eclectic wine selection (housed in the former bank's vault, naturally), pastries, and a variety of sweet-and-savory crepes. (828-488-1934, brysoncitycorkandbean.com) You don't have to be a guest to nosh on upscale comfort food in the Fryemont Inn's dining room—just be sure to make a reservation, because guests get priority. And don't show up for dinner without a hearty appetite: each meal includes bread, soup, salad, and an entrée. (800-845-4879, fryemontinn.com/dinner)
What to do: Bryson City is surrounded by mountains, and a ride on the Great Smoky Mountains Railroad—with its beautifully restored vintage rail cars and fifty-three miles of track—is a great way to see them. The views are especially dramatic when the leaves are changing. (800-872-4681, gsmr.com) Adventure seekers should head to the Nantahala Outdoor Center's newest attraction, the Zip Line Adventure Park, which includes two challenging ropes courses with wobbling sky bridges, tricky spider webs, and tightropes to navigate—plus the Wesser Zip, a 600-foot-long zip line through the trees. (888-905-7238, noc.com) Ready for down time? Head to Nantahala Brewing Company's huge tasting room. The Hellbender Hefeweizen, a light, refreshing beer with a hint of citrus and banana, is a refreshing option after a day of exploring. (828-488-2337, nantahalabrewing.com) And skip the casino: Native American culture thrives in Cherokee. You can learn all about it—and purchase arts and crafts made using the same techniques the Cherokees have used for thousands of years—at the Museum of the Cherokee Indian. (828-497-3481, cherokeemuseum.org)