Pour Taproom coming to Plaza Midwood in August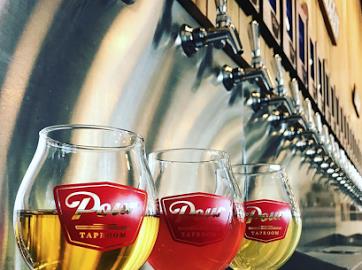 Charlotte is getting another self-serve craft beer bar.
It was announced Tuesday that a Pour Taproom will open this August in Plaza Midwood. This will be the fourth Pour Taproom in North Carolina. With three other successful spots in Asheville (Pour's flagship location), Durham and Wilmington along with the enthusiasm local residents have already shown for self-serve craft beer, Charlotte seemed to make perfect sense for Pour's latest venture.
"Plaza Midwood is such a cool location for a taproom like this," said Charlotte Pour Taproom owner James Lunney in a press release. "It has such an awesome vibe between the existing local businesses and all of the residents that live in the area. We are really excited to dive in and become a part of that already tight-knit community."
Pour's official address is 1212 Central Avenue, and previously was a bakery, church and most recently a warehouse. The addition of Pour Taproom also furthers the craft footprint in this area. Pour will be adjacent to Pint Central, Moo & Brew and The Hop Shop and a short walk to both Legion Brewing and Resident Culture Brewing.
The idea behind a self-serve craft beer bar is just that: You choose your drinking amount by paying by the ounce. This was initially brought to Charlotte late last year by Hoppin', which opened to wide fanfare in South End.
Pour Taproom bills itself as the largest self-serve taproom in the country, and will feature 120 taps (in comparison, Hoppin' has 61). Of the 120 taps, half will be devoted to North Carolina beers with the other half including national, regional and beers from other countries. Pour will also have wine taps (four red, three white and one prosecco) and root beer and water taps as well.
Unlike Hoppin', which uses wristband technology, at Pour you will present your ID and a credit card upon entry, which you'll then be given a plastic card with a QR code that is linked to your credit card. Each tap has an activation spot where you'll wave the card, then pour your desired amount. You'll have the option to reload your card after 32 ounces of beer (per state law).
Once Pour Taproom opens, expect onsite food trucks daily, and this will be a dog-friendly environment both inside and out. Construction inside is ongoing, and you can keep up with the latest news by following Pour on Facebook and Instagram.