Record number of local beer options at Bank of America Stadium this year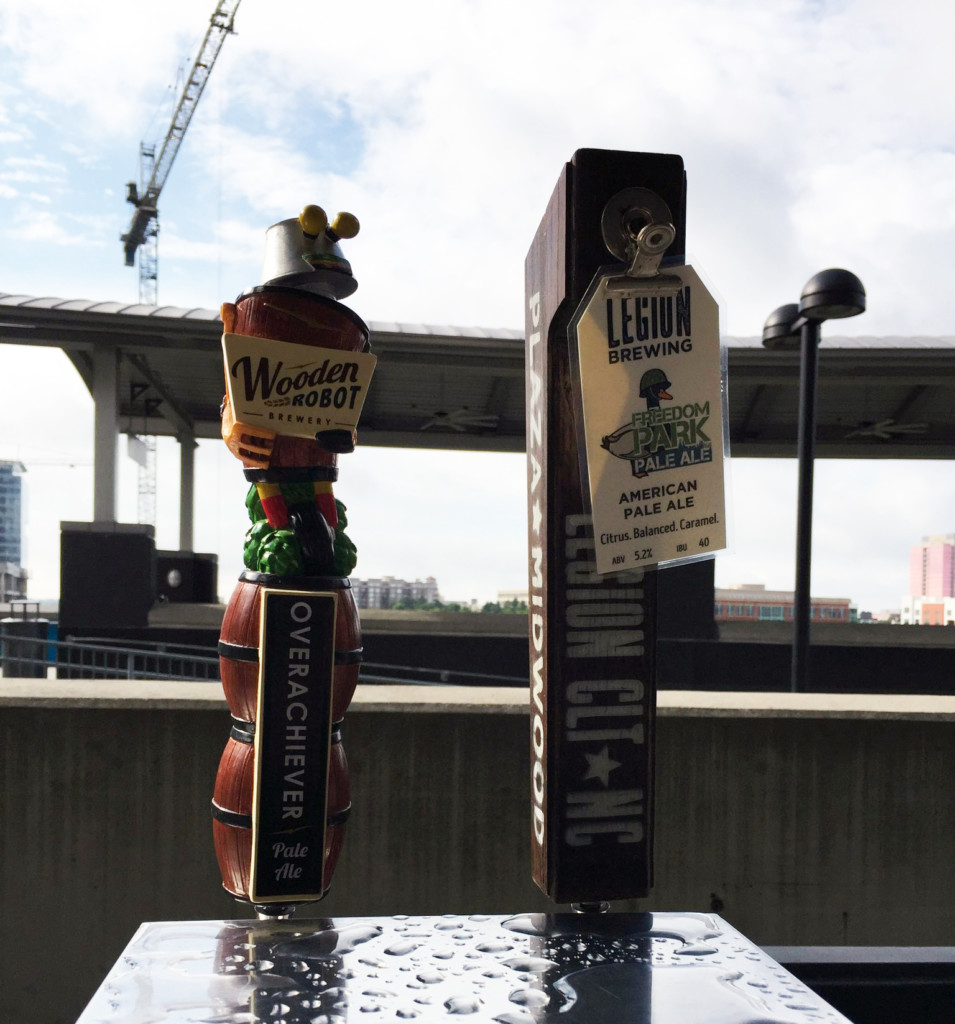 WHEN FANS ENTER Bank of America Stadium Friday to kick off the season with the annual Carolina Panthers Fan Fest, they'll have more local craft beer options to choose from than ever before.
A record 10 Charlotte breweries will have either draft or cans for purchase this year at games, with multiple locations throughout both the 100 and 500 levels, along with club sections.
"Following last year when the stadium did renovations on the club and 100 level, there was a push to look for more local craft options," says Todd Smoots, a representative for Delaware North, which is the official food, beverage and retail partner of the Panthers at Bank of America Stadium. "And as (last) season progressed, we learned we needed to put more (local) options than just that section at the west end zone."
Smoots is referring to last year's addition of the standalone Craft Beer Zone outside of Sections 101-102, which boasts 24 taps on each side along with TVs above the taps so fans don't have to miss any action. That section will now be bolstered with the addition of stadium newcomers such as Resident Culture and Wooden Robot, among others.
Resident Culture founder and CEO Phillip McLamb says he was "floored" when the brewery was approached to be represented at the stadium.
"It's been a dream we talked about before we ever broke ground," he adds. "As a born and raised Charlottean, I remember the stadium being built and going to my very first game there, so it's more than just a place to distribute or a business goal for us. …
"The possibility of pouring our own beer next to other local craft breweries we respect so much, in a space that means so much to us – let alone the stadium honoring the artisanal work of our industry with a Craft Beer Zone – is an absolute honor for us."
The taplist at the Craft Beer Zone in Bank of America, which features more local breweries than ever before (Photo by Matt McKenzie)
In all, the local breweries that will be available at Bank of America Stadium are: Birdsong, Blue Blaze, Legion, Lenny Boy, Olde Mecklenburg, Resident Culture, Sugar Creek, Sycamore, Unknown and Wooden Robot. (Catawba, whose primary production facility is in Morganton and opened a brewhouse/tasting room in Charlotte last year, along with D9 Brewing in Cornelius, will also have beer for purchase at games.)
"I think it's great that they're supporting the local beer community here," Legion co-owner and managing partner Phil Buchy says. "I'm sure all the breweries involved are absolutely excited to be a part of this as much as we are. It also serves as a showcase for us with people who go to games and may not necessarily have heard of our brand – and not just Legion, but everyone."
Adding additional craft options actually began last year, when Birdsong and Sycamore cans and a few Legion taps were offered late in the season (Olde Mecklenburg was available, but only in club sections during the 2018 campaign).
From there, local breweries began reaching out, but Smoots says they wanted to wait until the offseason for any further discussion.
"We wanted to look at every fan's perspective," he adds. "And there were a high percentage of fans who wanted something outside of what we've been offering. So we looked at the radius of Charlotte and took the feedback into account and from there, we went to different breweries and spoke to them.
"We have a limited amount of taps in the building, so we told them, 'These are the vacancies we have; what would you put in it?' All we can do is offer the location, and it's up to the fans to buy it. But we tell the breweries – whether they are the bigger ones or local – we want your best, the ones that are going to sell – and I think that they get that."
Speaking of the bigger breweries, craft options from AB InBev and MillerCoors – such as Elysian, Goose Island, Wicked Weed and Terrapin, among others – remain in the fold, as do the usual regular domestic beers from those companies.
While the craft beer section was a welcome feature last year, the 2018 season will bring about other new additions sure to appease craft fans. At each walkway ramp that leads up from the 100 section to the 500 section, there will be a cooler stocked with local, regional and national cans. These "grab-and-go" areas will be credit-card only in order to create a quicker transactional experience. Cans will also be available in two other larger "cooler markets" (which also include food options), one on both the 100 and 500 level. The 16-ounce cans will be $9.25 each aside from Olde Mecklenburg, whose new 12-ounce PET plastic bottles will be $7.75 each.
New "grab-and-go" coolers with local, regional and national cans are now placed throughout Bank of America Stadium (photo by Matt McKenzie)
Additionally, fans will be able to get draft pours at several locations throughout the stadium, including the 100 and 500 levels and 400 Club.
"There is always the group of folks that want that experience, they might just want one beer and want it to be something unique and something Charlotte-based," Smoots says. "Now, we won't have challenges where fans can't say, 'I can't get that here.'"
Local Craft Beer at Bank of America Stadium
Cans:
Birdsong (Lazy Bird Brown Ale, Paradise City Session IPA)
Blue Blaze (Carolina Thread Trail Pale Ale)
Lenny Boy (Citraphilia IPA, Life in the South Lager)
Olde Mecklenburg * (Captain Jack Pilsner, Copper)
Sycamore (Mountain Candy IPA, Southern Girl Blonde)
*bottles
Can locations:
–All walkway ramps on the 100 level that go up to the 500 level
–Section 139
–Various areas throughout the 300 Club level
–Section 528
Draft:
Legion (Freedom Park Pale Ale, Juicy Jay IPA, Project Pils)
Lenny Boy (Dat Pale Ale)
Olde Mecklenburg (Copper)
Resident Culture (Rotational beer)
Sugar Creek (Pale Ale)
Unknown (Pregame Pilsner)
Wooden Robot (Overachiever Pale Ale)
Draft locations:
— Craft Beer Zone at Section 102 (all local drafts mentioned except Legion's Freedom Park)
–Section 119 (Sugar Creek)
–Section 124 (Resident Culture, Wooden Robot)
–Section 127 (Resident Culture, Wooden Robot)
–400 Club (Legion's Juicy Jay, Resident Culture, Wooden Robot)
–Section 501 (Sugar Creek)
–Section 520 (Two Legion beers, Lenny Boy, Resident Culture, Sugar Creek, Wooden Robot)
–Section 533 (Two Legion beers, Lenny Boy, Resident Culture, Sugar Creek, Wooden Robot
–Section 547 (Two Legion beers, Lenny Boy, Resident Culture, Sugar Creek, Wooden Robot)
–Section 550 (Sugar Creek)