Renovating an Original Elizabeth Home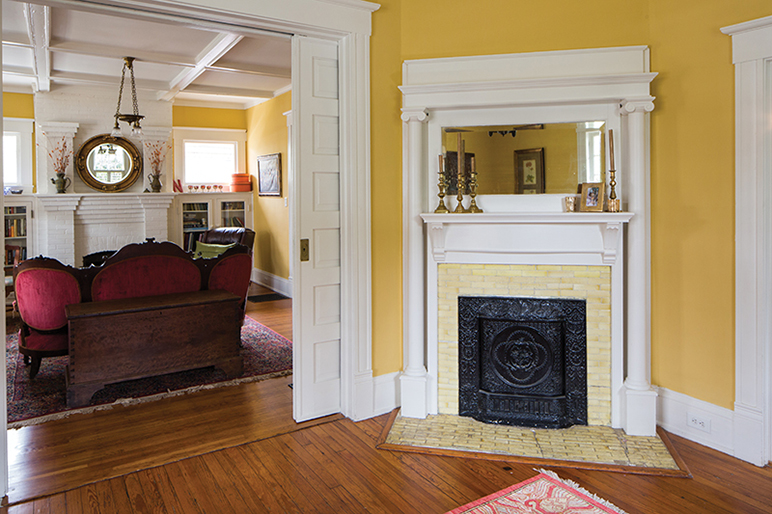 SITTING IN the dining room of her Elizabeth home, Rebecca Nesbitt shows me a copy of an ad with a headline reading, "Bungalowland." It's an advertisement for Southern Real Estate Loan & Trust Co. that ran in The Charlotte Observer on May 8, 1911, touting the construction of three bungalows (and possibly a fourth). One is on Hawthorne Lane, while the other two are on Eighth Street between Hawthorne Lane and Lamar Avenue. It's quite possible that we're sitting in one of those bungalows.
Rebecca isn't certain, but there's a strong case for it, as her house has two twins in Elizabeth. A deed search reveals that Emma H. Beattie and Lily J. Neal, a mother and daughter, purchased the Nesbitts' lot in 1911 for $4,750 (with a requirement to build a house worth at least $2,500). The ladies sold the land in 1915 to John and Catherine Carr, who are believed to have built on the property.
The house changed hands 11 times before Rebecca and her husband, Andrew, bought it in 2005. And it's been through almost as many renovations as homeowners, each reflecting various time periods and tastes. When the Nesbitts purchased the house, they hired architect Jessica Beil Hindman of Studio H to increase the home's 2,150 square feet to 3,600.
Rebecca loves old houses (she lived in an 1890s Victorian when she was in graduate school at UNC Chapel Hill), and knew her forever home would be one with a history. When she first walked through her bungalow, there were lace curtains and doilies, creamy white walls, and a kitchen glaring with green linoleum countertops. But she also found spacious rooms, a generous backyard, and intricate woodwork.
Listed on the National Register of Historic Places as a contributing structure to the Elizabeth Historic District, the home is referred to as the F.R. Millershan House. F.R., a cabinetmaker, and his wife, Alma, owned the house from 1926 until 1976. "Some of the fine carpentry has a slant towards the Victorian era that is not typical of most of the craftsman homes that we see in Charlotte," says Hindman, citing Victorian corner guards and door casings, as well as unusual face-nailed oak veneers. "It's entirely likely that [F.R.] was playing around with a lot of the carpentry."
The Nesbitts wanted more space to accommodate modern living and their 4-year-old daughter, Suzanne, but protecting their home's integrity was paramount. Hindman and Matt Ferguson, owner and general contractor at Stirling Group Inc. in Plaza Midwood, worked with the couple to gently wrap new ideas around the home's bones.
"These front four rooms are exactly how the original house would be," explains Hindman as she walks through the front parlor and dining room, both crowned with coffered ceilings. "They were really perfect." The front parlor features a craftsman fireplace, and the other room houses a home office, where Andrew started his law firm on a pub table Rebecca found at Antique Tobacco Barn in Asheville. His firm has since moved to a bungalow in Dilworth, which the couple also updated.
In the back of the house, the kitchen was returned to the space Hindman believes it originally occupied. A wall was knocked down to afford room for an open kitchen and living room. Quartz countertops are set below a herringbone pattern of white subway tile. "The herringbone pattern is really forgiving, in the fact that the walls and floors aren't straight," says Hindman. "That gets picked up quickly in any other kind of tile."
A dining table, also from Antique Tobacco Barn, sits between the kitchen and living space, complete with a light gray sectional sofa from Goods Home Furnishings in Pineville. "I like this room a lot, because right now we want a family table in here while our daughter is younger, but as she gets older, we just want bar seating, so we can add chairs and another sofa," explains Rebecca. "At heart, I'm very traditional, and I was trying to get a little more out of my comfort zone back here. This is a little more transitional."
Stairs built in the middle of the house where a closet once stood offer entry to the new second floor, an expansion of former attic space. At the top of the stairs, a cozy nook accommodates the Nesbitts' treadmill. "I wanted [the house] to feel old, with all of the nooks and crannies and dormer lines," Rebecca says.
Suzanne's bedroom also features a nook, as well as a big-girl bed Rebecca and her father scored at Cline's Country Antiques in nearby Mount Pleasant. The hardwoods throughout the second floor are salvaged, as were the ones in the addition downstairs.
Old and new materials intertwine down the hall in the master suite, where an original brick chimney pierces through the floor and ceiling. Ferguson added shelves made from the home's rafters to the brick, creating a functional point of interest in the room. Neighbor Margaret Fleeman of COLORVISION mixed a quiet blue paint reminiscent of the color of the restroom walls at Asheville's Biltmore Forest Country Club, where the Nesbitts are members.
"Everything I got in the can was too bright," remembers Rebecca. "I can't tell you how much Margaret mixed that color—at least 10 times."
Antique pocket doors from Architectural Warehouse in Tryon accent the exposed brick wall behind the stand-alone tub in the master bath. Rebecca salvaged the brick, and thinks it's either from the Pillowtex plant in Kannapolis or one of the Coca-Cola plants in the area. A leaded transom window above the doors gives a nod to the Victorian detailing found downstairs.
"It's just serene," says Rebecca of her master suite. "I really love the old parts and how they blend with the new parts. …I always tell Jess [Hindman] that I felt like the house wanted to be bigger."