Review: The Packhouse a Beautiful Nod to Carolina's Tobacco Past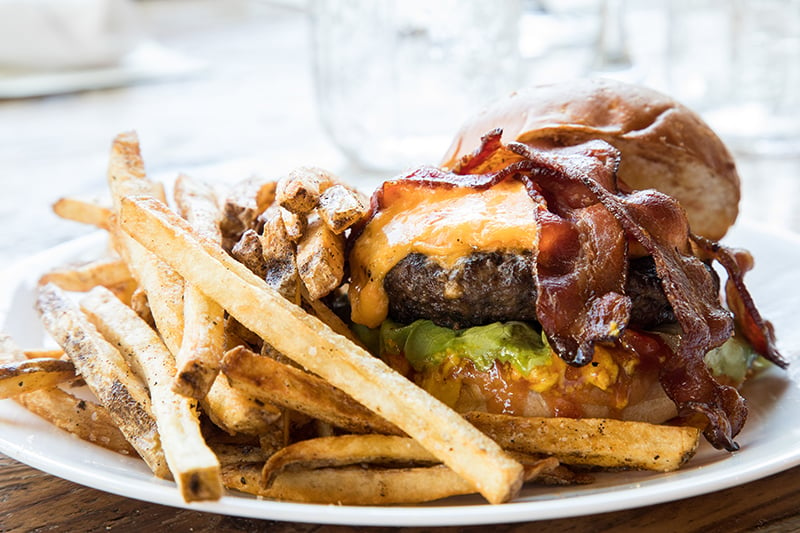 THE ROCKING CHAIRS on the sidewalk are an indication that this isn't just another shiny office building. I have to explain to my husband, who works just down Morehead Street and passes this spot at the corner of Morehead and South Caldwell streets almost daily, where it is in detail. Our experiences with so many of these shiny buildings are interchangeable. Yet the restaurant on the ground floor here, The Packhouse, is an example of ground-level retail done right.
The décor is thoughtful, making The Packhouse more than just a trendy, history-based name. Baskets large enough to hold tobacco leaves hang from the ceiling, and the door handles are fashioned from aged farming tools. A private dining room is closed off with sliding barn doors when in use, and wood and brick help anchor this restaurant with a sense of place and time.
I enjoy sitting at the bar. The staff is friendly, and natural light shines through those shiny windows and bounces off the bar top, which is covered with tobacco leaves bigger than my hand and coated in a shiny varnish. On this night, I arrive early and sit down on a barstool for a cocktail, the Tobacco Road, a signature drink here. It's a bourbon base cut with Cointreau, house-made fig jam, and caramelized honey, garnished with a baked lemon wheel and dried fig. It's a visual stunner, and a sweeter version of a fig old-fashioned. The cocktail menu, as is, isn't geared toward a spirit-forward drinker; the list is more accessible for casual drinkers. The bartenders are happy to adjust as needed, though, and their choices of local beers and wines by the glass are well selected.
My husband, Jon, and our friend Reed arrive from their office down the street a few sips into my first drink. They sit down for their own, and before long, we've settled in, and cancel our reserved table in favor of the bar. We're catching up for the first time in a long time, now that the holidays are over and the hustle and bustle has calmed.
We order slowly over rapid conversation, starting with the Dixie picnic basket, actually served adorably in a basket, and the special that day, a red pepper jelly and cream cheese spread. The basket comes with cheese straws, deviled eggs, peanuts, pimiento cheese, and pickles. For a Southern-rooted menu, the pimiento cheese was a disappointment, tasting mostly like mayonnaise. We used the crostini that came with it to polish off the red pepper jelly, which was flavorful, but the proportion of jelly to cheese spread was off, leaving us with lots of the cream cheese mixture and no more of the sweet-and-hot jam. We ate it anyway.
The rest of the menu relies heavily on Southern standards, too, with fried chicken, casseroles, and a meat-and-two plate. The entrées we order to share aren't nearly as innovative as the space. The shrimp and grits is cooked as it should be, with juicy shrimp and creamy grits, but leans heavily on a bacon flavor that overwhelms the rest of the dish. We're hungry, though, and the heavy dishes help mitigate the effects of the cocktails we're drinking. The fried chicken is seasoned well and is welcomingly crunchy, but the creamed corn doesn't taste all that different from the grits.
Over our conversation between ourselves and our bartender, however, I don't think we would have noticed these things if I weren't here with the purpose of being critical. We linger a bit longer after our plates are cleared, enjoying the last sips of our drinks. It's often said that good service can elevate an OK meal. Tonight, it's clear good company can, too.
---
THE PACKHOUSE
500 E. Morehead St., Ste. 150A
980-938-5709
Entrées: $14-$38