Revue's Weekend Top Picks: the circus, Spokane, and Spanish-Israeli music.
Your best bets for what to see and do this weekend.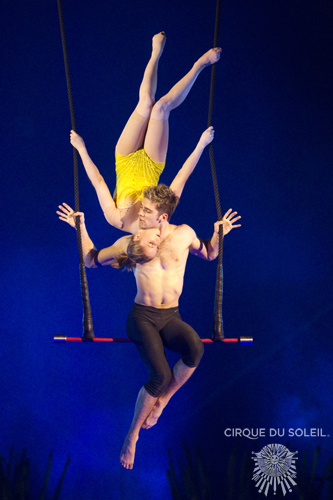 Some weekends have a little more "oomph" than others. This, friends and weekend-prowlers, is an "oomph" weekend. Whether you're up for a laid-back concert of Judeo-Spanish music (a thing, yes) from Yasmin Levy at McGlohon, or want to be wowed out of your socks by Cirque du Soleil's arrival in town, this weekend's got a place for you to be. Here's what's on board:
A Behanding in Spokane
Tomorrow night, Carolian Actors' Studio Theatre is debuting this black comedy about an obsessive traveler in search of the hand he lost years ago. When two dumb crooks show up and thing they can leverage his desperation to find fortune, things get grizzly. It's a play by Martin McDonagh, whose credits include the screenplay for In Bruges. For more background on McDonagh and the show, check out our Q&A with Paige Johnston Thomas, the show's director.
Cirque du Soleil: Totem
Cirque du Soleil actually began near Quebec City as a troupe of stilt-walkers who juggled, put fire far too close to their esophagi, and performed musical numbers. Their first tour of the area was in honor of the 450th anniversary of Canada's discovery. There. Your fun piece of circus trivia for the day. Of course, Cirque does far more than walk on stilts these days, and they're bringing their latest venture, Totem, to Charlotte through March. It follows the evolution of man from the primordial goo phase up through the space age.
And Then They Came For Me: Remembering Anne Frank
Also debuting this weekend is a historical play from Children's Theatre of Charlotte that tells the story of Anne Frank's final days in a Polish ghetto. CTC has added an entirely new historical dimension to this show, however, by including projections of videotaped interviews with the real life Eva Schloss and Ed Silverberg, Anne's friends in the ghetto who lived to survive the camps. The videos narrate portions of the play, adding perspective and historical weight to the stage action.
Fashion Rules Party at Neiman Marcus
The sun is shining. Flowers are blooming. Birds are chirping. What does it all mean? Time for spring shopping, that's what. At this Thursday night this Neiman Marcus event, you can watch the latest spring trends, styled by denim designer Cookie Johnson, waltz down the runway, all to benefit the Humane Society of Charlotte. Don't leave without stopping by the Style Lounge, where Charlotte magazine style editor Jenn Grabenstetter will show you how to accessorize the trends you just saw on the catwalk.
Yasmin Levy
Every now and then, a "new and different" something shows up on Charlotte calendars that's definitely worth a look. Yasmin Levy, born in Jerusalem, sings Ladina music, a traditional genre from Spanish-speaking pockets in Israel. The flavor is distinctly Spanish, but you'll also hear Turkish and other Middle Eastern influences. After songwriting, performing, and running a radio station in Israel for years, Levy began touring across Europe, earning BBC World Music Award nominations three times. She then took on Australia, and now the U.S. She'll be at McGlohon on Sunday night, and it's her first appearance in Charlotte.