Salud Beer Shop Partners with Postmates
And it will include local breweries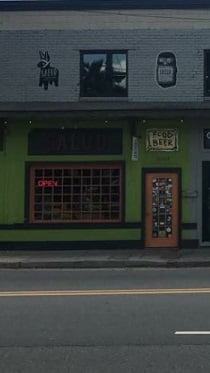 Delivery service has become all the rage of late. You can pretty much get anything you want with one click of the mouse – whether it's groceries, takeout, clothing – and yes, even beer.
The local beer delivery front first started with BrewPublik, which began in Charlotte and has since branched out to Raleigh, Charleston and San Francisco.
Now, one of the most popular delivery apps in the country is partnering with a local beer shop to deliver your favorite beer to your doorstep. This week, Postmates launched its DRINKS service in the Queen City, and will use Salud Beer Shop for its beer curation. And contrary to a post earlier Tuesday, many of Charlotte's breweries will indeed be included in what you can order.
Salud owner Jason Glunt says he was contacted by Postmates around two months ago about the partnership. Logistics between the two began rolling out earlier in September, with the plan being to move slowly in a beta phase due to the massive amount of inventory, which Glunt says Postmates is updating constantly each day.
"They have to take the pictures of all the beer first so they can post it online; I can't put the pictures up or add the inventory myself," he says. "Like, if someone wanted NoDa beer right now that's not up on their photos. But I've been told they should have everything locally sometime next week."
How it works internally is Glunt will send Postmates his available inventory on a constant basis, which is then uploaded online (and matched with photos). Once an order is placed online, Salud's staff is contacted to collect that beer, which a dedicated local Postmates driver will then pick up to deliver.
For the consumer, it's pretty simple – you go to the app, shop what you want and place the order – which Postmates promises will be delivered to you in 25 minutes or less. The price includes tax and they're pretty strict on who is ordering, as you'll be asked to show an ID upon the driver dropping off your beer.
The DRINKS service, which also launched in Philadelphia this week, is offering free delivery service for the next month. After that, a $3.99 delivery fee will be charged – though if you order more than $30 worth of beer or are a Postmates Unlimited subscriber, the fee is waived.