Salud Beer Shop's third annual sour festival November 21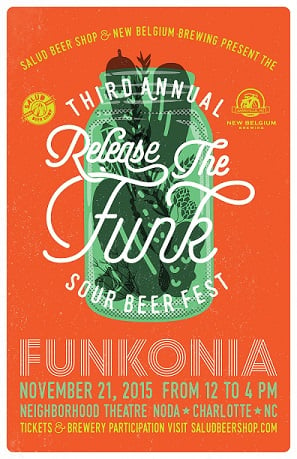 Look no further than Salud Beer Shop owner Jason Glunt to see how popular sour beers have become in Charlotte over the last few years.
In 2013, Glunt decided to hold a small festival solely dedicated to the sour styles that are near and dear to his heart. And the response was incredible, with a sold-out sour beer festival dubbed "Release the Funk," held at Neighborhood Theatre featuring 25 breweries. There were even more breweries in attendance for last year's "Release the Funk 2: Electric Funkaloo," which also sold out.
Which leads to Salud announcing that "Release the Funk 3: Funkonia" will take place November 21 once again at Neighborhood Theatre. Here are a few items to note about RTF, one of the hidden secrets among the Southeast beer festivals:
Salud is once again partnering with New Belgium for this festival. New Belgium is one of the top breweries when it comes to sour and wood-aged beers, and was also the collaborative brewery with Birdsong, Free Range, Heist and NoDa for "Yours and Mine/Mine and Yours."
Continuing off the "funk" music theme (last year's name was a reference to "Breakin' 2: Electric Boogaloo," Release the Funk is paying homage this time around to OutKast's iconic 2000 album "Stankonia."
The brewery list is still being finalized and Salud will be announcing the participants in the coming weeks. To give you an idea of what to expect, click here to check out each brewery and the sour/wild beers they brought in 2014.
Speaking of beers that will be there, I'll just say this: There's going to be some special sour beers that won't be publicly announced but will be shared at the festival. You'll want to try and find these surprises – trust me.
Finally, and most importantly, here's the ticket information: Tickets go on sale October 1 and can be purchased once again at www.saludbeershop.com. The price is $65, and only 400 tickets will be sold. As I mentioned earlier, the first two Release the Funk festivals have sold out and I expect this one to do the same as this festival keeps growing in popularity, so don't wait too long to buy.
I'll have a bigger preview of "Funkonia" as the date approaches. Until then, enjoy being so fresh and so clean.