Salud Cerveceria hires new brewer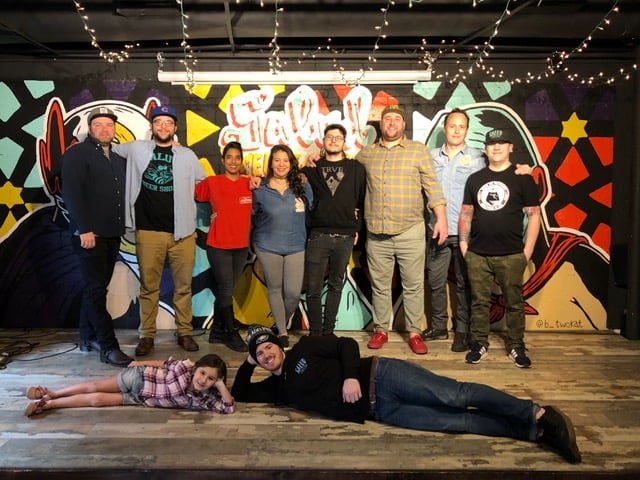 Salud Cerveceria has made a brewer change, and one of Charlotte's newest breweries didn't have to look far for its new head person.
Dustin Di Lorenzo is coming from Newgrass Brewing Co. in Shelby and replaces Adam Glover, of whom Salud owner Jason Glunt said there was a "mutually parting of ways."
"We've known Dustin from local beer circles," Glunt says. "So when this opportunity came up, we were really excited. This gives Dustin to show off what he can do in a bigger market."
Di Lorenzo has already impressed at Newgrass since it opened in summer 2015 highlighted by the Fiddler's series that has included Dream and Daydream (IPA) and Nightmare (double IPA). His Carolina Uncommon saison was popular enough to put in cans, and Glunt says he has been impressed by Di Lorenzo's wide range of brewing styles.
"We ordered his beers here at Salud almost every week and it didn't take long for them to sell out," Glunt says. "Of course, I'm a fan of his sours. I like that he uses foraged ingredients too. There's a sense of fearlessness with Dustin; he makes unique beers and isn't afraid to try new things."
Di Lorenzo will officially be starting in March and is expected to hit the ground running. Glunt says his goal moving forward is to keep 10 Salud Cerveceria beers on tap at all times and limit the guest taps. Also look for an initial rollout of cans from Salud Cerveceria this summer, with a first run of three different beers, and eventually the brewery's first bottle via its sour program. Glunt adds Cerveceria has also secured a warehouse off North Tryon Street where eventually a production facility will be added to expand its brewing (currently there are no plans for a taproom at this location).
In the meantime, Glunt says there are four beers in the tanks right now that are almost ready to put on tap, including a beer created with Sabor Latin Grill (Glunt's wife and Cerveceria co-owner Dairelyn Guzman-Glunt's brother is Dalton Espaillat, Sabor founder and chief executive). The "Sabor" beer is a pale ale brewed with mango and pineapple, and will be on tap exclusively at all Sabor locations in the next couple of weeks.
Also look for a collaboration with in-house coffee shop Trade and Lore. Plans are to have a rotating house blonde ale dubbed "Salud and Lore," in which every new batch Trade and Lore owner Lindsey Pitman will infuse a different coffee or tea.
In news downstairs from the brewery, Salud Beer Shop has been nominated in USA Today's 10 Best Readers' Choice awards for 2018. You can vote for Salud as the best beer bar at this link (voting is open until mid-March; you can vote one time per day).
"That came out of nowhere for us," Glunt says. "But it's pretty cool to be nominated; there are some really nice beer bars on that list. And it feels great to represent for Charlotte."