Spring Arts Preview 2018
The Rite of Spring, Spring Awakening, and 43 more reasons to love this season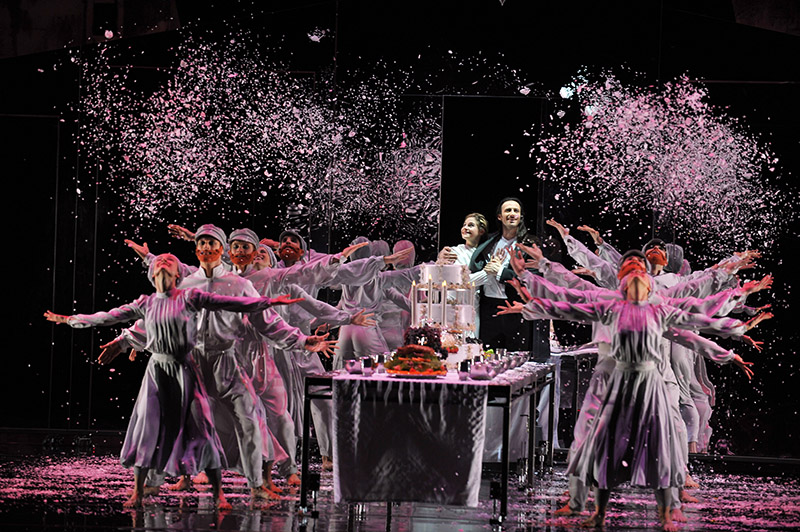 THEATER & DANCE
I Believe Celebrates the Life of MLK
May 18-25, Knight Theater
This Opera Carolina production, an operatic story about Rev. Dr. Martin Luther King Jr., focuses on the last 36 hours of the civil rights icon's life. The R&B opera, written by Douglas Tappin, is presented to coincide with the 50th anniversary of King's assassination and the 55th anniversary of his famed March on Washington.
---
3 Things to Know: Spring Awakening
May 25-June 10, Theatre Charlotte
Theatre Charlotte caps off its 90th season with Spring Awakening, one of the most anticipated productions of the year. The high-energy musical, which is set in late 19th century Germany and includes a blend of alt-rock and folk in its score, nabbed eight Tony Awards in its original Broadway run. A few more facts to get you ready:
* That alt-rock sound is partly due to co-creator and composer Duncan Sheik, known to many as the '90s pop singer-songwriter responsible for the single "Barely Breathing." Because of Sheik's musical direction, the original cast album won a Grammy.
* Billy Ensley, the director of Theatre Charlotte's take on the show, brings his own impressive resume. In recent years, he's directed critically acclaimed versions of Rent and Jesus Christ Superstar for the company.
* The show follows a group of German teenagers as they navigate themes of sexuality, morality, and abuse. The show is based on the 1891 play by Frank Wedekind. The creators of this musical used the same time frame, with contemporary flourishes.
ALSO IN THEATERS:
A Time To Kill
March 23-April 8
Theatre Charlotte
The Mountaintop
March 15-31
Actor's Theatre of Charlotte
The Mermaid Hour
May 2-19
Actor's Theatre of Charlotte
---
PaperHouse Theatre's The Sherlock Project
April 26-May 12, Frock Shop
PaperHouse Theatre creates immersive theater experiences in which attendees become part of the show. The group has staged wild, often hilarious productions of Much Ado About Nothing at the Frock Shop in Plaza Midwood and The Revolutionists at Goodyear Arts. PaperHouse's take on Sir Arthur Conan Doyle's beloved fictional detective is a must-see this season.
---
The American Debut of The Most Incredible Thing
March 9-18, Knight Theater
In this fairytale pop ballet, synth-pop legends Pet Shop Boys and choreographer Javier de Frutos put their spin on the Hans Christian Andersen classic. Charlotte Ballet brings this lauded collaboration to the States for the first time.
MUSEUMS & GALLERIES
Learn about T-Rex's Ancestors at Discovery Place Science
May 26-September 3
Scientists have revised the family tree of the most famous meat-eater of all time. Discovery Place Science shares that information and 10 life-sized dinosaurs in Tyrannosaurs: Meet the Family.
---
See Wrestling the Angel at Bechtler
March 23-September 9
Religion has long played a role in visual art, from the painted frescoes of the Renaissance to Mark Rothko's abstract paintings. In the new exhibition Wrestling the Angel at the Bechtler Museum of Modern Art, explore the effect of religion on the works of Niki de Saint Phalle, Andy Warhol, Sam Francis, and other renowned artists.
Also Check Out:
The Glamour and Romance of Oscar de la Renta at Mint Museum Randolph
April 28-July 29
A Creative Journey: The Collection of Judy and Patrick Diamond at Harvey B. Gantt Center for African-American Arts + Culture
through July 29
---
Four Gallery Shows to Visit
Carlos Estévez at LaCa Projects
​Through March 17
Anne Lemanski at SOCO Gallery
Through March 16
Wolf Kahn at Jerald Melberg Gallery
March 17-May 12
Justseeds Artists' Cooperative at McColl Center for Art + Innovation
Through May 5
---
PLACE TO WATCH: BLKMRKT
Goodyear Arts is Camp North End's highest-profile resident in the arts sector, but don't overlook BLK MRKT, from Dammit Wesley and SimplisticPhobia. The space, with an emphasis on cultivating and showcasing African-American talent, regularly hosts talks and events that display the works of some of Charlotte's most exciting visual artists. 1824 Statesville Ave., Ste. 106.
---
CLT Unveils a Massive Digital Art Display
Refik Anadol, a Turkey-born digital artist, is behind a new project at Charlotte Douglas International Airport. Digital art by Anadol will appear on 850 linear feet of LEDs in a new concourse just north of Concourse A. The airport said it's one of the largest "data sculptures" in the world. The ever-changing piece of public art arrives this spring, with no official date set for its debut.
---
LIVE MUSIC & FESTIVALS
A Collaborative Effort Delivers The Rite of Spring
April 6-7, Belk Theater
Stravinsky's The Rite of Spring was originally envisioned as both a ballet and orchestral work. The Charlotte Symphony Orchestra acknowledges this history in a partnership with renowned choreographer Peter Chu, Charlotte Ballet, and the ballet's REACH program, which includes kids who mostly attend high-poverty Charlotte-Mecklenburg schools.
When it premiered in 1913, The Rite of Spring was a beacon of innovation, experimenting in tonality and dissonance. Today, 105 years later, it remains a standard among symphonies around the world.
Other Symphony Shows, by Series
Pops:
Rocky Mountain High: John Denver
March 2-3, Belk Theater
Disney's Fantasia
May 4-5, Belk Theater
Classical:
Ravel Left Hand Piano Concerto
March 9-10, Belk Theater
Bernstein at 100
March 23-24, Belk Theater
Brahms Piano Concerto No. 1
April 27-28, Belk Theater
Mozart's Jupiter
May 11-12, Knight Theater
altsounds:
Mr. Tambourine Man: Poems of Bob Dylan
April 20, Knight Theater
---
For Fans of Pop Classics
Steely Dan With The Doobie Brothers
May 10, PNC Music Pavilion
Tony Bennett
March 15, Ovens Auditorium
The Eagles
April 11, Spectrum Center
Jimmy Buffett
April 7, PNC Music Pavilion
---
New Album Releases
Records are planned for local artists such as rapper Black Linen (late March) and hip-hop producer-performer Yung Citizen (late February). The New Familiars will also head back into the studio in March to record a new LP.
---
Charlotte's Spring Mixtape
Our favorite tracks from some of the acts hitting Charlotte stages this spring:
➊ St. Vincent, "Los Ageless" (May 21, Fillmore Charlotte)
➋ Hiss Golden Messenger, "Heart Like a Levee" (March 9, Neighborhood Theatre)
➌ Old 97s, "Good With God" (April 20, Visulite Theatre)
➍ Khalid, "Young Dumb & Broke" (May 23, Charlotte Metro Credit Union Amphitheatre)
➎ Jessica Lea Mayfield, "Sorry Is Gone" (March 15, Neighborhood Theatre)
➏ Dashboard Confessional, "We Fight" (March 27, Fillmore Charlotte)
➐ Gregory Porter, "Holding On" (March 3, McGlohon Theater)
➑ Miguel, "Come Through and Chill" (March 28, Fillmore Charlotte)
---
Boom Festival
April 20-22
The three-day arts festival takes over Plaza Midwood again this spring. In the past, Petra's, Snug Harbor, and Rabbit Hole have participated in the event. Look for musical theater, live music, dancing, performance art, spoken word, and visual art events throughout the weekend.
Sensoria Festival
April 6-15
United States poet laureate Tracy K. Smith, visual artist Felicia Van Bork, and a high-profile performance of composer Benjamin Britten's War Requiem headline this year's literary/arts festival at Central Piedmont Community College.
Kings Drive Art Walk
May 5-6
The eighth edition of this spring fine arts event will occupy the Little Sugar Creek Greenway along Kings Drive. The walk is the counterpart to the Festival in the Park, an arts, crafts, and music event that has run in the fall since 1964.