Style: Textile Designer Wesley Mancini's Timeless Aesthetic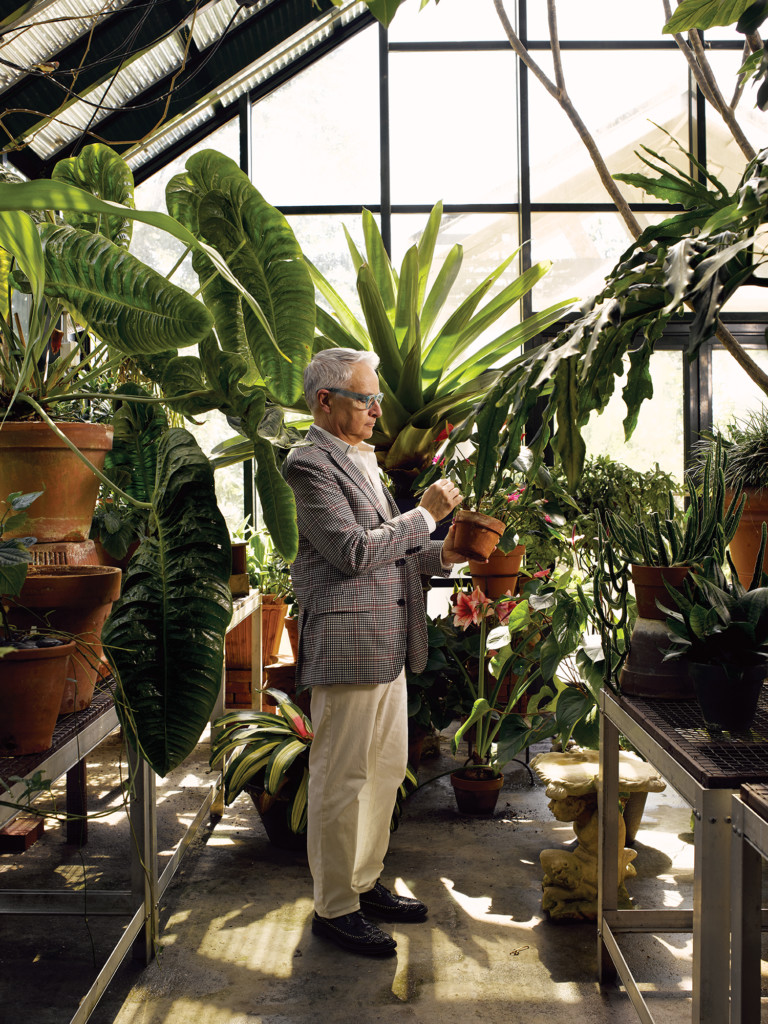 A LINE OF TINY BIRDS patters across the floor of Wesley Mancini's greenhouse in Myers Park, disappearing beneath a counter holding masses of exotic begonias. The button quail are a natural way to control insects in this soaring glass enclosure. The well-known textile designer walks by a tree laden with glossy star fruit and another with Meyer lemons, reaching cinnamon and curry trees. He gestures across the aisle to a jade plant. "My mom got a leaf from a tour of Jackie Onassis' house 30-plus years ago," he explains of its ancestor (the plant's leaves will root on their own). A mango tree and jasmine bush flourish nearby.
Plants thrive under Mancini's attentive care; like his fabric designs, they are studies in form and texture. His textile designs have been ubiquitous in the American and international markets for decades; three years ago, the International Textile Alliance awarded him its first lifetime achievement award. His classic patterns and innovative colors enjoy widespread appeal, from rugs sold at Neiman Marcus to upholstery fabrics at Calico Corners.
His personal style is similar—timeless elegance paired with surprising colors or patterns. He'll wear a subtle sweater and slacks with striped Converse sneakers and Prussian-blue glasses. The colors are like bookends to a shelf of classics.
Mancini knew he wanted to study art as a child in Connecticut, living in a farm community where his family's roots date back to Colonial times. After studying fiber in college and grad school, he moved to High Point to design upholstery fabrics. When his employer lost a high-end contract, he had to design cheap material for a South Carolina mill. "I was told to design stuff as ugly as I could make it," he says, laughing. "How do you do that? It's basically a learned aesthetic."
He learned a lot during those years, by listening to sales reps and putting together the lines they knew would sell. He also learned about Southern culture, from fatback in the mill's cafeteria to chewing tobacco in the weaving room. "It was culture shock," he admits.
His flexibility has proven valuable in an industry that's been through a seismic shift since he formed his eponymous company in 1983. He's designed low-end to high-end with flair. And while the market has changed, his love for art and gardening has remained a constant since childhood. He's taken care to cultivate both.