Sweet Somethings at Sweet Lorraine's
Four goodies to try at the new sweet spot in Dilworth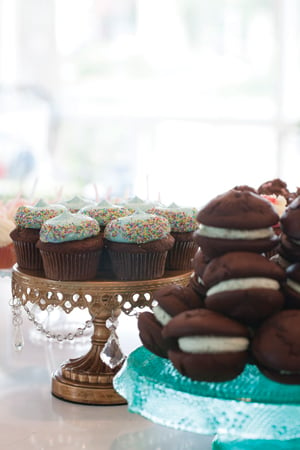 Sweet Lorraine's Bakery opened its doors in Dilworth this summer, becoming a new destination for goodies such as freshly baked breads, buttery chocolate croissants, and bacon cheddar scones. In this bright, expansive café and bakery, owner Christine Guerriero applies her talent as a classically trained French pastry chef to her grandmother's recipes. Here's a sampling of what you'll find.
Sweet Lorraine, $4.50
Named after Guerriero's late mother (who loved to bake), this dessert features a generously sized chocolate chip cookie baked atop a brownie with a molten center.
Pesto & Pine Nut Boule, $4 (small), $7 (large)
Generous amounts of toasted pine nuts and pesto are kneaded throughout this fresh, crusty bread, which is made daily. Small boules are perfect for a family dinner.
Fresh Fruit Tart, $5
Guerriero's culinary skills shine in this made-from-scratch pastry. Flaky pastry crust is filled with decadent vanilla pastry creme and topped with artfully arranged fruit.
Grasshopper Whoopie Pie, $3.50
Luscious, sweet mint icing is sandwiched between two slices of fluffy chocolate cake in this spin on an American classic. Best enjoyed with a glass of milk.