Sycamore, Olde Mecklenburg Medal at Great American Beer Festival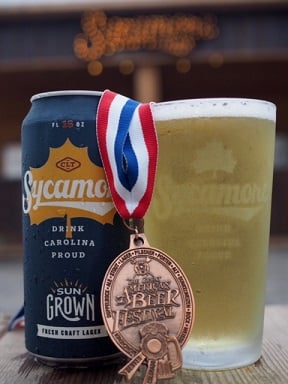 Two local breweries brought home some new hardware from the 2017 Great American Beer Festival this past weekend.
Sycamore Brewing and Olde Mecklenburg Brewery won bronze medals at this year's GABF, which is looked upon by most as the best of the best awards competition for craft beer. Both breweries have previous wins at the festival, and were part of a total of 14 medals for North Carolina (second-most for the Tar Heel state, just falling short of 2016's record of 17).
Olde Mecklenburg's bronze was for the brewery's Hornet's Nest Hefeweizen, which placed in the South German-Style Hefeweizen category. This is OMB's second GABF medal, as it previously won silver at the 2012 festival in the German-Style Märzen category for its Mecktoberfest.
With this recent win, OMB is just one of three U.S. breweries to win medals at both the 2017 GABF and European Beer Star (which Olde Meck won gold last month for its Fat Boy Baltic Porter). The other two to capture this honor are Firestone Walker (N.Y.) and Alaskan Brewing.
Sycamore actually captured two bronze medals this year for its Sun Grown Fresh Craft Lager. The brewery placed in both the American-Style Lager or Malt Liquor category, along with Light Lager.
And you can say that Sycamore has this lager dialed in, as this is now the third GABF medal for this beer, as it won bronze in 2015 in the American Style Light Lager category (back then it was called Southern Girl Lager). Sun Grown also brought home a silver medal at this year's New York International Beer Competition.
This marks three straight years that at least two Charlotte-area breweries have placed at the GABF (Sycamore and Triple C in 2015, along with NoDa and D9 last year). A full list of all 2017 Great American Beer Festival winners can be found here.
Finally, if you want to try these award-winning beers from Olde Mecklenburg and Sycamore, both are offered year-round at each brewery, and are also currently available at local bottle shops and grocery stores.
Olde Mecklenburg's Hornet's Nest Hefeweizen won bronze at this year's Great American Beer Festival, the brewery's second GABF medal overall (Pic courtesy of OMB).