Sycamore rolls out small batch canning series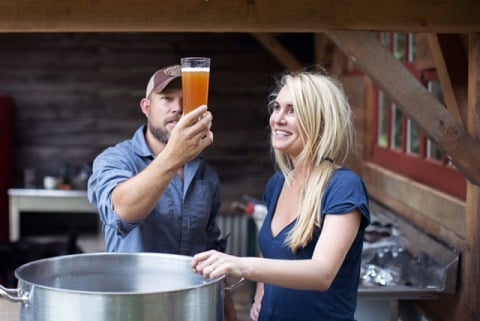 Debuting beers is nothing new to Sycamore. In fact, the 3-year-old brewery is close to approaching 300 beers by year's end. And now with the latest addition in North End, a production brewery dubbed the Sycamore Brewing Cannery, it allows for customers to try – and take home – some past favorites and new styles as well.
Sycamore is rolling out its small batch can series beginning this Thursday at 4 p.m. with "Patrick Hazy," one of five NE IPAs the brewery will be releasing in cans. Speaking with Sycamore co-owners Sarah and Justin Brigham, the plan is to have a new beer in cans every two weeks for an indefinite period. That may seem bold, but not if you've seen the endless list of recipes at the brewery.
"We've made almost 280 beers using a ton of recipes out here from Day 1," Justin says. "By the time we started canning we were already almost maxed out with the little amount we did with mobile canning. We realized we needed more tanks and a proper packaging line to keep consistent quality, volume and supply.
"The good news is when we opened the Cannery, we had two-and-a-half years of (the original Sycamore location) being R&D for beers. And by the grace of our friends and neighbors who come in here and try new things, we were able to figure out what beers were our flagships, what were seasonals and what would be our specialty line of beers."
An example of the latter is Sycamore's Mountain Candy IPA, which the brewery released in cans last month. Sycamore also redid the can designs for a fresh summer release of four of its flagship beers – Countryside IPA, High Tide White Wheat, Southern Girl Blonde and the Great American Beer Festival winner Sun Grown Craft Lager.
"What we really wanted to do first and foremost was to get consistency at the Cannery to what the recipes have been over here," Justin says. "GABF was amazing to us on that level. We got a 2015 medal (at the original location) for the lager and two more this year for the beer (brewed at the Cannery).
"That's just incredible; it means we managed to replicate the recipe to where it's recognized as world class at both spots. So now that we have that rhythm, it allows us to start to bring these more aggressive, experimental-type styles into play."
Enter the NE-style IPAs, which have taken the craft beer world by storm over the last couple years. Many enjoy the juiciness of these hazy beers, while others go for the fruity aroma and sweet and smooth finish.
Justin notes that many of the brewers at Sycamore are admitted "hopheads," and the team gets to play with "some pretty amazing hops – that's where it all really starts to shift" in creating these beers. Here's a rundown of the five NE IPAs, with a quick description from Justin:
Juice Willis – "Here we get to work with Nelson, which in my mind is the holy grail of hops, and Galaxy. It kind of has that white wine, great tropical fruit to it."
Dank Williams – "We set out to make the dankest beer … and really, what is dank? (laughing) It's like describing a color. But this has a mix of four different hops to get what we feel is what we call "dank."
Citropica – "The name says it; it has Citra hops so it's pretty citrus heavy. But it also has an experimental hop that we were lucky to get. You truly get Creamsicle notes to it, which is amazing."
Patrick Hazy – "This is one we've previously had in the taproom; it's double dry-hopped and there are some really good blueberry notes to it."
The final NE-style IPA from Sycamore is Big Fat Juicy, another beer self-described by its name. Sarah notes this beer will also have a subseries down the road, with different fruits that will be added.
While Patrick Hazy is the first beer to be released, the other NE-style IPAs won't follow back-to-back. Rather, Sycamore will space them out over the months, as the brewery has other beers it wants to roll out first – especially with the cooler season now here.
After Patrick Hazy, the next small batch can release will be Naughty Bear, Sycamore's winter ale brewed with honey, spices and vanilla. That's currently scheduled for Nov. 9. For all of the small batch releases, expect around 80 cases (cans will be 4-packs with a limit of three per person).
"We're just making it all about the beer; we'll have a band here because we have bands booked on Thursday but it's really beer-centric," Sarah says. "Our brewers will be here with each release to talk about the beer and answer any questions. You even may see us having T-shirts with some of the releases.
"This is all more of a passion project for Justin and I. The creative side of the brewery is what has always excited us the most and this is the continuation of this now with the production brewery up and running."
You can also expect seasonal favorite Christmas Cookie in cans, along with a yet-to-be named imperial stout and a triple dry-hopped pale ale. And when summer comes, plans are for Sycamore to can a strawberry-lemon Gose.
"Not every beer we've done has been a success, but we've tried to take the best of what we've done and now showcase them as small batch cans," Justin says. "We effectively have a larger production brewery now, but we never want to stymie the creativity.
"It really helps that people are so adventurous now as to what they're willing to try. They come with open arms to what we're experimenting with; if it's great, they're going to keep that adventurous spirit up and if it's not, we know it won't work. You can't put beer out that people don't enjoy and expect to stay relevant. So we want to keep pushing the envelope; that's the beauty of being a little guy in the big beer industry."
Sycamore Brewing will release Patrick Hazy in cans this Thursday at 4 p.m.