The Song is Over: Reflection Sound Studios
For 45 years, everyone from James Brown to Tammy Faye Bakker to R.E.M. to The Spongetones recorded there. But industry disruption and the owner's desire for a peaceful retirement have leveled not just the studio but a musical community few knew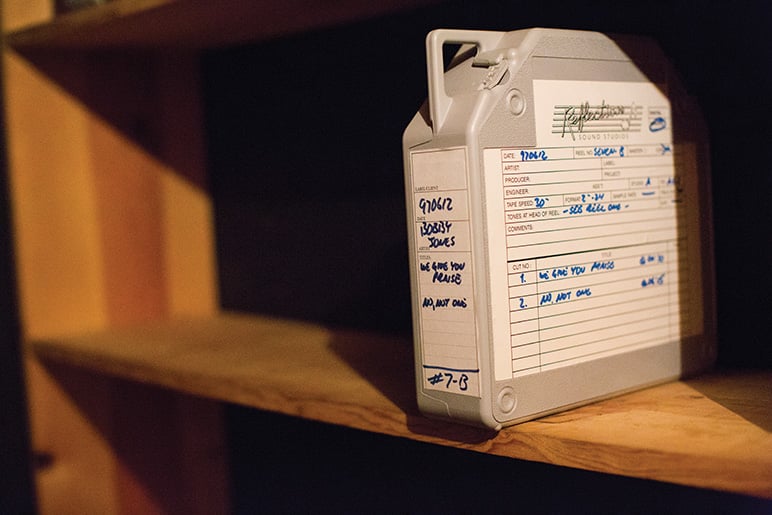 The studio is dark. Wayne Jernigan flips on the lights. They reveal the disarray of a recording studio in mid-liquidation: tangles of headphones in stray cardboard boxes, audio cables coiled like rope beneath a vibraphone, vintage microphones in rows atop a plastic folding table. "Here's what James Brown used when he recorded here," Jernigan says, pointing to a gray cylinder. Next to it lies a photo of the Godfather his own bad self, clad in a dark blue suit with a cross around his neck, howling into the mic.
It's a hot Wednesday morning in late June, three weeks after the sale, three weeks before Jernigan has to make way for the new owners' demolition gear and front-end loaders to haul away the remains. He's already sold three pianos, multiple amps, basses, and guitars—the accumulation of 45 years in the recording business. He still has plenty to sell. Jernigan hopes he can earn about $300,000 from the gear—which sounds like a lot but is nowhere near what he paid for it over the years, or what it's worth. I ask the lanky, hawk-nosed 72-year-old if the proceeds are going anywhere special, a fund or charity of some kind. He pats his jeans, laughs, and says, "My pocket's pretty special."
Jernigan founded Reflection Sound Studios in 1969, when, trying to save a faltering marriage, he left a high-prestige and lucrative musician's gig in Nashville to open a recording studio in Charlotte. He started at a dingy spot on South Boulevard and moved five years later to 1018 Central Avenue, where Plaza Midwood meets Elizabeth, just across the street from the Salvation Army Thrift Store.
Over the next four-plus decades, a procession of stars, working musicians, ad men, and evangelists recorded at Reflection, and Jernigan's team tracked and mixed sounds with skill and technical quality that equaled or surpassed any American studio's. Whitney Houston recorded a Christmas song here. Kenny Loggins recorded the vocals for "I'm Alright." Loonis McGlohon, Charlotte's musical eminence, spent hours here, as did Tammy Faye Bakker. In the early 1980s, a college rock band from Georgia named R.E.M. came here and recorded a pair of albums, Murmur and Reckoning, that helped mold the future of pop music. All the while, few outside the music industry knew Reflection existed.
It no longer does. The lot where it stood is cleared, soon to be the site of an Atlanta real estate firm's 240-unit apartment complex, another brick laid in boomtown Charlotte. It's just as well, Jernigan says. "The last thing I wanted to do," he says, "was be an 80-year-old trying to sell studio time to a 20-year-old."
That's if the youngster needed or could afford studio time. Recording studios were once the nerve centers of popular music, as recognizable and revered as the musicians who recorded there: Abbey Road, The Hit Factory, The Record Plant, Motown. One by one, they're losing business and shutting down, steamrolled by technology that lets people record anywhere and an industry in fragments.
"It's the death of almost all studios," says Bill Szymczyk, an industry veteran who's produced records by The Eagles and B.B. King, among many others. Szymczyk produced a Joe Walsh album at Reflection in the early '90s. "There's too much home recording going on. Everybody's got some kind of little rig and thinks they know what they're doing.
"Everybody's a producer and engineer now, and large studios like that with a big overhead, it's rough to keep going."
So it was Jernigan's time to close up. Everyone understands. No one blames him. The gear from Reflection will find homes in the hands of musicians and professionals from all over. It'll live on that way.
But there's more to the demise of Reflection Sound Studios than the razing of a building and the parceling out of equipment. At its peak, a community coalesced around the place. When the time came to make records, they all knew where to go and who'd be there to greet them. Now that's gone, too.
***
JERNIGAN'S SOFT-SPOKEN, EASYGOING DEMEANOR obscures a ferocious determination and a gambler's fondness for calculated risk. In his late 20s, he left Nashville to found a studio in Charlotte—no one's idea of a music town—knowing that he was abandoning his dream of working in a successful country band.
He was drumming for one of the most celebrated bands around, Ernest Tubb's traveling outfit, which had hired him two years earlier. He was making good money. But his frequent absences were corroding his marriage. His wife, Shelia, was from Charlotte and wanted to go back. Jernigan thought relocating might help keep them together.
Recording fascinated Jernigan, and he knew a successful studio could make good money. By then, old-time Grand Ole Opry country music was fading in popularity. Rock music had overtaken the clubs and airwaves, even in the South. "The opportunity had opened for me, and I couldn't turn it down," he says. "I got more and more interested in what was happening on the other side of the glass."
His family moved, and Jernigan set up Reflection Sound Studios—the name a play on the recording term "early reflections," sounds that listeners' ears perceive after they've bounced off hard surfaces—in a low-slung, yellow brick building on South Boulevard. In his last year with Tubb, Jernigan earned $22,000, about $136,000 in today's dollars. In its first year, Reflection pulled in $13,000. "It was a rude awakening, I can tell you that," he says. Worse, the move to Charlotte didn't save Jernigan's marriage. The couple divorced in 1971.
Early that year, though, a young musician and fellow South Carolinian walked in off the street.
It was a spring day, and 20-year-old Don Dixon was driving down South Boulevard in Charlotte with a demo tape and a lot on his mind. He played bass for a Chapel Hill band that was loaded with talent and already blowing their regional counterparts off the stage—without apology, either, thus the band's name: Arrogance. But the band's production deal with a Hickory studio wasn't working out, and Dixon was open to something new.
As he drove down South, a sign caught his eye: Reflection Sound Studios. A compact bundle of energy with dark hair down to his waist, Dixon pulled over, grabbed his tape, and headed inside. He happened across Jernigan and explained that he was a musician with a great band in need of a new place to make records. He played Jernigan the Arrogance tape.
"It was like Black Sabbath! It was just bizarre," Jernigan says, laughing. "I heard the songs. The songs were good. I just wasn't a fan of Black Sabbath. I had just come from Nashville, you understand, so I was used to George Jones and Tammy Wynette."
Dixon had found a second home, family included. Over the next 43 years, Dixon worked the tapes at Reflection, produced bands there, recorded and mixed his own solo albums there, and cemented his budding relationship with the woman he would marry. Jernigan says often that he and Dixon couldn't be closer if they were brothers. More than anyone, Dixon built the studio's reputation as a magnet for creative, independent rock bands that wanted good sound quality without the corporate interference they'd encounter at a major studio. Dixon played on and produced countless sessions at Reflection, right up to the last one in May 2014.
"It continues to be odd, thinking about that place getting bulldozed," Dixon, now bald and bespectacled, tells me in June. "But most of it's memories anyway …" He struggles for the words. "Just because the building's going to be gone doesn't take any of that away."
In those early years, Jernigan paid the bills by recording not just bands but anything he could book for an all-purpose studio—commercials, film audio, whatever. Reflection's profits tripled by 1973. Two years later, Jernigan moved out of the South Boulevard building and rented the Central Avenue location, a former recording studio that a film production company was vacating. Jernigan bought the building in 1978 and kept going, earning enough to hire and expand: a full-time staff of engineers, office workers, and maintenance men. He invested heavily in equipment, replacing the main console every few years and constantly buying cutting-edge mics and recorders.
"You're always chasing technology to compete in the recording business, and that's what we wanted to do—compete in major markets," he says. "We had to have the same gear and professional approach they had and treat it like a major-market studio."
By 1980, Dixon and his Arrogance bandmates had returned to North Carolina after a brief stint in Los Angeles. The band recorded their own music at Reflection and served as session musicians for other bands and artists; Dixon kept honing his production skills. Reflection was a financial success, and both Dixon and Arrogance had steady work, but none had broken through to wider recognition.
Arrogance never did. It remains a beloved cult band that plays the occasional reunion gig in the Triangle area. Reflection, though, was about to gain nationwide fame—along with a scruffy, off-kilter quartet from Georgia that rejected big-name studios and producers but needed a place with 24 tape tracks.
***
THE FIRST SOUND A LISTENER HEARS is white noise: scratchy, static, tinny. Two seconds in, a cornet emerges from the morass, playing an indefinable melody. At 26 seconds, through the crackle, a human voice: "Mary had a little lamb/Its fleece was white as snow."
The recording was made in 1878. Thomas Edison, using a sheet of tinfoil wrapped around a cylinder, had invented the phonograph and, in effect, founded the recording industry.
The earliest records were made to fill penny-arcade, coin-operated phonographs, then early jukeboxes. They were engaging novelties, but even into the 1940s, records didn't sell especially well. They were brittle, the sound quality was poor, and record players were beyond what most people could afford, especially in the Depression years. Most people still heard music through live performances or radio broadcasts.
The industry didn't really take off until after World War II, when magnetic audiotape and multitrack recording allowed singers and bands to produce records affordably and with decent sound quality. The advances fundamentally changed the way consumers experienced music. By the 1960s, instead of having to go down to the music hall or gather around the radio at a specific time, people could stack records on the hi-fi and listen to what they wanted when they wanted.
This was a profound change, and not just in terms of technology or culture. Listeners had always encountered music in communal settings—in concert halls, at parades, in sing-alongs while gathered around the piano or campfire. When people could afford records and players, they suddenly had another option: listening in private. They could develop relationships with their favorite records. It was the start of recorded music tailored to individuals' tastes and moods, an idea that evolved from the days of headphones and Pink Floyd albums in basements to iPhones and Spotify playlists in earbuds.
Yet even as late as the '60s, the sound itself was still one-dimensional. Records essentially captured live performances, with little ambient sound or overdubs. That changed in the mid-1960s, when rock musicians such as The Beatles and Brian Wilson of The Beach Boys began exploring the limits of recording with odd sound effects, multiple overdubs, and techniques that expanded recorders' capacity.
Albums such as The Beach Boys' Pet Sounds and The Beatles' Sgt. Pepper's Lonely Hearts Club Band were at least as revolutionary for their sonic quality as their songs. Those and other records kicked off the golden age of the recording studio; Abbey Road Studios in London, where The Beatles recorded, and producer Sir George Martin became nearly as renowned as The Beatles themselves.
For the next 30-plus years, pop artists gravitated to specific studios where producers, session musicians, and the spaces themselves functioned not just as assistants on records but as auxiliary members of the bands. Communities of musicians and sound engineers grew roots around them: the Funk Brothers at Motown in Detroit; Booker T. & the M.G.'s at Stax in Memphis; the Swampers at Muscle Shoals in Alabama. Record albums became art forms, and studios were the spaces where artists did their work.
"Music was central to people's lives in a way that it's not now," says Mitch Easter, a longtime Triad-area musician and producer. "That's what I love about studios: There's a romance about it, about a building where so many things have happened, and this kind of mojo that comes out of all those humans. That's what's really cool about studios."
He likes them so much, he had one built in his backyard. On a Sunday afternoon in June, Easter—a diminutive figure in a purple-and-orange paisley shirt, gray jeans, and black biker boots—leads me down a long driveway from his Kernersville home to a pair of connected concrete boxes with red trim: the Fidelitorium, his studio, operational and booking dates after 14 years.
The studio is an audiophile's candy store. It boasts a vintage console, a couple of mint-condition Studer analog recorders, even a Chamberlin, a primitive synthesizer from the 1950s. We sit first on couches in the lobby—one green, one orange—but Easter decides he'd rather sit on the floor. "I do this with my dogs," he explains. "We watch TV like this." When in Rome, I think, and I settle to the floor, too.
At 59, Easter is an underground legend in North Carolina music. He founded and fronted the 1980s jangle-pop band Let's Active. He's owned and operated home studios for more than 30 years and produced records by artists such as Ben Folds Five, the Connells, Suzanne Vega, Marshall Crenshaw, and R.E.M.
He was R.E.M.'s first producer, in fact. Easter supervised the recording of the band's first single, "Radio Free Europe," and a five-song EP, Chronic Town, at his home studio in 1981. R.E.M. signed with an independent label the next year and insisted on recording its first full-length album with Easter rather than a big-name producer. The label agreed—on the condition that R.E.M. use a studio with a state-of-the-art recording setup, which in the early '80s meant 24 recording tracks. Easter's studio had only 16. He knew of only one studio in the region with the necessary equipment, and it was down Interstate 85 in Charlotte.
Easter called Don Dixon. The budding producers had known each other since the early '70s and had worked on recordings at Reflection before. "It blew my mind to see the real thing … In those pre-computer days, everything was big, so it was very exciting to see all that stuff," Easter says between sips of hot tea. "I had been hearing things that Dixon had recorded down there, and I had been recording things on my TEAC four-track since high school, and I loved recording. But he would play me things he had recorded at Reflection, and it always just sounded like the real shit, like, 'Holy crap, that sounds good.'"
Easter asked Dixon if he'd help produce the album. Dixon accepted. The record label gave the OK, and in the first week of January 1983, R.E.M. set up at Reflection to record Murmur.
***
MICHAEL STIPE WOULD COME IN EARLY, sometimes before his bandmates had even woken up. He'd set up not in the vocal booth in one corner of the big room but at the opposite end, in a half-staircase landing that led from the control room down to the studio floor. Stipe had just turned 23 and looked younger. His curly, dirty-blonde locks fell over his forehead, and he usually sang with his eyes closed.
"That's where he sang so he could be private and do what he wanted to do and not feel like people were looking at him," says Dixon, who was in charge of recording vocals. "Eye contact was not a part of this band."
They were so quiet. That's what everyone at Reflection remembers. This was 1983, the early morning of the MTV era, and rock bands were supposed to be bad boys, overrun with groupies and as glammed-up as cocktail waitresses. The members of R.E.M. barely said a word, and they looked like the rumpled, slightly shaggy college students they'd been a few years before.
No one caught a whiff of Next Big Thing. The band just got to work.
They'd founded R.E.M. three years earlier, building a cult of fans in Athens' booming music club scene and on college radio, then just emerging as a way for so-called "alternative" rock bands to get noticed. By 1983, the four of them—Stipe, guitarist Peter Buck, bassist Mike Mills, and drummer Bill Berry—knew they wanted to steer clear of power-chord rock clichés and MTV-inspired peacock fashion. The college audiences that loved R.E.M. found the approach fresh and invigorating. Established pop musicians thought the band didn't know what it was doing.
"They were almost universally despised by musicians. Most musicians thought of them as nothing more than a bunch of hack shitheads. They didn't get it," Dixon says. "The more accomplished you were … the more you hated R.E.M.
"It's hard to hear it now in hindsight as it was at the time. I can remember a guy coming down from D.C., and for some reason he pops into the studio and wonders what we were working on. I played him a little bit of something, and he goes, 'What the hell do you call that?' I said, 'Well, I guess they call it alternative.' And he goes, 'Alternative to what? Good?'"
R.E.M. wanted to make music that was timeless, not trendy. That's why the band insisted on working with Easter, who describes the approach as "loose but not aimless." He and Dixon let R.E.M. be R.E.M.
The band recorded for three weeks and stayed with friends in town. Dixon and Easter made use of the studio space and recording capacity by crafting peculiar sonic introductions to some of the songs—like the synthesized mouth harp sound that kicks off the album version of "Radio Free Europe," the opener—but otherwise the band was largely recorded live. Everyone, band and producers, was pleased with the result, released in April 1983. They felt it was a solid, uncompromising collection of songs that worked as a unit and reflected what the band was about.
Dixon and Easter guessed it would get college radio airplay.
Murmur is now considered one of the most significant albums in pop music history. Rolling Stone ranks it 197th of the top 500 albums ever and 18th on its list of the top 100 debut albums. The British music magazine MOJO ranks it among its 100 Records That Changed the World. The sound and style R.E.M. established on Murmur influenced countless bands throughout the '80s and '90s. It's impossible to imagine Nirvana, The Pixies, Pavement, or most other post-1980s rock bands without R.E.M.'s example, and Reflection was where that sound was fully realized for the first time. "I think the term 'alternative' was coined as much in this studio as it was in any other studio around," Jernigan says.
The band returned to Reflection in late 1983 for its second album, Reckoning, then recorded its third album in London. Its fame and commercial success grew over the last half of the 1980s, and by the early '90s, R.E.M. had become one of the biggest and most important rock bands in the world.
Easter still keeps in touch with members of the band, which split up amicably in 2011. In his lobby, he tells me he's always surprised when people assume he's sick of talking about producing R.E.M. "I'm like, 'No, why would I be sick of talking about R.E.M.?' " he says with a laugh. "The fact that those records actually mean something to people is amazing. It's still in the consciousness of music people … so I'm proud of that. I'm very happy to have worked on it, and it kind of put me on the map. You can't buy that sort of thing."
Jernigan remembers another band that recorded at Reflection in early 1983, a power trio from Charleston, South Carolina, called the Killer Whales. They sounded and looked a lot like The Police, then the biggest band in rock. "They were just really, really good, exciting. It just had so much energy to it," Jernigan says. If someone had asked him at the time which of the two would hit it big, R.E.M. or the Killer Whales, Jernigan says he'd have put his money on the Killer Whales.
***
NEARLY 10 YEARS after Murmur, Joe Walsh came to Reflection to record an album. It was spring 1992. Walsh was 44 and an honest-to-goodness rock star, a guy who'd cranked out classic rock staples with The James Gang in his 20s—even before he joined The Eagles, one of the best-selling bands in rock history. Walsh had hit the charts as a solo artist, too. But by the early '90s, his career was stalled. He'd rejoin The Eagles a couple of years later on the ironclad condition that he sober up. In Charlotte, he had yet to sober up.
"He was in full maniac mode," recalls Bill Szymczyk, who produced the album, Songs for a Dying Planet. "He was doing a ton of blow. He would go through half a bottle of vodka before lunch. He was in rough shape."
Still, Walsh was a huge get, the biggest established star ever to record at Reflection. Szymczyk was the one who brought him to Charlotte. Szymczyk was driving home late one night from a recording session in Miami, where he lived, when he heard a Don Dixon song on the radio. He liked it so much, he ran out and bought the album.
"I had expected, reading the credits on the Dixon album—'recorded at Reflection, Charlotte, North Carolina'—I thought, 'Well, it's probably some small project studio,'" Szymczyk, 71, tells me over lunch uptown; he splits time between an uptown condo and a home he owns in Mitchell County. "But then I walked into this big-ass room and went, 'Whoa!'"
Once recording started, Szymczyk learned quickly that something was wrong with his old buddy from The Eagles. He awoke one morning in his SouthPark hotel, opened the door, and discovered the doorway papered over. "I'm looking through the keyhole: 'Why is this white? What the f–k is going on?'" Walsh had decided to write a lengthy note to the housekeeping staff, instructing them not to disturb Szymczyk, that he was working very hard producing a brilliant rock record, and he needed his rest. The note filled 20 pages. Walsh had fastened them together and hung the whole thing over the door.
Another time, Walsh came back from the Salvation Army Thrift Store across Central Avenue with a garbage bag full of pots, pans, and kitchen utensils. He approached Jim Brock, a veteran Charlotte session drummer who was a mainstay at Reflection from the mid-1980s. "He comes back in, hands me this bag, and says, 'Play this,'" Brock tells me one afternoon over coffee. "I said, 'Uh, OK.' I just dumped it out all over the floor and found ways to get sound out of it.
"Walsh had the biggest personality. I mean, he'd show up with a Cat in the Hat outfit on. He'd show up at 10 a.m. wearing this thing!" Brock laughs so hard, his face turns red. "Let's put it this way: He was a rather happy man in those days."
Songs for a Dying Planet was released in May 1992. Reviews were mixed. Sales were tepid. Walsh sobered up, rejoined The Eagles, and didn't release another solo album for 20 years.
***
MARK WILLIAMS, A GIANT OF A MAN with a long, gray ponytail, sits before a mixing console in a tiny studio space he leases on Louise Avenue, just a few hundred yards from where Reflection used to be. Williams mixes for a living now. He takes sound files people email to him from Australia or British Columbia or New Jersey, and he puts them together. The result is a larger and more complex sound file. That's what a record is nowadays.
Williams was Reflection's main sound engineer for nearly 18 years. The mixing business keeps the 64-year-old afloat—which he's grateful for, considering there was a time when he thought that he might have to start over completely—but he misses what he had. At Reflection, he'd look up from the control room console and, through the glass, see many of the same people, year after year: Dixon out there playing bass, Jernigan popping in every once in a while.
For those 18 years, Williams was regarded as one of the best in the business, a wizard at making the stuff recorded on Reflection's tape sound as good as anything produced anywhere. But there's no longer a need for a magic ear when something that sounds OK, recorded with digital audio software on a MacBook, will sell just as well as the best-sounding thing you've ever heard.
"It's hard to even pretend there's a record business anymore, and that's what we all were part of," he tells me on a Saturday afternoon in June. "I'm sad because it's a place where we made a lot of great records. But I'm also sad because it's been an enduring symbol of an industry that used to be that we all liked. The record industry was unfair and dishonest in every possible way, but there was so much money rolling through it that everybody got paid."
There was more to it than making a living, though. When people work together in the same physical space on something meaningful, intense bonds form, and those bonds can last for years, decades. Sure, you can physically make a record from a vocal recorded in Kansas, guitars in Seattle, bass in Los Angeles, and drums in Zurich, but where's the fun, or art, in that? "Music is made to be played together, not jigsaw-puzzled," Brock says. "Making a record used to be a planned event. Now it's file-sharing. There's not really anything special about that. When you do it that way, you can only add to what's there. You can't really influence what's there."
Brock, an Ohio native, began working sessions at Reflection in 1986, when Don Dixon asked him to play on his second solo album, Romeo at Juilliard. He, Dixon, and Williams shared a whatever-works approach to recording, and they collaborated on dozens of sessions at Reflection over the years. Brock recorded five solo albums and drummed on records by Joe Walsh, River Phoenix, and Joan Baez, among many others. "It's kind of like a death in the family to me. It's been a long time since it was that special place," Brock says. "I just feel kind of sad that the younger guys won't know what it's like to have an era like that … to have a Reflection in their life, or to be a staff player at a studio, where you do everything that comes through the door … that stuff is gone, pretty much. Nashville still has it, but it's not like what it used to be."
The change came around 2000, when musicians and producers began widely using digital workstations such as Pro Tools. (Ricky Martin's 1999 smash "Livin' La Vida Loca" was the first U.S. number-one single recorded and produced entirely with Pro Tools.) At the same time, the record industry, overwhelmed by music file-sharing networks and the advent of iTunes, began to implode and scatter. Gradually, labels ran out of money to pay for studio space, and the studios themselves began to lose money. Iconic studio after studio barely hung on or died: The Hit Factory in Manhattan, a six-story, 100,000-square-foot studio where Paul Simon, Stevie Wonder, and Bruce Springsteen recorded their biggest hit albums, and where John Lennon recorded on the day of his death, closed its doors in 2005.
Years before the last session at Reflection, Jernigan knew the end was coming quickly. He planned to retire in 2007 and sell the place to a group of investors who wanted to use Reflection to record hip-hop. He even dismissed the studio staff, thinking the sale was a formality. But the investors' finances collapsed, and the financial crisis that hit the next year forced Jernigan to hang on as well as he could. "Wayne's a determined son of a gun," Williams says, "and he was going to keep that boat afloat fully a decade beyond where there was a good business reason to do that."
Williams says that by the late '90s, he "could see where the Internet was taking things" and decided to strike out on his own as a sound engineer—although he still oversaw sessions at Reflection from time to time. He began working on gospel records, earning a Grammy nomination for sound engineering on Kirk Franklin's The Nu Nation Project, recorded at Reflection in 1998. But freelance sound engineering no longer paid the bills. He started his sound mixing business in 2009.
Williams sees the closing and demolition of Reflection not as the end of an era but a symbol of one that, realistically, ended about a decade ago. That realization doesn't make the end any easier, especially since he can walk outside his office, look across Central Avenue and see another symbol: the empty space where Reflection used to be.
"Man, I hate it," Brock says. "There's just so much history, and my history as a player is a big part of that. At 62, you wonder how much longer you've got. When does the phone stop ringing? That was my mark in life, and it was a good one."
***
MOST OF THEM MAKE THE GIG. Jernigan's here, along with his daughter, Kelly Bright, who was five years old when her father moved to Charlotte and who ended up working as Reflection's studio manager for 13 years. Mark Williams is here, too, with his wife.
The occasion is a show at The Evening Muse in NoDa, about a 10-minute drive from the old studio. Dixon and his wife, Marti Jones, are playing, and Brock joins them on drums. It's not meant to be a Reflection Sound Studios reunion. But damned if it doesn't look that way by the time Dixon, Jones, and Brock take the stage. The timing is right, too. It's Thursday, June 5. Jernigan sold the Reflection property, plus the other two parcels he owned on the block, three days ago.
For a while in the 1980s, it seemed like Dixon and Jones were about to hit it big in the music industry, either separately or together. Dixon parlayed his production of the R.E.M. albums into a solo record deal. Jones won critical praise for her smart pop-rock records, which Dixon produced, and her rich, evocative voice. Both earned money and respect in the industry, but neither quite broke through. They did, however, realize their bond went beyond music. They've been married now for 26 years and live in Canton, Ohio, about seven hours up Interstate 77 from Charlotte. Jones has just released a new album of bossa nova tunes called You're Not the Bossa Me, recorded in her and Dixon's home studio.
They began working together in 1985, when she flew in from Ohio to record at Reflection with him. "He just said, 'We'll go to the studio,' " Jones tells me at the bar before they start. "It became home, because we made every record there. We spent so much time there. And it has a special meaning for us, because we kind of became the best of friends over there."
It's a full house. People take their seats; the Muse isn't a dance-in-the-aisles kind of joint. The two start playing, Jones on acoustic guitar, Dixon alternating between stand-up and electric basses, and you can hear why the critics praised them. Their voices are rich and blend beautifully, and their musicianship is flawless. They're loose and relaxed, too. They should be. They're among old friends. "This is the first solo record I've done in 13 years!" Jones exclaims from the stage, to applause. "But why hurry?"
She introduces her song "Any Kind of Lie": "This is one of my favorite songs we ever recorded with Brock. This was recorded at Reflection." More applause. They're clearly having a great time. But then Jones adds, "How we will miss it. We all will."
Jones and Dixon launch into another tune, one of Jones's simplest and prettiest, a song about longing for someone you love who isn't there, not physically. She opens quietly in a husky alto. Jernigan leans over and whispers, "We always thought Marti sounded like Dusty Springfield." Brock keeps the beat with brushes on his snare. Dixon, her husband, joins her on the chorus, and their voices gain strength and rise:
'Cause you're here in my mind
Here in my life
Here in my heart
Always
Greg Lacour is a contributing editor for this magazine. Read his political commentary on his blog, Poking the Hornet's Nest.