The Survivor's Defiance of Drew Pescaro
UNCC shooting victim refuses to stay silent about guns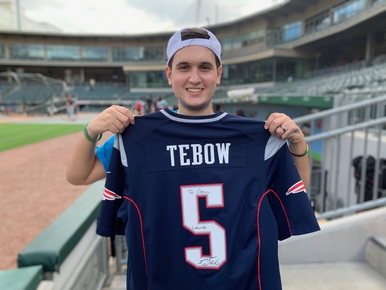 Every time it happens again, Drew Pescaro takes a quick inventory. Does he know anyone who lives where it happened, or anyone who's visiting? People he knew and loved wondered the same thing about him three months ago, with no way of knowing if he was OK and that, in fact, he wasn't.
If the inventory comes up empty, the momentary relief gives way to a wave of empathy for the people whose lives have been devastated or ended this time, mixed with memories of the afternoon of the last day in April, when he, wounded, shared a classroom at UNC Charlotte with two dead classmates and their armed murderer. His head begins to ring with something like panic. "I know this sounds crazy. I know this sounds weird," Pescaro says. "But every time I see a new one happen, I literally begin to feel pain in the area where I was hit. It's the most bizarre feeling."
Pescaro turned 20 this summer, most of which he spent at his parents' home in Apex. He did have some happy moments back in Charlotte, where he'll be starting his junior year at UNCC this month. The Hornets made him an honorary employee and arranged to pay for his last two years of college, and the Knights arranged for him to meet one of his childhood heroes, Tim Tebow, when his AAA team played here in July. Pescaro, a Massachusetts native, got Tebow to autograph his New England Patriots jersey.
The family went back to Massachusetts in late July to visit family and friends. Pescaro learned about El Paso on the flight back Saturday, when he saw the news on the seatback TV of someone in front of him. The process of taking stock and thinking of the families and hurting where he was shot began afresh. He got home, grieved, slept, then woke up to the news about Dayton. He tweeted this at 9:55 a.m. Sunday:
"If you can't tell yet, I'm done playing the role of the 'poor little victim that needs all of the sympathy in the world.' I'm out to encourage change in this world and if it means making enemies of those who supported me, bring it on."
He'd expressed that kind of defiance before, in an open letter he posted to social media after he was released from the hospital. I wondered how he was doing physically three months after the UNCC shooting and emotionally after the nightmare of this weekend. We initially agreed to talk Sunday evening. A few minutes beforehand, he texted me to say he wasn't in the right mental state for an interview. He felt better Monday morning, although neither he nor any of us had awoken from the bad dream.
"It was my worst stretch of days since what actually happened to me back in April," Pescaro told me. "It was just really hard." His outspokenness, he said, comes from "the desire to get in contact with someone who has the ability to make change in this situation … and just trying to get people to understand how serious this problem is. I feel like our society is so numb to it, and they just see it and go, 'Oh, that's terrible,' and can move on. But with me, every time it happens, I'm reliving my situation and putting myself in their shoes, because I know exactly what that situation is like."
The bullet hit him in the lower back, to the right, about an inch from his spine and barely missing his stomach and liver before it tore through his lower abdomen on its way out. Pescaro has endured three surgeries. He's lost about a third of his large intestine and a fifth of his small intestine. "They kind of had to tie them together," he said. "I don't know exactly what it looks like in there." (The man accused of the shooting, 23-year-old Trystan Terrell, remains in the Mecklenburg County jail, awaiting trial on two counts of murder, four counts of attempted murder, and related charges; three other students were shot and lived.)
Pescaro has to let the muscle on his right side regenerate, which means he can't put his body through much physical strain, which means a lot of inactivity, which is agonizing for a physically active 20-year-old. He and some friends organized a flag football club team last year, and he probably won't be able to play. Yet he looks at himself in the mirror every day and considers how much worse things could have been.
And those are some of the times when he gets angry. You should understand this: Drew Pescaro is not "anti-gun," per se. He's not anti-Second Amendment. He has not transformed into what any reasonable person would call a gun control activist (although, really, who could blame him if he did?). He is using whatever public platform he's acquired to amplify the heart's cry that gun massacres wrench from so many of us: Would someone in a position to do something actually do something, anything, to make it harder for anyone to get their hands on the instruments of mass murder?
"I kind of have a platform now," he told me, emphasizing that it's nothing he would have ever expected or sought. "I'm trying my best not to just put emotional things out there that don't cause any good. I'm not doing it to piss people off. I'm not doing it to purposely make new enemies, although that's part of the game. Mainly, it's a way to call (public officials) out … (and) try to get them to do something other than just offer their thoughts and prayers."
Toward the end of our conversation, he explained why he felt even more agitated than usual. News of back-to-back gun massacres in one weekend was a big part of it, of course, but he'd just endured a personal affront, too.
On Sunday morning, Adam Johnson—the cultural anthropology lecturer whose class the UNCC shooter disrupted—wrote a blog post about the role the fragility and toxicity of young white men plays in episodes of mass violence. Pescaro posted it to Facebook without comment. An old high school friend, who had supported Pescaro after he was shot, who had encouraged people to donate to Pescaro's GoFundMe account, responded that he was "disappointed" in Pescaro.
You know how these things go. A long Facebook-tennis thread ensued. The friend tried to explain to Pescaro the things he didn't seem to understand about the meaning and worth of the fabled "good guy with a gun," and the other things that by Pescaro's logic we'd have to ban because they kill people, too, and the critical fact that the "AR" in AR-15 stands for ArmaLite, its manufacturer, and absolutely not  "assault rifle," because there is no such thing as an assault rifle. The friend was very adamant on that last point.
Let's go over that again: A person felt compelled to publicly lecture one of his best friends, who had nearly died from a gunshot wound three months before, about what he should and shouldn't say about guns.
"Quite frankly, I got to the point where I was like, 'I don't need this guy in my life anymore,'" Pescaro told me. "If it didn't get through to him, with it happening to someone he knew very well, then it never will, and there's no point in keeping that kind of negative energy in my life."
I suggested that what his friend was really telling him was, in effect: Shut up and suffer in silence.
"That's pretty much exactly what it feels like," he responded. "When I was the victim in a physical sense, being in a hospital bed and stuff, everyone's there to support you, everyone's feeling sorry for you, people sending your GoFundMe page money, that stuff, but the minute I decide to open my mouth and advocate for what I went through not happening to anyone else, all of a sudden some people want to view me as an enemy. Basically, what I'm saying is, 'If you supported me back then, when I was not even able to get out of bed, thanks a lot, but I don't care who I'm making mad with what I'm trying to do now.'"