Things Fall Apart: Democrats in NC
They dominated state politics for more than a century. Then, in one pivotal election in 2010, Republicans seized power. How did the Democrats crumble, and can they rebuild?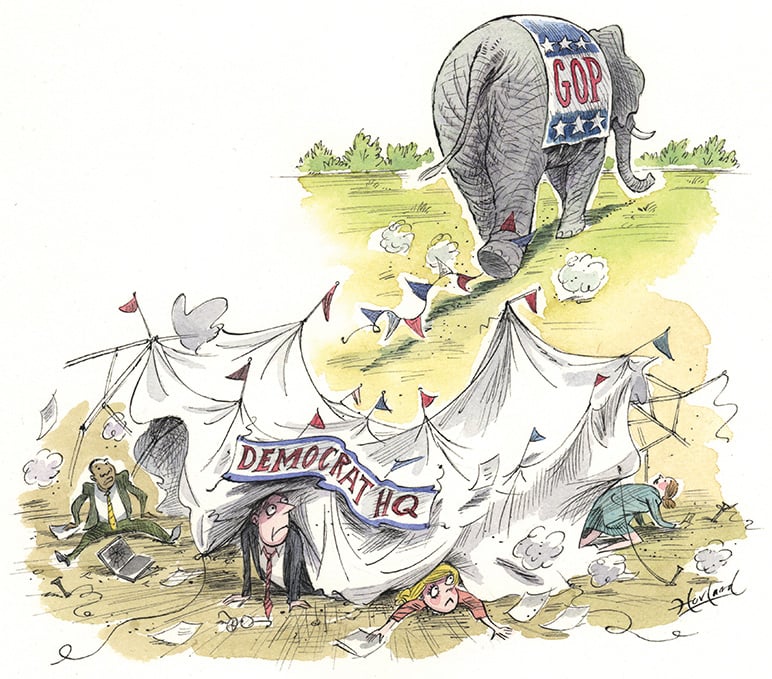 One by one, they roll in: legislators, county officials, precinct chairs, volunteers. They mingle in small groups, chatter filling the room, before finding their folding chairs. It's March 9, a warm, gusty Sunday afternoon. Clumps of snow melt in the sun outside the Guilford County Democratic Party headquarters in Greensboro, where the North Carolina Democratic Party is prepared to select a new executive director after four long, disastrous years.
The meeting starts 10 minutes late. Leading it is the party chairman, Randy Voller, a beefy, balding son of a German immigrant and a former mayor of Pittsboro whose leadership has not inspired overwhelming confidence. Voller, 45, won the chairmanship by 11 votes in February 2013 against a candidate who didn't campaign, and soon after that, news reports revealed that he owed nearly $286,000 in back taxes. His many critics call him arrogant, divisive, and oblivious to how his miscalculations make the party look. But his mood today is jovial. "I wish we had some popcorn here," he remarks.
As the meeting progresses, it's clear that Voller is trying to lead a party in shambles. The Democrats dominated North Carolina politics for generations, resisting even the massive shift in American politics following the Civil Rights and Voting Rights acts of the mid-1960s, when most Southern states switched from solidly Democratic to dependably Republican. Through it all, the Democrats managed to hold at least one legislative house, if not both, and often the governor's mansion.
That all changed in 2010, when Republicans took control of both houses of the General Assembly for the first time in 140 years. Their victories in a census year allowed them to redraw Congressional and legislative district lines to their advantage. In 2012, Republicans' hold tightened: They achieved veto-proof supermajorities in both the House and Senate and won the governor's office for the first time in two decades. In the 2013 legislative session, Republicans encountered only token opposition as they passed law after law that, among other things, restricted voting rights and access to abortion services, instituted corporate-friendly tax reform, and established a school voucher program—a blitzkrieg of conservative legislation unmatched in the state's history.
That's the bleak backdrop against which Voller tries to rally the assembled Democrats in the room in Greensboro. Again and again, Voller emphasizes a single message: "We've got to bring in more money." The state party has about $250,000 on hand in a midterm election year, far less than at this point in previous midterm years; in March 2010, it had about $400,000 in the bank. As he exhorts the party members, Voller sounds more like a preacher than a party chair.
"I had tax problems because I couldn't get a loan," he tells the crowd. "My father died the day after David Parker left as [state party] chairman [in 2012], and if I hadn't been at that meeting, I would've been with my father, and that still pains me." With a flourish, he pledges to contribute $5,000 of his own money to the party's campaign fund.
"That's from me personally," he says, voice rising. "Because I believe in this party. I believe in this party." Scattered applause and a few murmurs of agreement rise from the group.
***
This fall, North Carolina will host one of the most important political races in the nation, for the U.S. Senate seat held by Democrat Kay Hagan. The race may determine which party controls the Senate, and the Hagan campaign is busy planning its volunteer and fundraising efforts.
And it's not coordinating those through the state Democratic Party.
That's unusual. State parties are usually the default vehicles for large, statewide campaigns. But this spring, Hagan campaign leaders determined that the Wake County party was a better choice. The North Carolina state party, they said, needed to get its house in order. "With all the drama within the state party, we thought it would be best for it to not have that pressure on it at present," says Ben Ray, communications director for Forward North Carolina, the coordinated Hagan-Wake County campaign. Ray speaks from experience. Until this year, he was the communications director for the state party.
It's easy to mock the state party's lack of organization and recent habit of playing musical chairs with its leadership. In 2012, chairman David Parker declined to run for re-election after he approved a secret agreement to buy the silence of a former staffer who had accused the party's executive director, Jay Parmley, of sexual harassment. The party was helpless to prevent the Republican electoral routs of 2010 and 2012—and this after the triumph of 2008, when President Obama carried the state, the first Democrat to do so in 32 years.
But the reality is more complex. And although there's no denying Democratic complacency, fecklessness, and outright bumbling over the last four years, even an organized and well-funded party would have had trouble fending off the series of blows that struck in 2010.
It was the year when the Tea Party rose as an electoral force. At the same time, a number of veteran Democratic leaders in the General Assembly had left or were preparing to leave office. It coincided with midterm elections, usually a sour year for the sitting president's party.
And more: It was the year when the U.S. Supreme Court lifted longstanding restrictions on campaign spending—which allowed wealthy Republican donors such as Art Pope, now the state's budget director, to pump millions into legislative races across the state. Most important, Democrats statewide lost legislative races in a census year, which allowed Republicans to redraw the district lines.
"Defeat has a million fathers," says longtime Democratic political consultant Morgan Jackson of Raleigh, "and they all came together in 2010." The party has been trying to recover ever since.
***
The Moral Monday protests that swarmed the Legislative Building in 2013 carried over into 2014. On a cold, overcast Saturday in February, a diverse group of thousands marched through downtown Raleigh, calling for anti-poverty programs, investment in public education, and affordable health care—a reversal of the previous year's Republican-led legislative agenda. "Now is the time. Here is the place," said the Rev. William Barber II, the state NAACP president and Moral Monday leader. "We are the people. And we will be heard."
North Carolina Democrats are counting on the energy from the Moral Monday movement to push voters to voting booths across the state this year. They can also reassure themselves that their registered voters still outnumber Republicans, 2.8 million to 2 million. But the specifics of the response are still coming together, and the state's new voter ID law will make get-out-the-vote efforts even more difficult, especially with young and elderly people and the poor—groups that tend to vote Democratic.
Then there's the current of money those efforts must swim against—set loose by the U.S. Supreme Court's 2010 Citizens United ruling, which lifted restrictions on campaign spending not tied to individual candidates. By the end of March, Hagan had outraised the leading Republican opponent—N.C. House Speaker Thom Tillis—in campaign contributions. But direct contributions don't account for millions more spent by super PACs and other organizations not formally tied to either campaign (see chart on next page). Republican and Democratic super PACs had spent nearly $6 million by the end of March. But even their spending fell short of the more than $7 million spent on television ads by Americans For Prosperity, a conservative nonprofit founded by billionaire brothers Charles and David Koch. AFP has a direct tie to North Carolina: Art Pope used to chair its national board.
The Citizens United ruling changed the way political campaigns are funded—and in 2010, Republicans in North Carolina immediately took advantage. Pope and accounts linked to him and his family made up three-quarters of the independent spending on state races in 2010, according to an analysis by the Durham-based nonprofit Institute for Southern Studies. Pope and his network spent $2.2 million, targeting 22 legislative races and winning 18. That spending helped flip both legislative houses in North Carolina from strong Democratic control to strong Republican.
"All of a sudden, Democrats were getting outspent in a way they'd never been," says Jackson, the political consultant. "[Republicans] were smart, focused, and saw an opportunity to use outside money in a way that had never been legal before. … It's a model that frankly will be replicated over and over and over again, including by the Democrats."
The huge amounts of GOP money helped undo Democratic electoral efforts in 2010; smaller amounts have helped cripple the state Democratic Party in the past year. In 2013, the General Assembly removed the "tax check-off" option on North Carolina income tax returns. The check-off, part of post-Watergate campaign reform in the mid-1970s, allowed taxpayers to donate $3 to their political party of choice. That fund yielded as much as $1.5 million per year for the state Democratic Party, Voller says—the bulk of its operating budget.
That's why Voller keeps hammering away on money at the state party meeting in Greensboro. Of course, all political organizations depend on contributions. But North Carolina Democrats, lacking political and actual capital, need some way to raise money consistently or remain a permanent minority party.
The party's aim is to gain ground in the General Assembly in the next three election cycles, with the ultimate goal of retaking the legislature by 2020 and undoing the post-2010 redistricting. Without that, North Carolina likely faces two decades of GOP dominance in state politics.
***
In May 2013, Voller thought he had found the right person to lead the struggling party.
His name was Robert Dempsey. He was an experienced political operative, a former director of the Vermont Democratic Party and former manager of California congressman Scott Peters' successful 2012 campaign. In a release, Voller said he was "thrilled."
"Robert brings to North Carolina a wealth of experience and knowledge that will serve our party well," he said. "Most importantly, Robert understands how to win elections, raise resources, and communicate with voters effectively."
It was an important hire at a critical time. The executive director handles the day-to-day operations of the party—the volunteer roster, contributions, scheduling, filings—and serves under the party executive committee, led by the party chair. After 2010, the party had a hard time finding anyone who could hold the director's job without running into trouble or displeasing Voller or both. Executive Director Jay Parmley resigned in April 2012 after a former staffer accused him of sexual harassment. His successor was Tammy Brunner, the Wake County party's former director. She lasted a year before Voller fired her without explanation. At the time, Dempsey seemed like a tonic for the party's leadership problems.
But by February 2014, the relationship between chairman and executive director had gone to hell.
Dempsey, 39, still lives in Raleigh, where he's looking for political consulting work. He tells me over the phone that he was excited about working in North Carolina because of its importance as a battleground state and the campaign for Hagan's Senate seat. "I also wanted to help rebuild a great organization," he says. His initial efforts focused on compliance—straightening out the party's filings with the Federal Election Commission, which he said were disorganized. "Expenditures not filed on the right schedule, that sort of thing," he says.
When I ask about his dismissal, Dempsey declines to answer, directing questions to his attorney, who doesn't return my calls.
Voller declines to talk specifically about Dempsey's firing as well, but he all but confirms the standing rumor: He believed Dempsey was directing too much energy toward the U.S. Senate race and not enough toward Voller's plan to expand Democratic reach statewide by building county party membership. "I'm not interested in short-term gains and long-term losses," Voller tells me. "We didn't get into this situation overnight, and we won't get out of it overnight."
The day after he fired Dempsey, Voller delivered an even bigger shock. He publicly floated the name of a candidate for Dempsey's replacement—Benjamin Chavis, a North Carolina native and former national NAACP director. Chavis was fired from the NAACP in 1994 after he secretly approved a $330,000 settlement to a former employee threatening to sue the organization for sexual harassment and sex discrimination. Chavis later worked as a lieutenant to Nation of Islam leader Louis Farrakhan. North Carolinians remember him as the leader of the Wilmington 10, a group convicted of firebombing a store in 1971. A federal appeals court overturned their convictions nine years later.
Members of the state party's executive board revolted against Voller's suggestion. "I hope that he has gotten the message from people all over that Chavis is simply not the right person to be executive director of the state party," party First Vice Chair Patsy Keever said in February. "It's just so clear that he's the wrong choice."
Voller eventually withdrew Chavis' name—although he says he still doesn't understand why party members couldn't at least consider it. "Everything we're discussing happened over 20 years ago," he says. "If Bill Clinton was willing to work for us, would we not hire him? Where do you draw the line on baggage? At some point, as good Christians, we have to forgive and move on." (Chavis did not respond to requests for an interview.)
Voller's stubborn impulsiveness has infuriated many North Carolina Democrats, some of whom tell me privately that they consider him a profound embarrassment. The Chavis incident isn't the only misstep he's made, they say; last year, Voller and a friend he'd hired as a fundraising consultant ran up more than $3,000 on a party credit card during a trip to Las Vegas. Voller later repaid the money from his own pocket. "There's been a lot of face-palming going on," says one Democratic campaign official who asks not to be identified.
"Democratic parties are hard to govern, and the amount of drama has not helped, let's put it that way."
Voller says his combative nature comes in part from his Chicago-area upbringing as the son of a former Air Force officer who encouraged spirited debate at the dinner table. "It was OK to be a maverick," Voller tells me. He moved to North Carolina from Indiana in 1991 and served as Pittsboro's mayor from 2005 until 2013. His involvement with the state party, he says, escalated in 2008, when he supervised vote totals in Chatham County.
His tax issues, he says, stemmed from lean years for his real estate development business during the recession, and he's close to paying back what he owes. For the party, Voller says his goal is to get Democrats involved statewide and year-round, not just every four years for the presidential election.
"We should be thinking long-term and building a foundation: the caucuses, the Young Democrats, the College Democrats, the African-American and Asian-American caucuses—investing so we're competing every single year." He pauses. "That's not as easy to implement as one might think."
***
On a breezy Saturday afternoon in late March, Mecklenburg County Board of Commissioners Chairman Trevor Fuller stands on a picnic table's seat plank beneath a hilltop shelter at Freedom Park in Charlotte. An attorney and Democrat, Fuller is addressing a crowd of about 25 people as they dig into hot dogs, chips, and chili in slow-cookers. It's a cookout for Fuller's supporters and volunteers, a standard campaign event.
Fuller can't stay long at the cookout. There's been a death in the local Democratic Party family, just three days ago. "You may know that Liz Hair, a former county commissioner, passed away in the last few days, and her funeral is this afternoon," Fuller says of the first woman ever to chair the Board of Commissioners. "But I want you to remain excited, because, look, it's great to be a Democrat in Mecklenburg County."
The numbers back him up. Democrats hold a 9-2 majority on the City Council and a 6-3 majority on the county board. In Mecklenburg County, Democratic registered voters outnumber Republicans by a nearly two-to-one margin. In 2012, for example, seven people ran for three open at-large seats on the Board of Commissioners—three Democrats, three Republicans, and one Libertarian. The three Democrats ran away with the race.
The state is another matter, something Fuller concedes. He says the central problem with organizing Democrats statewide is that they're clustered in separate urban areas—Asheville, Charlotte, the Triad and Triangle, and Wilmington. Population shifts are gradually making North Carolina cities younger, more racially and culturally diverse, and more progressive.
"If you had a structure that would allow you to connect these urban areas, where all the demographic changes are happening, now you can start to have an effect on the state level. But we haven't done that, because we don't have the structure to do that," Fuller tells me a few minutes before his picnic table speech. "Mecklenburg is 10 percent of the state—but it's just 10 percent of the state … so we need that glue that somehow brings us all together. And we're just … " He raises his hands, palms upward, and lets them fall into his lap—the classic gesture of exasperation. "We're struggling with it."
So what should Democrats do?
First, stop the self-sabotage, Fuller says. "We create controversies that really don't mean anything. Like the executive director controversy—that never should have been a controversy! There was no reason for that to have been a controversy! But it was—both the firing of the previous one and the hiring of the next one. It's like"—he slaps his forehead—" 'oh, my God.' But we need strong leadership at the state level, and that's hard to get."
Oddly, though, Democrats in Mecklenburg County have won more at the polls as their party structure has withered. In the 1980s, the county party was a well-funded organization, with solid membership and a spacious headquarters on South Boulevard, says Dan McCorkle, Fuller's campaign manager, a Democratic strategist and campaign manager in Charlotte for more than 30 years. But even with all that, Democrats couldn't win elections. Now, the county party doesn't even have a permanent headquarters, but it's winning elections.
"While we have issues with our county party—no headquarters, no structure, no money—our Democratic Party is our candidates," McCorkle says.
During last fall's Charlotte municipal races, for mayor and eight open City Council seats, McCorkle managed the campaigns of incumbent council member Claire Fallon and first-time candidate Greg Phipps. Mecklenburg County Democrats needed help to avoid losing council seats and, especially, the mayor's race—which would have been embarrassing after hosting the 2012 Democratic National Convention here and watching ex-Mayor Anthony Foxx's ascent to Washington, D.C. as U.S. Secretary of Transportation.
So for once, the state party got its act together, sending a team from Raleigh to help rally voters in Charlotte—and it worked. Democrats retained control of the City Council by the same 9-2 margin. More important, Patrick Cannon won the mayoral election by more than 6,000 votes.
McCorkle tells me all this at the Fuller picnic in March. Four days later, Cannon is arrested on federal corruption charges after a four-year FBI investigation. McCorkle finds himself on local television news that evening, explaining that Charlotte and Mecklenburg County Democrats are far bigger than one man.
***
In Greensboro in March, Casey Mann lights a cigarette while sitting on a bench between two beige brick buildings in the office park where the state party is meeting. Mann has filled in as interim director since Dempsey's firing the previous month, and the executive committee has just gone into closed session to decide on a permanent replacement.
I ask her when she got involved in politics, and the 40-year-old explains that it really started when she almost died.
On Halloween morning in 1993, Mann and three friends left their homes in suburban Baltimore and drove toward Ocean City, Maryland, three hours southeast across the Chesapeake Bay. They planned to spend the holiday at the beach. It was raining. As they drove through a southern corner of Delaware, Mann napped in the front passenger's seat.
She later pieced together what happened from accounts by her friends; she says she remembers next to nothing about the accident.
The car hydroplaned on the wet pavement and into a roadside telephone pole, which hit on the passenger's side. The collision drove the engine block into Mann, pushing her into the passenger's side door and breaking her back, the skull around one of her eyes, and ribs on her right side. One broken rib punctured her right lung, which filled with blood and fluid. One of the few things Mann remembers is sensing she couldn't breathe.
In the first few days, Mann tells me, she flat-lined three times but came back. She left the hospital in Baltimore after 15 days and endured months of physical rehabilitation with her grandmother, a registered nurse with a master's degree. "That woman is the reason why I'm alive. She wasn't just a nurse. She was a driver," she says. "She pushed me because she knew I could do it." (Her friends all survived, two with only minor injuries and another with a fractured vertebra.)
Mann ended up with three fused vertebrae and three titanium plates in her skull to repair the orbital fracture around her eye. But she survived to walk without a cane, and the convalescence didn't bankrupt her family; as Defense Department employees, her parents carried the same health insurance as members of Congress.
She eventually moved to North Carolina and began working as a property manager. In 2004, when then-presidential candidate John Kerry suggested that the government offer Congressional health coverage to the public, Mann decided to volunteer for the Kerry-Edwards campaign. She spent that year directing volunteers throughout the state. Later, after earning a degree in communications and pre-law at UNC Greensboro, she directed training programs and field strategy across North Carolina for the state party—including the party's efforts on behalf of Democratic candidates in Charlotte last fall.
She stubs out her cigarette. "I have learned that you can't merely look at an obstacle and go, 'This is insurmountable, there's nothing we can do here,'" she tells me. "I look at an obstacle and go, 'OK, this is a challenge. Where's the opportunity? How do we go around it? How do we go over it? How do we dig ourselves out of it?' Because I know it can be done. I know that there are things put in front of you that seem impossible. But it doesn't take a miracle. It just takes hard work and perseverance." Mann excuses herself to go back inside.
Finally, the office door opens. The executive committee unanimously picks Mann as the party's new director, its fourth in two years. If she's excited or surprised about the new job, she doesn't show it. After a brief round of applause, she gets to work. Mann passes around photocopied summaries of party finances. She hustles now and then to the back of the room to speak one-on-one with a committee member or precinct chair about their plans to solicit donations and round up volunteers.
"The dark money pouring into campaigns is privatizing democracy," she tells me later, "and my personal belief is that the only way we can combat these powerful forces of money and influence is to persuade as many people as possible by knocking on doors and making phone calls. … That dialogue itself: That is democracy."
She says that her best moment of that day wasn't when the board picked her as director. It was when the chairman of the Alamance County party talked about precincts to target and specific numbers of votes needed to win countywide races. "It wasn't just that he knew it, it's that he knew he could do something with it," she says. "I know I got this big job, but … that was the most exciting moment to me." Mann says she's putting together a plan to train county party officials and precinct chairs statewide to mobilize voters. They have to identify voting blocs, target seats, and assemble volunteers—nuts-and-bolts political work.
But North Carolina Democrats have never faced a situation like this: rebuilding an entire organization from the foundation up, only six years after a Democratic presidential candidate won the state. The work will be long, tedious, and messy, with limited money, a formidable opposition, and no guarantee of success. But it has to be done, Mann says, and it starts now.
Greg Lacour is a contributing editor for this magazine. Read more of his political commentary on his blog, Poking the Hornet's Nest, here.