This Is: Bill James
ANALYSIS: His loss last week, and the way he responded to it, was as satisfying an end as could be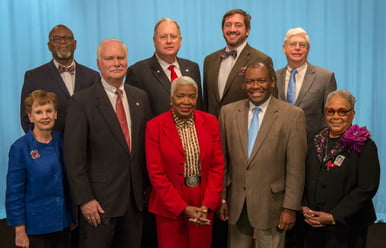 By custom, all outgoing Mecklenburg County commissioners receive the Order of the Hornet, the county's highest honor, bestowed upon "persons who have displayed valor or high order of service uniquely and specifically to the citizens of Mecklenburg County." Last week, after his loss to Democrat Susan Rodriguez McDowell for the District 6 seat, Republican Bill James told County Manager Dena Diorio to just stick his in the mail. "Won't be there for the next several meetings," James wrote in an email. "Need help boxing and moving all the junk in my office (as I suspect others do). Add my name plate from the dais to the pile."
Just throw it on the pile. I'm out. Screw you guys; I'm going home. This was a concentrated dose of Bill James, a man who over the course of 11 terms, 22 years, treated his public service mainly as a vehicle for building a twin-edged personal brand: fiscal conservatism and rank bigotry. James never saw himself as representing anything but his slice of south Charlotte, a region of town that until recently was dominated by people like him—white, male, politically conservative, contemptuous of government in general, particularly hostile toward the idea of government serving "other people," be they racial minorities, gay people, immigrants, or just Democrats.
"Enemies of the State should not be protected and the Democrats are damaging the safety and security of us all … by their refusal to take known info about illegals in Mecklenburg County's DSS database and turn it over to Homeland Security," James emailed to county commissioners in 2010, when they were discussing federal regulations that allowed immigrants to apply for benefits for their native-born children—citizens, in other words—from the Division of Social Services. "Democrats don't want to protect the country from … terrorists."
It was a near-perfect James moment, one that allowed him to publicly grandstand with no political risk to himself and hit two detested targets with one shot. It's always been a kind of parlor game, for those who have followed county government over the years, to try to figure out whether James actually believed the bigoted sewage that flowed from his computer via email or Twitter or newsletter, or whether he was playing a part, or some combination. Eventually, you had to conclude that it was the classic distinction without a difference. If those moments constituted his most durable contribution to the public life of the county, who cares if there happened to be a kinder, more tolerant private James? Public figures are the sum of their public words and actions. James was what he seemed to be.
You could go down the list of "Bill James moments" since his first election in 1996 and get the picture. Fresh to the board in 1997, he joined four other commissioners to form the "Gang of Five" that cut $2 million from the Arts & Science Council budget over its production of Angels in America. After then-Superior Court Judge Ray Warren came out as gay in 1998, James wrote to the state Attorney General's Office and Judicial Standards Board, arguing that, since gay sex was still technically illegal, Warren was now an admitted felon. (Warren was not charged.) In 2004, he wrote in an email to his fellow commissioners that teachers had difficulty with inner-city black children because the children had grown up in a "moral sewer."
In 2009, after a passionate two-hour board discussion about providing domestic-partner benefits to same-sex couples, which passed, James leaned over to Democratic commissioner Vilma Leake and said, "Your son was a homo, really?" Leake had just finished speaking openly about her son, who died of AIDS in 1993. In 2016, James tweeted, in reference to discussion of Charlotte-Mecklenburg Schools' policy on transgender bathroom access: "CMS puts tranny bathroom policy on hold – requires boys in drag to men's room." And on, and on. We could cite more, but it gets nauseating, then numbing. James often ran unopposed for his seat. He knew what sold in his district.
It's tempting to see James, with his penchant for the crude, chain-jerking statement, as a local herald for the current occupant of the White House. I've always thought he was more a product of the Newt Gingrich revolution, which accomplished little in terms of policy but forever reshaped the atmosphere of American politics, especially in the Republican Party. Like Gingrich, James understands the value of the shocking statement, followed immediately by the calls for apology or resignation or both, which erects a handy platform to cast yourself as a fearless foot soldier in the war against political correctness, respected in other quarters as basic civility. He understands the efficacy of targeted content, knowing, for instance, that not enough people in District 6 would object too strenuously to the casting of black people as fundamentally deficient. He understands the power of media, and social media; Gingrich grew his brand not through landmark legislation, or any significant legislation at all, but through monologues broadcast to his Congressional district live via C-SPAN. All either man had to do was keep working the business model until it failed.
In District 6, in 2018, the model failed. "For a long time in south Charlotte we as Democrats have felt that we were vastly outnumbered," McDowell wrote on her campaign page. "But times are changing, demographics are changing … our district has changed! There are 126,000 voters in District 6 and currently it's only 35% Republican. It's fast becoming a microcosm of America and it is time that it has a County Commissioner that listens and cares.​"
Imagine that. Shortly after his loss, James protected the tweets from his nearly nine-year-old account, @meckcommish, so that only confirmed followers could see them. He has yet to address whether he'll run again for public office. But for the time being, it's as satisfying a conclusion to Bill James' "service" on the county board as you can imagine: an electoral loss to a Democratic Latina woman; a county district that transformed beneath his shoes and against his prejudices; a mouth that roared for more than two decades and, upon defeat, silenced itself.