Three Spirits releases its first bottle, sour event at Duckworth's, Charlotte Smokeoff at Unknown and a bottle share by The Beer Exchange for a good cause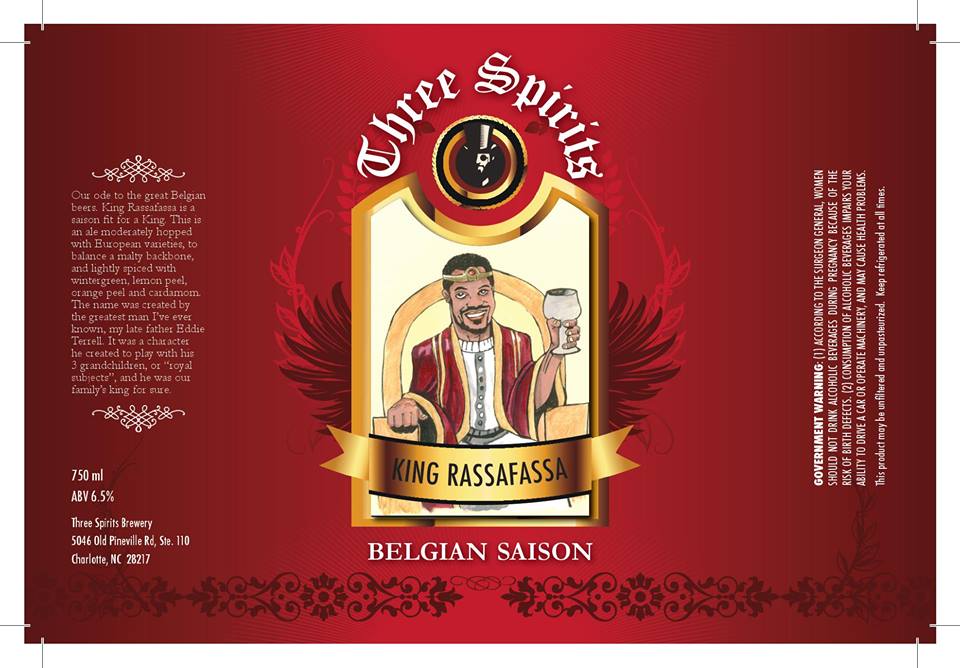 I've already mentioned Olde Mecklenburg's Louisiana Springfest, but here are a few other events worth checking out this weekend:
–Just six months after opening its doors, Three Spirits Brewery is set to release its first bottle. Owner Tabu Terrell chose King Rassafassa, a Belgian saison whose name is derived from a character his late father made up when playing with his grandchildren.
King Rassafassa features European hops along with wintergreen, cardamom, orange peel and lemon peel, and comes in at 6.5 percent ABV. Bottles are now available for $12 at Three Spirits' taproom, where you can also try the beer on tap.
–On Friday beginning at 5 p.m. Duckworth's is once again clearing its taps for a sour takeover. "April Showers Bring May Flowers" will feature more than 15 different sour beers and wild ales from the likes of Allagash, Ecliptic, Jolly Pumpkin, Wicked Weed, Wooden Robot and more (click here to see the full list). The event is free to the public, as all beers will be priced individually.
–More than 20 amateur teams will vie for best barbecue at Unknown Brewing's Smokeoff this Saturday. For $10, you'll be able to sample as much barbecue as you want, and then vote for the winner (beer is separate cost). During the event, there will be live music from Outlaw 21, The Phantom Playboys and The Robertson Brothers. Unknown's Smokeoff will run from 1 p.m. to 5 p.m. in the taproom.
—The Beer Exchange is hosting a bottle share at Olde Mecklenburg Brewery Sunday from 11 a.m. to 3 p.m., with all proceeds going to the Make-A-Wish Central and Western N.C. Foundation. For a suggested minimum donation of $5, you can participate in "Whales for Wishes." Everyone is encouraged to bring a bottle to the event, and there will also be raffles for gift baskets that contain some heavily sought-after beers (hence the "whale" part). Other raffle prizes include gift cards to local restaurants and businesses and more. You can find out more and purchase raffle tickets by visiting the event's website.