Travel: Beaufort, South Carolina
Touring through the 300-year-old South Carolina town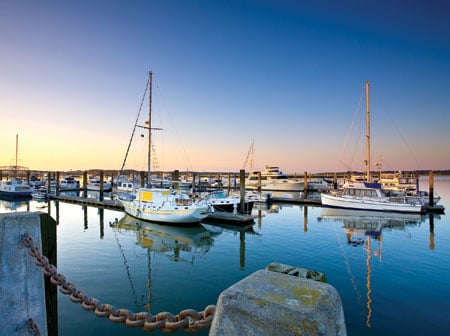 Just last year Beaufort celebrated its 300th birthday. This beguiling island town—residents call it "the vortex" for its power to draw you in—has plenty of history to celebrate. (Get the whole story at the town's new visitor center, housed in an eighteenth-century arsenal.) But Beaufort doesn't get stuck on its past. The town's growing arts scene has made it a top Lowcountry destination for young entrepreneurs, active retirees, and weekenders who wish they could stay.
STAY
It doesn't get more classic than the pink façade and wide white porches of the Beaufort Inn (888-522-0250, beaufortinn.com), which first opened its doors to visitors in the 1930s. For a more modern experience check out the twenty-three-room boutique City Loft Hotel (843-379-5638, citylofthotel.com). Once a 1960s motor lodge, the hotel got a sleek, colorful makeover, complete with spacious bathtubs, comfy robes, and one of the town's favorite coffee shops, City Java
EAT/DRINK
Carteret Street is Beaufort's newest Restaurant Row. Elegant Breakwater Restaurant and Bar (843-379-0052, breakwatersc.com) was already a destination for South Carolina seafood when it moved to the street a couple of years ago. It's recently been joined by breakfast-and-luncher Lowcountry Produce Market & Cafe (843-322-1900, lowcountryproduce.com)—made-to-order yeast doughnuts are a hit at this retail outpost of the locally famous specialty food company—and Griffin Market (843-524-0240, griffinmarket.com). This new Italian spot earned high praise from best-selling author and Beaufort resident Pat Conroy in his first-ever restaurant review. In the local Lowcountry Weekly, he raved, "Its food is glorious and it is, by a long shot, the best Italian food ever served in South Carolina."
Getting There: There are a variety of ways to get there, but Beaufort is a four-hour drive from Charlotte.
EXPLORE
Head out of Beaufort for Hunting Island State Park (huntingisland.com), just twenty minutes from Bay Street. Despite its popularity, the 5,000-acre park rarely feels crowded. These beautiful beaches aren't for sunbathing. Come for the crabbing, fishing, bird watching, and seashell collecting. Locals make their way to the south end of the island, where Cabin Road's landscape of abandoned houses and uprooted trees is a spectacular testament to the power of Mother Nature. Driving back along Highway 21, don't miss the Shrimp Shack (843-838-2962) for a shrimp burger, a sweet tea, and a view of the shrimping boats coming in to dock.
SEE
Beaufort can be easily explored on foot or by bicycle, the better to appreciate the town's tabby walls (concrete made with oyster shells) and crape myrtle trees draped with Spanish moss. Old Point is the destination for real estate daydreamers who eye the mansions on the market; Bay Street's ten galleries (and four others close by) draw art aficionados in search of a Beaufort-made souvenir. Try The Gallery (843-470-9994, thegallery-beaufort.com) for a Marlies Williams marsh grass painting or a Terry Brennan sculpture. But Beaufort just might be best seen from a bench swing in Henry C. Chambers Waterfront Park, where been-heres (Beaufort natives), come-heres (the recently arrived), and visitors relax after grabbing an ice cream from Southern Sweets (843-379-0798, southernsweetsicecream.com).