Triple C Brewing celebrating six years with anniversary party Saturday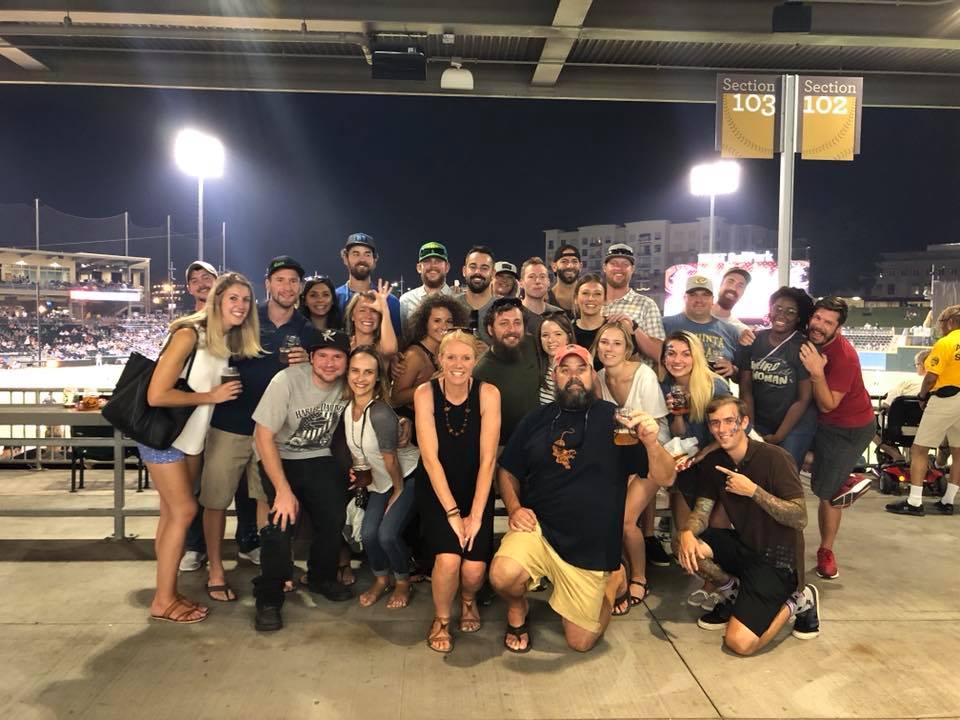 There's no question South End is one of Charlotte's fastest-growing areas of late, with new apartments, condos and restaurants going up and opening at a rapid pace. Just before the major boom hit however, there was a building on Griffith Street that Chris Harker thought would fit well for a brewery.
Six years later, Triple C Brewing is flourishing and while there have been additions such as a bottling and canning line and, most recently, the purchase of what is now known as The Barrel Room across the street, the space has stayed relatively intact with no need (or plans) for relocation.
"The Facebook memories album recently popped up with pictures of the building before we moved in," Harker says. "This before condos were all around us or anything – it looks like it's we're in a completely other country.
"I'm not sure if we were lucky or smart or a little bit of both, but this location has been a huge blessing. People don't always think about the stuff that goes on behind the scenes but we've been fortunate to still be brewing on the same system for six years."
That system has produced such local mainstays as 3C IPA (which won a bronze medal at the 2015 Great American Beer Festival), Golden Boy Blonde Ale, Baby Maker Double IPA and a host of outstanding barrel-aged beers by head brewer Scott Kimball.
Triple C is celebrating six years with an anniversary party this Saturday beginning at noon. It's a full day of music, food and, of course, beer, as both Triple C's original taproom and The Barrel Room will be hosting the festivities.
"This party is more of a thank you to everyone who comes into our brewery," Harker says. "We wanted to have a laid-back family-friendly fun day for everyone. We have a varied music lineup this year that I think is really good."
All of the music will take place outside The Barrel Room parking lot (there will be a tent as well as a misting tent), beginning with Bobby's Jorts at 3 p.m., Lovely Budz at 5 p.m., Groove 8 at 6:45 p.m. and Dangermuffin closing out the lineup as the headliner at 8:30 p.m.
Music has become a big part of Triple C, from its successful Brunch and Bluegrass events on Sundays to the recent two-day festival honoring the late Grateful Dead frontman Jerry Garcia that had drew more than 800 people over that weekend.
"We love music here; personally it's always been a big part of my life," Harker says. "To be able to host and put on these shows is great, and we always try to do it without people having to pay for a cover."
True to that word, admission will be free for Saturday's anniversary party, which will also feature food from New Wrap Order, Mac's Speed Shop and a special beer ice cream from Golden Cow Creamery. Triple C will be serving beer in the original taproom and Barrel Room plus a specially set-up outside bar. And for the event, the brewery will be releasing Some Good Adweisse, a Berliner Weisse brewed with passionfruit.
The Barrel Room has allowed for Kimball to expand his sour prowess, and pretty soon he'll have two new foeders to continue adding to the current sour program, along with everything else he does at Triple C.
"I can't thank him enough," says Harker about Kimball, who is also now a co-owner at Triple C. "To have the same head brewer the whole time and getting that consistency is amazing. I do a lot of stuff around here, but the beer is all Scott and the amazing team we have put together."
Along with sours, look for continued small batches from Triple C along with its regular seasonal offerings and barrel-aged beers. Regarding the latter, Harker says down the road the brewery is looking to do away with its usual bombers and instead package 12-ounce bottles into 4-packs.
You can keep up with continued added details regarding Triple C's six-year anniversary party on its event Facebook page.