Unknown Brewing releasing 2 new beers this weekend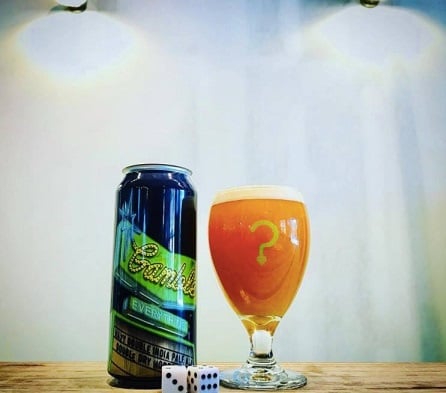 Fans of Unknown Brewing have reason to be excited, as the SouthEnd brewery is set to release new beers on back-to-back days this weekend.
First up is Friday's release of "Gamble Everything," described by the brewery as "a hazy double IPA." Gamble Everything was brewed with flaked oats and malts and dry-hopped "with the juiciest hops we could get our hands on." (For those still wondering, I don't think the NE-style IPA craze is going away anytime soon. Nor should it – but that's another conversation for another time.)
The beer's name plays in well with Unknown's brand. It's only fitting that a brewery that preaches "living without boundaries" and has one of its most popular beers titled "Over the Edge" would put gambling in a beer name. Gamble Everything will be available at Unknown's taproom beginning Friday at 3 p.m., in both cans and on draft. Four-packs of cans will be $12.99 each. While there is a limited supply of cans, for now, Unknown has decided not to put a limit of Gamble Everything cans. However, I'm told that could change Friday if a big crowd shows up, so it's suggested you get there early.
Saturday's release is all about the buzz. Unknown has teamed up with Bring Back the Buzz for "Buzzed City," an American Pale Ale brewed with West Coast-style hops. This now makes two Hornet-themed beers in Charlotte (the other being Olde Mecklenburg's Hornets Nest Hefeweizen).
This beer came about through a partnership with the brewery and BBTB, a grassroots cause led by brothers Evan and Scotty Kent to get the then-Bobcats name changed back to the Hornets. Scotty is also the marketing director at Unknown.
Unlike Gamble Everything, Buzzed City will only be available on tap at Unknown Brewing. However, you'll also be able to order it all basketball season at Fitzgerald's Irish Pub (located right by the Spectrum Center) as well as all Brixx locations in Charlotte (Evan is the social media director for the Brixx brand).
Buzzed City will be available at Unknown beginning Saturday at noon. As part of the event, Fitzgerald's is providing small bites, while you can also get free pizza coupons from Brixx at the brewery as well.
Unknown Brewing's Buzzed City American Pale Ale will be available at the brewery Saturday at noon