Unknown goes dark and light for its next two releases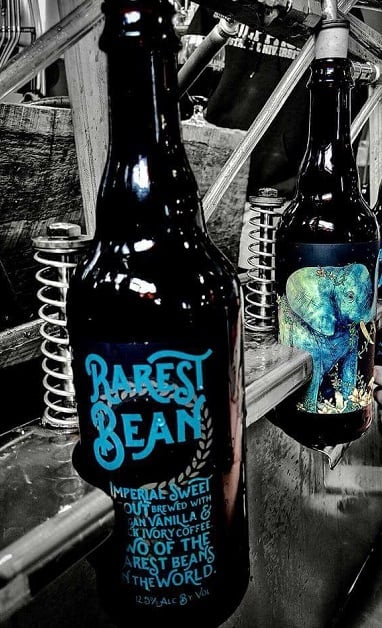 A beer made with elephant-processed beans and Charlotte's first official light craft beer certainly rank as opposite ends of the spectrum.
But if you know Unknown Brewing, they wouldn't have it any other way.
While making final preparations to debut its new rooftop patio and microdistillery later this spring, Unknown will release two beers over the course of the next four weeks – Rarest Bean and Feather Light.
Rarest Bean, which will be available Friday at the taproom beginning at 3 p.m., marks one of the more costly beers Unknown has ever done, but owner Brad Shell says it was past time for the brewery to return to its motto.
"I was talking with my wife and she said, 'You know, in 2017 you went pretty safe with beers; you didn't do anything crazy like when you brewed beer with scorpions,'" Shell says. "So I knew right then we needed to get back to our roots. Usually that means going back to basics but as you know, at Unknown we push boundaries."
That's where Rarest Bean enters the picture. One day the Unknown staff was arguing about the rarest coffee in the world when they discovered Black Ivory coffee, whose raw beans are "passed through" an elephant's digestive system.
"Of course, that got our interest," Shell says with a laugh. "And then we thought, 'What else can we add to this?' and came up with another rare bean, Tongan vanilla beans. So now you have coffee and vanilla and right now all the rage is pastry stouts, so it really worked out.
"It makes for a nice chocolate, sweet and malty stout. I think people are really going to enjoy it. We do a lot of stuff that goes out into distribution but this time really wanted to something rare for our local customers in our taproom."
Only 100 bottles of Rarest Bean will be sold and as Shell mentioned, it is taproom-only. Cost per bottle is $30 and for now Unknown is putting a two-bottle limit per person, though that is subject to change. The brewery will also have the beer on tap, with eight-ounce pours for $12.
"I know people may see a bit of sticker shock, but this was certainly a cost-prohibitive beer," Shell says. "We spent thousands of dollars on the beans alone. A cup of (Black Ivory) coffee goes for $50 in New York so I think we're offering a better deal, especially since it's beer."
While Rarest Bean checks in at 12.5 percent ABV, Unknown's next release will be roughly a quarter of that alcohol content. Feather Light was created primarily as a response to a question the Unknown staff gets in the taproom on almost a daily basis.
"So, people come in here a lot and say, 'What's your lightest beer?'" Shell says. "And while the answer is Pre-Game or Ginger Wheat, that's really not what they're asking. People really want a truly "light" beer."
But to get that official designation, Unknown had to go through a more intensive process than one of their normal can releases.
"To put 'Light' on a can, it has to go through certain testing in a private lab to get TTB (Alcohol and Tobacco Tax and Trade Bureau) approval," Shell says. "That's also to put the nutrition label on there as well."
That process took about a month and, once approved, the brew process began. Feather Light is a Berliner-style ale that is 3.8 percent ABV and has just 120 calories.
"There's a little bit of souring to it but nothing too crazy," Shell says. "We threw lemon peel in the batch with some special stage hopping to give you a light, citrus pine aroma off the back end. We really want to make a great craft beer that you can enjoy; something that is light but also has flavor."
That last part is important, as many will be quick to compare Feather Light to a macro light beer, but Shell says it's crucial to understand the difference and educate yourself.
"This will not, and should not, taste anything like a Bud Light or Miller Lite," he says. "We are just trying to provide what our craft customers are asking for. Everyone talks about how Budweiser attacks craft beer, but the reality is 20 percent of people drink light beers. So our idea was, why don't we flank and attack their territory?
Unknown is aiming for Feather Light to be released around the middle of March. Cans will be in six-pack packages for $10 each. Shell says if all goes well, Feather Light will be added to the brewery's year-round footprint and be distributed everywhere you can get Unknown cans.