Unknown names new head brewer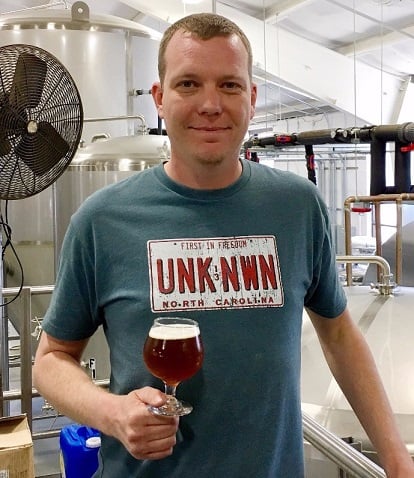 Brad Shell has worn many hats since opening The Unknown Brewing Company in late 2013, most importantly that of the head brewer. But with an ongoing expansion, increased distribution and the ever-present yet crazy events that go on at the brewery (think: No Pants Bike Ride), it is finally time for him to take a step back.
Enter Chris Wertman, recently promoted to head brewer after coming in a year ago "at 7:50 a.m. with a lunchpail ready to work every day," says Shell.
"This is my brainchild; it's such a leap to give that title of head brewer and that responsibility to someone else," Shell added. "But as we grow bigger and bigger, I need someone who can focus on the quality of the beer on a daily basis. The busier I get, the less time I spend on the brew deck and looking at the tanks. So I needed someone who is meticulous in those types of things, and that's been the goal for a year and a half and I've been waiting for the right person to rise to the occasion."
Wertman joined Unknown after completing his bachelor's degree in Fermentation Science at Appalachian State University. The school's program has been in existence since 2012 and gives students an opportunity to learn not only about brewing, but also the marketing and development that goes with operating a business.
Like many, homebrewing is how Wertman began his career, first as a hobby though. From 2004-12 he served in the Navy as an Arabic linguist that included tours in Bahrain, Iraq and Qatar. While there was obviously no time for brewing then, Wertman spent many nights researching brewing books and keeping copious notes on index cards.
He used the G.I. bill to attend ASU and quickly caught the eye of Dr. Seth Cohen, who happened to be the director of the school's fermentation sciences program. Cohen called Shell when Wertman was nearing graduation with a high recommendation. Wertman began at Unknown as the brewery's cellarman, but it didn't take long for Shell to realize he had a star on the rise.
"From Day One, he took notes on everything we did," Shell says. "He has a real firm knowledge of sour and barrel-aged beers, using different yeasts and doing crazy fermentation. I knew we finally had someone who would keep the best interest of the company in mind."
Wertman was elevated to assistant brewer, where he was heavily involved with the making of Bright Ass Tank Top Gose and Stupid Flanders. When Shell made promoted him to the top spot in late April, Wertman says he was "a bit surprised but extremely grateful."
"When I came here, I wanted to learn as much as I could and just went at it," he adds. "I love this place and it's been a great experience so far. When I came down here and interviewed with Brad, I immediately realized that he was someone who knows what he's doing and someone I could learn from and that's absolutely been the case.
"Just looking at the facility, it's unlike most breweries I've been to where everything is packed together. You have so much space here to do things. People are great; I love the work. It's just a great place to be."
True to a lot of craft beer lovers, Wertman has a soft spot for the standard IPA. But with what he learned through the fermentation program, it's the sour beers and wild ales that get him excited now.
"I'm extremely interested in the microbial life and what it does to beers," he says. "I want to hit people with sour beers they've never had before; I just want to keep making quality beer and make it interesting.
"Pale ales and IPAs, I think that craze is diminishing somewhat. People are looking for lower-gravity beers with high amounts of flavor and new things they haven't seen before. I think moving forward; sours are where it's at."
Even though he's turning the head brewing reins over, Shell will still be involved in Unknown's recipes. But his day-to-day brew operations will be over so he can focus on the many other things going on with the brewery, including numerous renovations and upgrades to the South Mint Street facility.
The front patio has been redone, complete with drinking rails and firepits. There will be roll-up garage doors on the front and side of the building, and the walls surrounding the taproom inside are coming down to make way for a full wraparound bar. Finally, plans are to turn office space upstairs into a private event space, complete with a patio overlooking uptown Charlotte.
Shell says he hopes to have everything complete no later than the fall ("You certainly don't want a winter patio," he says with a laugh). He's also planning the brewery's 3.5-year anniversary, scheduled to take place June 10 with a number of limited and new beer releases (look for more on this in an upcoming feature). Looking back, Shell says Unknown is "a totally different company than when he first opened the brewery.
"I think we've matured into something that I hope Charlotte takes pride in when they think of the Unknown brand," he says. "If you're living without boundaries, you're never taking a break. For us, anything that lives within that culture is an area we want to pursue and we want to be craft in everything we do."