Welcome, Gamecocks and Pirates
Charlotte hosts football season opener for USC and ECU Labor Day weekend. Here's a quick online guide for fans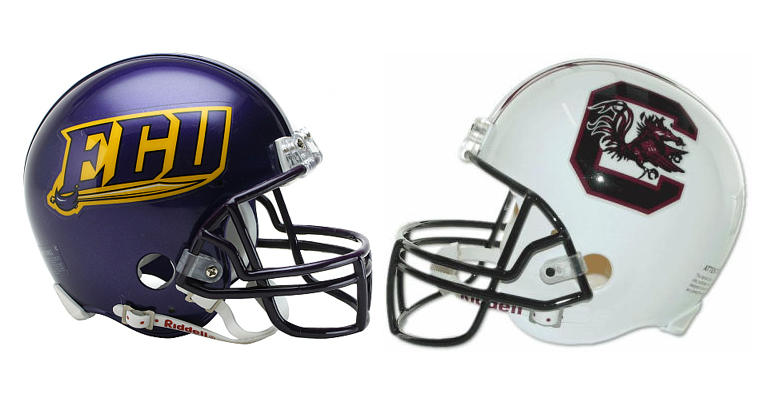 College football fans are invading Charlotte Labor Day weekend as the South Carolina Gamecocks play the East Carolina Pirates Saturday, September 3 at Bank of America Stadium. Whether you're making the trip from Columbia, SC or Greenville, NC—home of the schools' respective campuses—or are trekking from farther away, welcome to the Queen City on behalf of Charlotte magazine and our sister publication Where Charlotte.
Here are some online resources to help you navigate the city while you're visiting. Sorry, we don't have enough time to explain why there are so many roads named Sharon or why there's an intersection of Queens Road and Queens Road.
But we can tell you quite easily where to dine, shop, party, and what attractions to visit while you're in Charlotte. Click on the resourceful links below (in bold).
Shopping
This shopping guide has everything you need: hundreds of stores from across the area, each visited and described by our in-house shopping experts. When it comes to shopping in Charlotte, we are the recognized authority.
Dining
Enjoy perusing the area's savviest, most authoritative source for dining recommendations. This dining guide contains more than 150 of our editors' recommendations, from fine dining to burger joints. Plus, it's searchable by neighborhood and cuisine. You can also read about the restaurants we've reviewed in our recent print editions. And if you're looking for a great breakfast spot the morning of the game (or the morning after), check out our guide to all the best places, conveniently organized by neighborhood.
Nightlife

Check out our nightlife blog, Dusk Till Dawn, to get up to speed on bars, lounges, and nightclubs, including a link to parties and events being held over the weekend specifically for USC and ECU alumni and fans. You can also find our online archive of bars and nightclubs we've profiled recently in the print editions. What if you've been out all night getting pumped up for the big game (or celebrating a victory after) and your stomach's growling? Check out this profile of twenty-four hour diners.
Arts and Culture

Want to delve into the arts scene while you're here? Read about some of the city's great museums and upcoming shows. Also, visit our searchable calendar of events.
Where Now? Let Where Charlotte Guide You
Where Charlotte is a guidebook-style magazine with everything for readers on the go, available at the concierge desk and in-room at hotels and select businesses. It provides the most complete visitors guide to the city's top restaurants, shops, shows, cultural exhibits, and tours. Check it out online at wheretraveler.com/charlotte, and be sure to visit the Navigate section, which gives details on public transit, maps, and routes to get to and from your destinations. And if you're still in need of hotel accommodations, you'll find a guide to those as well.
Interact with us on Twitter