What's Happening: Jenn Takes Over Shop Talk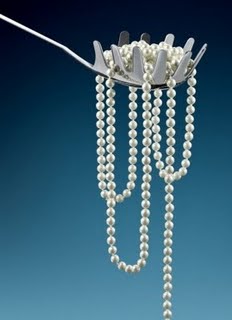 Sarah here:
A love of fashion and a passion for food aren't typically paired. Fashionistas these days pick at their salads and sip their Perrier while foodies are much more concerned with the texture of a dish than any fancy fabric. But I tend to think that the two areas aren't all that dissimilar.
They're both about indulging your senses—whether it's with soft, flattering cashmere or a creamy crepe stuffed with fresh produce and hard-to-find cheeses. And let me be the first to say, there's very little I enjoy more than indulging myself.
It's no wonder then that I've long been torn between my love of fashion and my love of food. I like to think I'm following in some pretty famous footsteps. Marie Antoinette, for example, loved her fashion (see all style trends in 18th century France), but also adored her food (see "Let them eat cake."). Of course, she was also beheaded for her indulgences and I'd really rather it didn't come to that.
So, on that note, I'm turning over this fashion blog to my favorite shopping companion and one of the most stylish people I know, Jenn. Luckily for you, dear readers, Jenn is incredibly fashion-savvy and highly entertaining (if you've been reading this blog, you already know this). She also knows more about Hollywood styles than I ever will and she'll probably never subject you to photos of her dog or week long exploits in dressing like a hippie. I'll still be helming the style coverage over at Charlotte magazine (which, by the way, we'd love for you to subscribe to) because, as I said, I do love it. However, my blogging days will now be spent on the magazine's new food blog* where I'll be raving about my love of local chefs, new Charlotte restaurants, and a slight addiction to pad thai.
Enjoy Jenn's witty posts and helpful local shopping tips**—I know I will! Then, click on over to find out what new restaurant you should be wearing that stylish new dress to this weekend.
*We're launching a new Charlotte magazine Web site this week. You'll be able to find the food blog there.
**Shop Talk will also be moving on to the new Web site and away from Blogspot very soon. Jenn will keep you updated on when that is happening.