What's Higher Ed's Purpose in Charlotte?
Our #discussCLT panel wrestles with higher ed issues large and small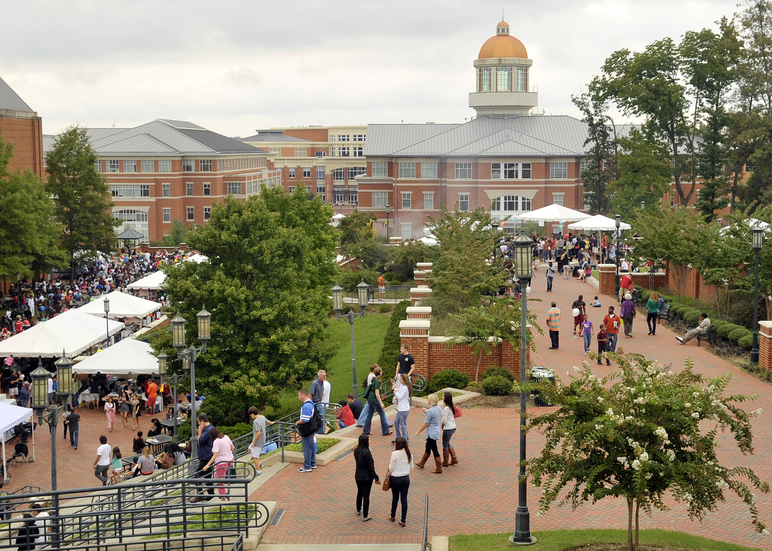 We were a few minutes into our latest #discussCLT event last Wednesday when one of the panelists, Joan Lorden of UNC Charlotte, illustrated how hard it was to get a firm handle on the state of higher education in Charlotte.
In short, it's broader and better than it was, but it's still not leading to a roster of tech talent that can compete with the likes of Austin, Nashville, or even Raleigh, and that's why Amazon in January picked those three as finalists for its eastern headquarters and told Charlotte, "Nice try." What do we do about this? What role does higher ed in Charlotte play in solving the problem?
Lorden, UNCC's provost and vice chancellor for academic affairs, responded by pointing to the tech education advances UNCC has made in recent years, including its growing Research Institute. Of the roughly 7,500 undergraduate degrees UNCC awards every year, about 1,600 are in technical fields, she said, "but when compared with cities like Atlanta"—another Amazon finalist—"that's not much."
And that's the problem, isn't it? You can look at Charlotte's higher ed lag behind its so-called "peer cities" through a couple of different windows. One: Considering Charlotte's never been thought of as a college town, and considering that most of the 30-something campuses in the area belong to small schools, the city actually does pretty well in recruiting corporations looking to move or expand their operations here.
The other: Charlotte's not trying to compete with Greensboro, Spartanburg, or Richmond. It's trying to complete with first-tier cities, and Amazon has illustrated pretty clearly that Charlotte resides, at least on this issue, in a lower tier. Former Central Piedmont Community College President Tony Zeiss, another one of our panelists, rightly championed CPCC's strong record of producing skilled workers and its success in, for example, joining with the German manufacturing company Siemens in a widely lauded apprenticeship program.
But CPCC mainly educates students to fill hourly-wage jobs, not develop new technologies. Four-year schools such as Carnegie Mellon University in Pittsburgh are producing technological miracles as a functioning self-driving car. With a coalition of small schools in a big city, said panelist Dr. Brian Jones, a dean at Johnson C. Smith University, "it's hard to move the needle." Whether Charlotte can, or should, or will try to do that in its endless pursuit of world-class status is a question that our panel, unfortunately but understandably, couldn't quite answer.
These #discussCLT conversations sometimes wander to unexpected places. Higher ed is a broad topic, and the panel barely scraped the issue of skyrocketing student loan debt, which may have broader and more lasting ramifications than anything the schools themselves are doing.
Zeiss touched on it briefly by saying flatly, "We don't want to put our students in debt," preferring instead to build CPCC's endowment and award grants and scholarships to the lower-income students the college is designed to serve. Our fourth panelist, Keith Kelly, a Charlotte Chamber vice president, noted that students are continually trying to understand their return on investment for a college degree—which, given rising tuition and oppressive years, even decades, of student loan payments—is shrinking by the day.
As we moved into the Q&A session, the conversation relocated to an area far larger than Charlotte or economic development opportunities: just what "higher education" means, anyway. Kendal Mobley, a religion professor at Johnson C. Smith, asked if the emphasis on tech degrees and the casting of universities as business incubators undermines the purpose of higher ed itself. "In the plural society we live in," Mobley said, "we can have great tech skills and not have the ability to understand the world."
"Amen," Lorden replied.
"As a historian of the American presidency," Jones said, "I wake up every day hoping for more critical thinkers." The ability to design and update complex algorithms that reduce human behavior to data, Lorden remarked, does not automatically include an ethics plug-in.
Just this week, The New Yorker ran a fascinating story about a young Silicon Valley tech genius, Andrew Levandowski, alleged to have stolen plans for components of self-driving cars from Google and taken them to a new position at Uber. The Google self-driving division sued for $1.85 billion in damages; the case was eventually settled for far less—and Levandowski lost his job at Uber—but it shone a light on the data-driven, cutthroat, and often consequence-free world of Big Tech, whose hoodie-clad tycoons can sometimes act like rank sociopaths. "If it is your job to advance technology, safety cannot be your No. 1 concern," Levandowski tells the piece's author. "If it is, you'll never do anything."
The story ends with a remarkable statement from Levandowski that's worth reading carefully and pondering, perhaps on a hillside at sunset with your smartphone back in your car:
"The only thing that matters is the future," he told me after the civil trial was settled. "I don't even know why we study history. It's entertaining, I guess—the dinosaurs and the Neanderthals and the Industrial Revolution, and stuff like that. But what already happened doesn't really matter. You don't need to know that history to build on what they made. In technology, all that matters is tomorrow."
It's entertaining, I guess. Dear Lord. The implications of that mindset ring all sorts of 1984 bells for me—Orwell's novel, after all, wasn't just a story about totalitarianism but a warning about the dehumanizing effects of technology, especially when it's abused to wipe memory and history clean. Maybe that's an exaggeration, or maybe it's the point here. Technology can enable the what, but the humanities allow us to consider the why, and the what does it mean, and the maybe there's a human cost bigger than progress or profit. It's an old story, anyway, human consciences overwhelmed by the machines they build. The theme echoes through the centuries, back to Frankenstein and even before, which is something you might know and understand if you took your dose of "useless" lit courses back in school.