Where's Charlotte Higher Ed Going?
Amazon rejection, changing dynamics raise tough questions for colleges, universities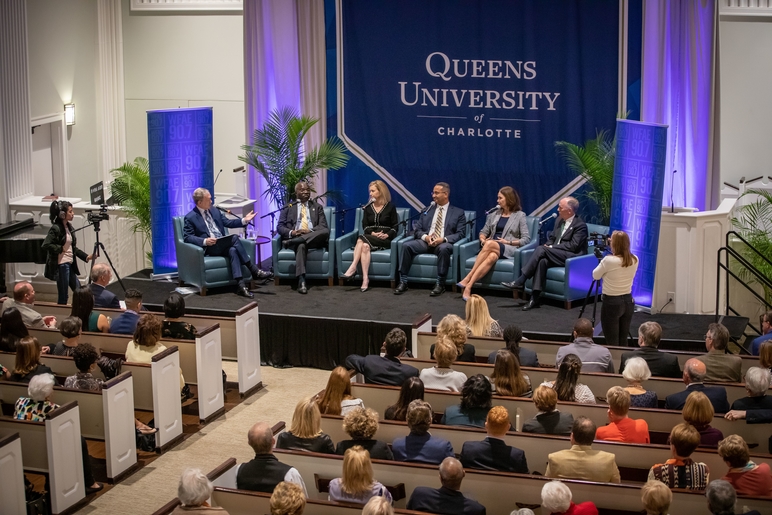 The presidents of five Charlotte institutions of higher learning took a stage Wednesday at one of the institutions, Queens University, to discuss the city's higher education status and prognosis, an exercise that doubled as an episode of WFAE's Charlotte Talks that aired Thursday morning. It's rare in any city to see an assembly of five college presidents, and as often happens in Charlotte, the spur for a weighty conversation was a public embarrassment: Amazon's January 2018 pass over Charlotte in the bid for its East Coast headquarters, which ended up in Arlington, Virginia. Charlotte didn't even make the list of 20 finalists, mainly because of its higher ed deficiencies compared to other cities, like Raleigh, which did.
So: Work to do. What? How? For a discussion that was supposed to center on the higher ed challenges specific to Charlotte, it spent an awful lot of time hovering over issues that affect colleges and universities throughout the country. "Affordability drives choice," said new Queens President Daniel Lugo. True, but no kidding. The American public seems to have lost faith in the notion, so axiomatic in the decades that followed World War II, of "higher education as a public good," said Davidson College President Carol Quillen, "how it serves the broader community." You could argue that the public—in an era of unfettered winner-takes-all capitalism, in which things like public health and education are increasingly treated as high-end commodities—has lost faith in any idea of the public good.
And rising costs lead inevitably to exploding student debt, which outgoing UNC Charlotte Chancellor Philip Dubois underlined with an observation that in 2005, the state funded about 80 percent of student costs, compared to 60 percent now. Roughly two-thirds of UNCC students receive some kind of financial aid, and two-thirds of that number have to take out loans, many of them as Pell Grant-eligible—i.e., poor—students. The average debt load for the holder of a bachelor's degree at UNCC is about $25,000, which Dubois explained soothingly is "a manageable number over the long haul" for someone with, say, an engineering degree. An education or nursing degree? Not so much. And this is at a public university. Private ones, like Davidson and Johnson C. Smith University, whose president, Clarence Armbrister, joined the panel Wednesday, cost twice or three times what UNCC does.
How can students in Charlotte work around those barriers—while they educate students in the technical and data skills that employers like Amazon prize? Without raising specific solutions, which no one has, the four-year-degree group on stage turned to the woman in charge of the city's two-year option: Kandi Deitemeyer of Central Piedmont Community College, which offers direct job skills at a fraction of the cost. Students have always been able to transfer community college credits to four-year universities, but the group on stage gestured toward deeper levels of cooperation with CPCC, including expanded joint degrees and programs that can appeal to lower-income students. "We're going to have to figure out a way to work together," Lugo said.
Cooperation with other Charlotte institutions of higher learning seems to be a priority for Lugo, who began as Queens' president in July. The panel was his idea. I interviewed him for the November issue of this magazine and learned that he's the first member of his large family to earn a college degree. Lugo has an acute understanding of the post-World War II model of higher education and how badly it needs updating:
Demographics are changing. People are having fewer kids. People from backgrounds where college is part of the tradition are really having fewer kids. The population that we really need to educate increasingly doesn't come from cultures or backgrounds that typically think of college education as a requirement for their kids. State governments, because of economic scarcity, are cutting back on what they're investing in, and the international market for American education has gone flat and in some ways gone down. The juiced-ball era of higher education is over. Now only the best places are going to be able to thrive. We've already seen the trends of schools—not because they're bad or don't have incredible histories, but because the dynamics there aren't lining up.
Bringing them into line will be a hell of a task. UNCC's Dubois, who's retiring at the end of the 2019-20 academic year, gave a hint Wednesday of how tough it can be to adjust the course of a ship as unwieldy as an academic institution. A major reason why Amazon rejected Charlotte's HQ2 bid, he said, was the city's lack of a large research university with an enrollment of 50,000 or more. UNCC's is just under 30,000. Part of the next chancellor's job will be to increase that number, Dubois said, adding, to laughter, "I want to wish that person very well."