Who Marked Up the Cross Charlotte Trail When We Weren't Looking?
City administration sandbags council, public with news of funding gap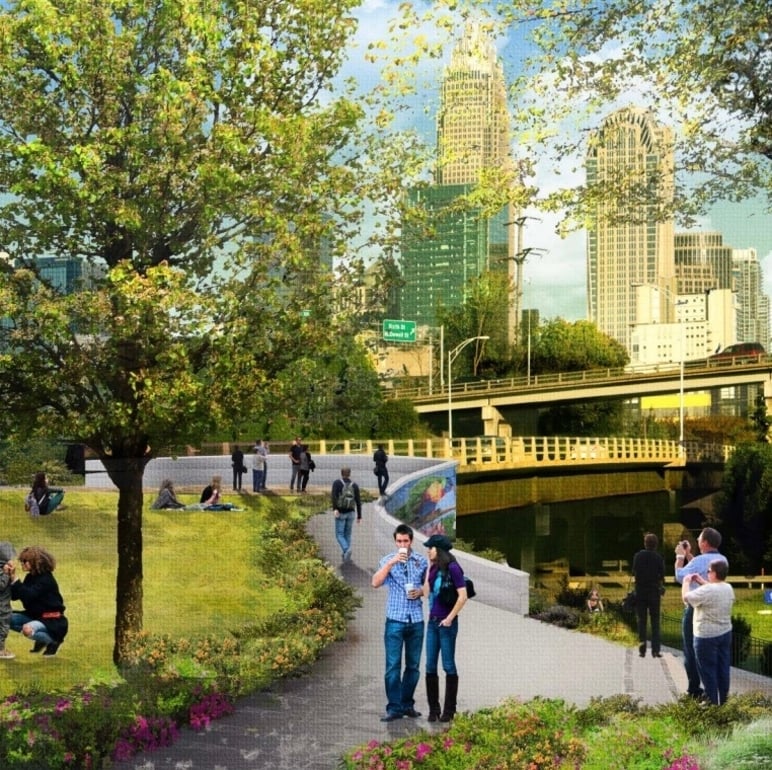 This is the sort of statement that connoisseurs of good government do not want to hear from a member of the Charlotte City Council: "I just don't know what to do with this information. I have no idea where to go from here."
District 7 council member Ed Driggs said that Monday evening during a council strategy session. This particular strategy session had the unfortunate distinction of unmasking the city's lack of a strategy to complete the Cross Charlotte Trail, a signature project designed to stitch together sections of greenway park over the 31 miles from Cabarrus County south to the state line.
Originally proposed in 2012, it'd be more than just a luxury, a nifty parks-and-rec project for urban designers and planners to coo over. The trail—also referred to by its hashtaggable moniker, "XCLT"—would connect neighborhoods through Mecklenburg County, providing residents with another transportation option, eroding cultural barriers, and enhancing a system of parks that a national nonprofit last year ranked last among 97 American cities—mainly because residents lack sufficient access to it.
Voter-approved bonds in 2014, 2016, and last year steered $38 million toward the project. Judging by council members' comments Monday, they thought that would cover all or at least most of the total project cost. That was my impression, too.
Not so much. The $38 million covers about a third of the total. It was City Engineer Mike Davis' task to inform the council that, accounting for the unfunded stretch from Cordelia Park in north Charlotte to the Cabarrus County line, the cost of finishing XCLT would be … $77.7 million.
Council member Braxton Winston had the best reaction, cutting through the MunicipalGovernmentese with an astonished, "In plain English, we don't have the money to finish the Cross Charlotte Trail?" (Winston later expressed the worry that he was "bugging out" over the revelation.) Driggs—older, white, and Republican—expressed the same astonishment in more refined terms. "I have to say, I'm kind of flabbergasted by these numbers," he said. "I wonder whether we've been dealing fairly with the public in our disclosures about the kind of undertaking it was. Now we're left with an additional $77 million of additional funding needs that people may not have understood."
Driggs' comments drive to the core of the bigger problem here. It's bad enough for the city administration to have underestimated the project costs so grossly. (Although, as a local ex-journalist pointed out this morning, we could have seen something like this coming. Everything in north Charlotte these days costs three times as much as it did in 2012.) What really smells is the blindsiding of the council and public about a critical project, and the lingering suspicion that, when they approved the bonds, voters were shown a gorgeous new car when they agreed to make a down payment for only the chassis and transmission.
And this particular council has to find ways to make public investments that the city leaders of 2012 could not have foreseen, especially in housing. Members were already scrambling to find money in the budget, and they had trouble concealing their annoyance Monday to Davis and city Department of Transportation Director Liz Babson. "We had multiple opportunities to not only update the council but the community," said District 3 council member LaWana Mayfield. "We really need to have a conversation about pausing."
They agreed to have that conversation by the end of the month. Possible temporary fixes include long gaps and sidewalk improvements between stretches of existing north Charlotte greenways, which has precedent; if you're familiar with the Little Sugar Creek Greenway between Freedom Park and Park Road Shopping Center, you know the greenway ends at Westfield Road, routing walkers and bikers through a neighborhood before it picks back up at the park. Another possibility is the ever-present fallback option for tax-averse public bodies these days: private investment, which would seem to run counter to the idea of a lasting public asset. Hey, whatever finishes the job.
The Cross Charlotte Trail can still be built, and it still can fulfill its promise, eventually. But the city staff needs to own up to its fumble here and face the fact that it botched this one, badly. You can find ways to piece together stretches of urban park. It's far harder to reconstruct public trust.