Why Are We So Dependent on Tomato Bisque?
An unfortunate truth about soups in Charlotte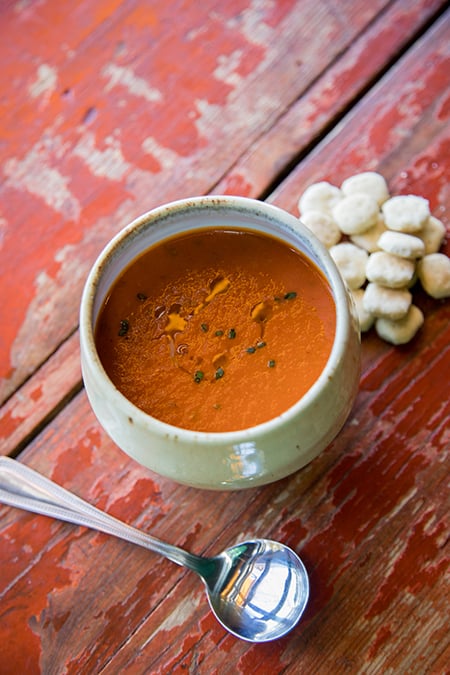 I LOVE TOMATOES. I love them even though I am allergic to them; they turn my face splotchy and red for an hour. We figured this out when I was around nine years old and living overseas, and my heavy, homesick-fueled consumption of Burger King french fries also meant a heavy intake of ketchup.
I grow tomatoes, can them, and eat them in every form. To me, few things are finer than a tomato sandwich at the peak of summer. Along with seafood and cheese, this globed fruit is on a short list of foods that I pray the doctor never proscribes, because I'm not sure I could go on.
I will never get tired of the tomato. But I am tired of tomato bisque.
Whether presented as a special or a permanent fixture on the menu, tomato bisque seems ubiquitous in Charlotte. Lately, when a server tells me the soup of the day is tomato bisque (or cream of tomato soup), I roll my eyes, because of course it is.
Traditionally, the word bisque was used to describe a rich soup made with puréed shellfish.
The word has since evolved to refer generally to cream-based soups. This technicality isn't what I dislike about tomato bisque (though it drives some chefs crazy). Neither is the soup itself. Some places do it well—Fenwick's, Rooster's, and Earl's Grocery come to mind. Many other places serve versions lacking any nuance, their efforts watery and flavorless or overburdened by cream.
What I dislike is that Charlotte restaurants are too reliant on this one soup. It has become a culinary crutch, an easy way out that fails to suggest to diners that there's something else worth ladling into a bowl.
This is disappointing, because there are many good soups out there. Thousands. I recently made a batch of Italian wedding soup just because I realized I hadn't had it in years. Last fall, a restaurant in Richmond packed me a to-go cup of borscht, a popular European soup, so that I could keep driving to Charlotte from Washington, D.C. It was so remarkable I wanted to pull over so I could tell someone.
Chilled vichyssoise, made from potato and leeks, is almost as good in the summer as matzo ball soup is in winter. Tortellini en brodo, and its German cousin maultaschensuppe, are delicious dumpling soups that anyone would love. Curry laksa. Khao soi. Mulligatawny. Vegetable beef. Fish chowder. The list goes on.
Granted, restaurant economics play a part here. Tomato bisque is made from a short list of cheap ingredients, and busy kitchens can pull a batch together in 20 minutes. This makes the red soup liquid gold, a profitable win for restaurants that struggle daily with thin margins.
Perhaps the lack of imagination is due to the Carolina climate; maybe we associate soup too much with winter. Hopefully, we as diners aren't the ones driving this boring uniformity.
One thing is for certain: It's not a lack of know-how on the part of our chefs. There are restaurants in town that pay as much attention to the bowl as they do the plate. At The Pickled Peach in Davidson, head cook Pierce Schaaf makes everything from Ethiopian chickpea stew to chilled blueberry soup with lemon, mint, and cardamom. "We don't really have a set list of soups. It's just based on what we get in and what's in season," Schaaf says.
Closer into town, South End's Living Kitchen routinely prepares soups layered with flavor, such as the cauliflower rosemary and sweet potato with pear. Chef Bruce Moffett of Barrington's prides himself on crafting soups that don't rely on fat for their richness. His lobster and corn chowder starts with corn cob stock and finishes with just a touch of cream. Likewise, his spring onion soup gets its creaminess from potatoes and is dressed with a fresh crab salad, crispy onion strings, and lemon olive oil.
You can find chicken and dumplings at Arthur's and Noda Bodega, and cheesy chicken enchilada soup or red pepper gouda soup at Common Market. Alexander Michael's and Eddie's Place both serve a decadent she-crab soup. And the spicy Vietnamese curry with chicken (or tofu) from iPho is worth all the sniffles. Some of these places change their soups daily to keep things interesting.
Every New Year's Day, Free Range Brewing in NoDa hosts a Free Soup Day, where local chefs serve soups and stews to the hungry and hungover. Co-owner Jason Alexander couldn't pick a favorite from the lineup this past January, which included an African peanut stew from chef Greg Collier of The Yolk, a chicken congee from chef Geoff Bragg of the Community Culinary School of Charlotte, and a vegan cucumber and coconut soup from José Espinosa of Orrman's Cheese Shop.
To be fair, the cream of tomato soup from Executive Chef Marc Jacksina of Earl's Grocery was on his short list. That soup, Alexander says, "was tough to beat."
Jacksina has theories as to why, even though people didn't scramble to line up for his soup first. "The thing about tomato soup is that we all have the same archetype from which we draw, one from when we were a kid, and that's Campbell's tomato soup. If you don't make something that references that, you're going to lose people," he says. If you do, "then you're tapping into something primordial."
Jacksina's tomato soup represents an evolution of his cooking style. (It also proves that good soup doesn't have to be difficult.) As the former chef of the now-closed Lulu, he made a version that was, according to him, "complicated in all the wrong ways." His current take is far more subtle—and inclusive. In this one, emulsified cauliflower and olive oil replace the cream, providing a rich texture without the dead weight and giving vegan customers more to choose from. "I find the soup satisfying but not leaving me sluggish," he says.
According to Jacksina, the Free Soup Day chefs remarked to each other all day that they had forgotten how good soup can be. But somehow, this special-event zeal doesn't quite translate to the restaurant menu. "I think soups have fallen on the back burner at a lot of places," says Jacksina, agreeing that there is currently a lack of depth to Charlotte's soup lexicon. Though he's not sure exactly why, he does point out that sometimes what's hot in food can be cyclical.
Maybe Charlotte can lead a trend that celebrates soup, then. We can keep the good tomato soups around, because everyone needs a good grilled cheese with tomato soup once in a while. But we can also introduce some creativity, especially in places with coursed menus. We've been treating soup as a starter that can be skipped over on our way to something better, when it could actually be the most powerful memory from a great meal.