Why You Should Be Growing Native Plants
The benefits range from upkeep to helping wildlife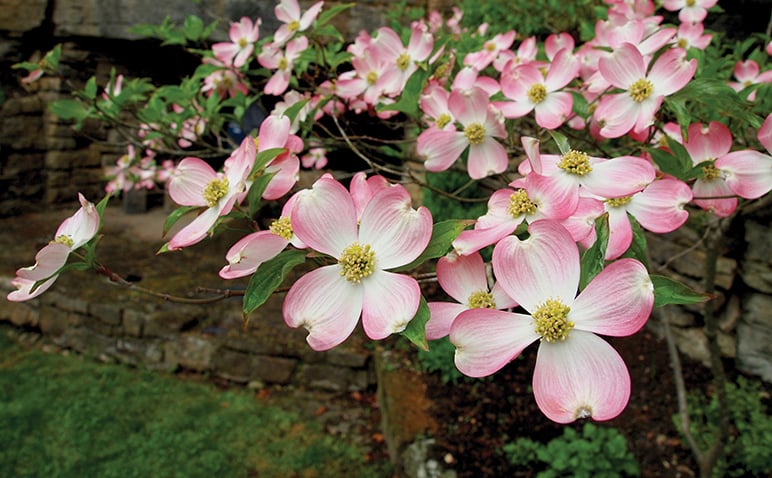 ON A WARM autumn afternoon, Lisa Tompkins is out for a walk. She strolls along the edge of a neighborhood just across the state line in South Carolina. It's not her neighborhood, but it's one of her favorite examples of landscape variation.
Tompkins is a landscape designer and co-chair of the Southern Piedmont Chapter of the North Carolina Native Plant Society. She starts her walk in front of a budding cookie-cutter housing development with matching mailboxes. The salespeople are doing all they can to draw in new residents.
Multi-hued flags and model homes catch the eyes of passersby. And the landscaping out front is pristine: bright green fescue with lawn mower stripes, daylilies and nandina and hollies.
At the edge of this manicured landscape is a scrubby stretch of semi-wild. Tall grasses sprout unevenly. Briars grab onto Tompkins' clothing. This unruly section is her favorite part.
"Oooh, I've been looking for this plant," she says, rubbing a leaf between her fingers and holding them up to her nose. The plant, Solidago odora, has the common name "anise-scented goldenrod" for its yellow plume and rich smell. "They used it to make Patriot tea during the Revolution," she says.
Tompkins' family has lived in this area, on the border between the Carolinas, since just after that time. When Tompkins enrolled in the horticulture program at Central Piedmont Community College in her early 40s, she was fascinated as her professors discussed the origins of the plants around her, something she had never considered before.
She began to take notice. At the entrance to her neighborhood in Mineral Springs, she identified Georgia aster on one corner and Schweinitz's sunflower on the other. Both of those wildflowers are native to this area. They have a history here even longer than hers.
In his recent book, Native Plants of the Southeast, Larry Mellichamp, director emeritus at UNC Charlotte Botanical Gardens, explains that a plant is native to the Southeastern United States "if it was growing in the region before European settlement."
Because of their history here, those plants have evolved with the climate. They have defenses for extreme conditions. They're part of a larger community; they depend on native wildlife that likewise depends on them.
The fescue in front of the new development near the state line is still green after a dry summer because it's been watered with sprinklers. The nandina shrubs are in nice, rounded shapes because they've been pruned with clippers. These traditional landscaping plants are non-natives. They require more water, more fertilizer, more attention to look their best.
As a comparison, Tompkins points out a native dogwood tree in the wild area on the outskirts of the neighborhood. Although it's been dry and the tree's top has been lopped off to make room for a power line, the dogwood still produces berries.
"[Natives] often can survive our climate extremes better [than non-natives]," says Paula Gross, assistant director of the UNC Charlotte Botanical Gardens. That doesn't mean a drought won't wipe them out or a newly planted native shrub won't require any extra water or nourishment. Natives are just less needy than non-natives.
Our traditional landscapes are made to look controlled. As Europeans settled here, they brought formal landscapes with them. We remain partial to those closely mowed yards and expertly edged flower beds filled with shapely shrubs. A manicured landscape is the mark of an upstanding citizen; it's pleasing to the next-door neighbor and the HOA.
But perhaps the trend is changing. Similar to the local-food movement—that desire to know who grows our food, where it's from, and how the process effects our environment—there is increasing curiosity about where our plants come from and why they're here.
"Everything is, 'Know your area here, know your plants here,' " Gross says.
In 2009, UNC Charlotte began offering its Certificate in Native Plant Studies program. It fills up almost every session. In an effort to show students what a landscape made up entirely of native plants would look like, the Botanical Gardens created the Mellichamp Native Terrace. The garden uses traditional home landscaping features, such as stone walls and gravel paths, to demonstrate how native plants can function in such a space.
But landscaping doesn't have to be black or white. Gross suggests taking it one plant or section at a time. If the corner of your backyard is on your list of projects, do some research to see what native options might fit the space. Or, if you have one plant that needs to be replaced, consider a native.
"Some people are going to want super-formal or to turn their whole yard into a meadow," Gross says, "but most of us are in the middle."