Why You Should Bring Your Kids to Saturday's School Fair
Choosing a school for your child is a big decision.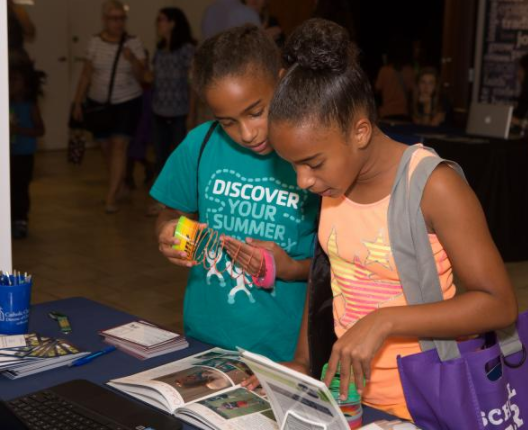 Extracurricular activities. After-school care. Tutoring. Special education programs. Sports. These are all possible features of Charlotte-area private schools that may appeal to you and your family. Because the issue of finding the right school for your child never gets easier, Charlotte magazine and Charlotte Parent have teamed up once again this year to hopefully make the decision less difficult for you.
As a parent, your time can feel spread too thin as it is—it can seem there's never enough time in the world to get everything done between helping with homework, scheduling play dates, and getting dinner on the table, all with minimal complaints (impossible). Especially when you have to factor in the time-consuming task of visiting schools and meeting various staffs come a new school year. That's why we wanted to save you a lot of time (and gas money) and have decided to bring a large amount of Charlotte-area private school representatives to one accessible place: the BB&T Ballpark in uptown. Because you, the hard-working parents in Charlotte, deserve it.
This year's School Fair takes place on Saturday, October 7, from noon to 3 p.m. If you're still on the fence about attending, here are the fast facts detailing why you need to go.
All ages are welcome
With our participating schools ranging from pre-k through grade 12, you can bring the whole family out to enjoy a gorgeous Saturday afternoon in the city.
There are 32 schools to check out
It'll be hard to find a better selection than this all in one convenient spot. Quickly cross off the "no's" and circle the "maybes" in this well-organized and robust event designed specifically to help you find the perfect private school for your kid(s). See the full list here.
The atmosphere is low-stress
Chatting with school representatives can be a bit stressful, especially if you're stuck on a school tour with no escape. At our School Fair, you can easily move from booth to booth at your leisure, with no expectations to visit schools you're not interested in. Just browse and chat with whoever feels right.
Kids will love it
Though we don't want to leak any spoiler alerts in anticipation for this weekend's event, we can tell you that there's always something a little extra for the kids to enjoy. Past School Fairs have included fun balloon animal stations and the like.
It's free
Thanks to Big Air Charlotte, Allergy Asthma & Immunology Relief, Charlotte Pediatric Dentistry, Discovery Place Science, and Bold Music, admission costs you nothing. What sounds better than a temperate fall Saturday spent in uptown with your loved ones while you solidify a bright future for your children without paying a dime? We may be biased, but we think nothing sounds better than that.
Check out the event on Facebook, and make sure to RSVP so your friends know where to find you this weekend.