With Fūd at Salud moving out, Salud will expand space and open own kitchen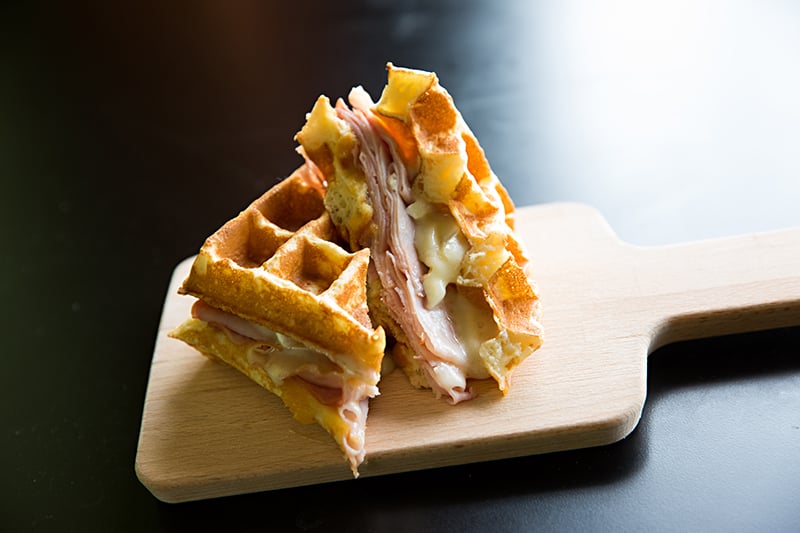 Fūd at Salud, the NoDa deli famous for its "waffle-wiches," is moving from its in-house spot at Salud Beer Shop. And while Jeff McElwee has new plans in the works (more on this in a bit), you'll still be able to get, well, food at Salud.
Owner Jason Glunt said Wednesday the Salud staff will be taking over Fūd's current kitchen, adding equipment and making some changes to the menu as well.
"We'll be doing some remodeling and adding equipment," Glunt says. "The plan is to make the kitchen area a bit bigger, and you'll be able to order at the bar (in Salud Beer Shop) and upstairs (at Salud Cerveceria, the shop's brewery).
"I think this will help define us a little more. It almost makes us into a little brewpub and we're excited for people to see the changes."
One of the major additions will be a brick oven for wood-fired pizzas. Glunt says he also plans to add an oven range and grill. Aside from pizzas, the menu is still being worked out but Glunt mentioned several items including charcuterie and cheese plates, salads and daily themed specials.
"We want to do a lot of chef-driven things," he added. "For instance, on 'Wine-Down Wednesdays' we're thinking of pairing that with oysters, and then maybe doing a 'Tostada Thursday,' where we incorporate umami."
Glunt says they'll also be working with Jesse Leadbetter of Freshlist, which delivers fresh ingredients from local farms to restaurants and homes. There currently are no plans to name the new kitchen – it will simply be an extension of Salud Beer Shop.
With the new additions and installs, Glunt hopes to have everything up and running by the beginning of summer. Heading up the new kitchen will be Teddy Spickler, who has been working part-time at the shop and brings restaurant experience from his time in Chicago.
Until the new kitchen opens, you'll be able to order in from several surrounding restaurants in the NoDa neighborhood. Glunt adds Salud may also work something out short-term with the nearby NoDa Sabor Latin Street Grill location (Sabor founder and chief executive Dalton Espaillat is the brother of Salud co-owner Dairelyn Guzman-Glunt, Jason's wife) – "It's all in the family," Glunt says with a laugh.
Fūd at Salud opened in May 2015 and had a huge moment when it appeared on Diners, Drive-ins and Dives last spring, where host Guy Fieri praised the "You're Killin' Me, S'mores," which featured toasted marshmallows, graham crackers and Nutella pressed between two Belgian waffles.
McElwee is moving on to partner with Queen City Grounds, a coffee shop at the Skyhouse Apartments on North Church Street in uptown Charlotte. He will be heading up the kitchen and curating the menu (look for a spring opening), and also has plans to open a food truck, or "Fūd" truck in the near future.
"We really appreciate Jeff and what he did to help us grow," Glunt says. "He wanted to expand, and really there wasn't any room left here. I truly wish him the best."
Fūd at Salud's last day at the original location is February 4, and there are big plans for the final days (Feb. 2-4) in what McElwee called "a weekend-long blowout."