Wooden Robot taps Juice Island IPA for its first can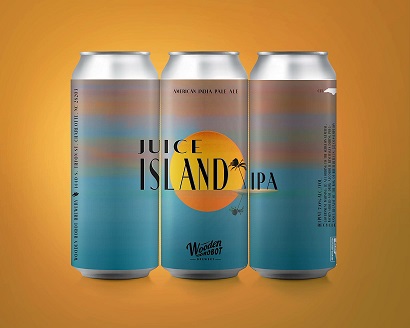 After a few highly successful sour bottle releases, Wooden Robot is going with a new IPA for its first canned offering.
You'll be able to get 4-pack cans of Juice Island IPA beginning Thursday in the brewery's taproom at 4 p.m. This American IPA (with a name that perhaps gives a wink and a grin to Goose Island?) comes in at 7 percent ABV. Wooden Robot has impressed with many of its IPAs so far, including the What He's/She's Having series, so anticipation is high for Juice Island.
This beer will only be sold in the taproom, with no distribution. Four-packs (16-ounce cans) will be $14 each (no single cans will be sold). Wooden Robot's staff were doing a same-day canning run and expected about 130 cases of the beer, with the limit being one case per person if you so desire. You will purchase tickets from the bar, and then move to another station in the taproom to pick up your beer (cans cannot be consumed at Wooden Robot, though). The brewery used this method for its most recent bottle releases of the Réservé Series last month, which went seamlessly and smoothly.
It should be noted the brewery may change the limit based on demand of people lining up (always a possibility given the heightened excitement over new Charlotte beers and Wooden Robot's past release history. I don't expect these cans to last very long, so if you're interested, it's better to arrive right at 4 p.m. today. Finally, no word on any scheduled cans after this one, but one could only hope the ultra-popular Good Morning Vietnam is on the docket.