"Works by Warhol" Exhibition Opens at Hickory Museum of Art
Featuring 36 iconic artworks by Warhol plus a documentary about the artist created by Charlotte high school student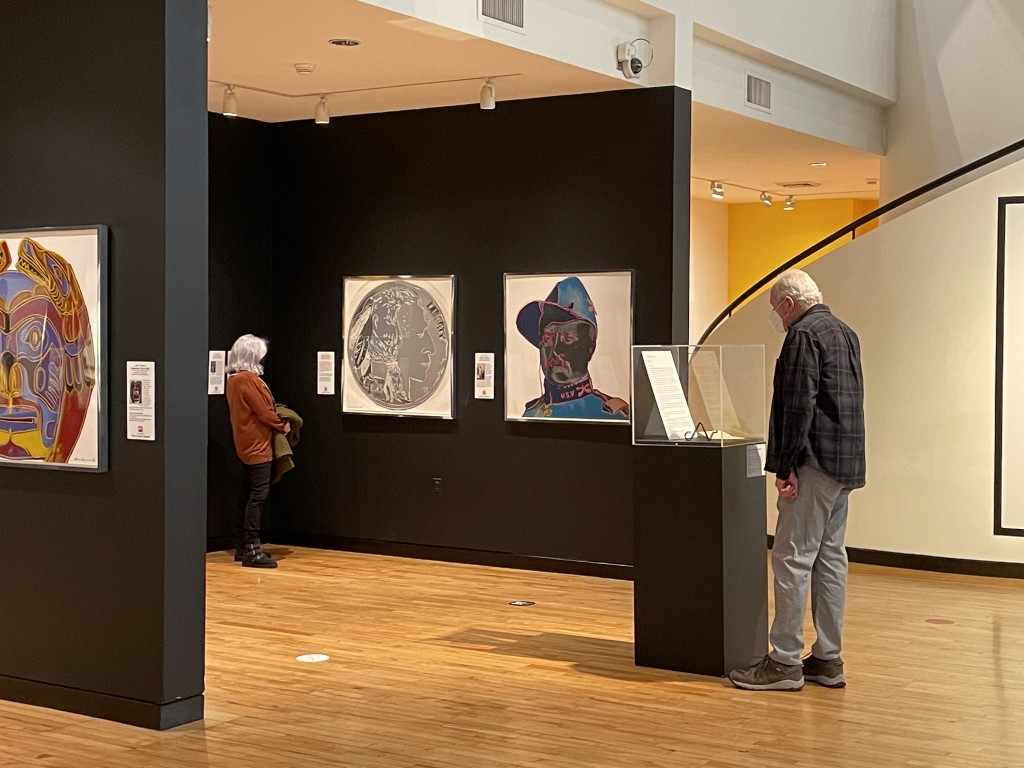 ---
Making art accessible to all ages, the "Works by Warhol" exhibition brings 36 iconic masterworks by one of America's most prominent artists to Hickory Museum of Art (HMA).
Admission is free at HMA, so start planning your trip to 243 Third Avenue NE in Hickory for this once-in-a-lifetime opportunity to see Andy Warhol's work in person.
"Works By Warhol" Exhibit Highlights
The exhibition will feature a broad cross-section of examples from Warhol's storied career, including the following highlights.
The galleries are activated by the appearance of pop culture staples such as "Mick Jagger," "Santa Claus," and "Mickey Mouse."
The show explores Warhol's responses to major moments in U.S. history, including the assassination of John F. Kennedy, Neil Armstrong's moon landing, and the perception of Native Americans in the aftermath of the bicentennial of the United States.
The exhibition includes the entire series of "Myths." This body of work was completed in 1981 and showcases Warhol's lifetime fascination with Hollywood imagery. Afflicted as a youth by a sickness termed St. Vitus' Dance, the artist spent countless hours absorbing television, movies, and graphic novels. "Myths" marks a return to his formative encounters with figures such as Howdy Doody, the Wicked Witch of the West, Superman, and more. However, the series can also be interpreted through the lenses of consumerism and gender stereotypes.
It also features "American Icon: Andy Warhol," a documentary by Ardrey Kell High School junior Anna Banas. After learning about Andy Warhol's cultural impact, Banas participated in the documentary category of the National History Day Competition to create the documentary on Warhol and his work.
A series of events will surround and enhance the exhibit experience.
Plan Your Visit to See "Works by Warhol"
HMA is open to the general public and admission to "Works by Warhol" is free. Visit HickoryArt.org for more information on event dates as well as other possible virtual and in-person programs as allowed by Covid-19 restrictions at that time.
Although the museum is closed on Mondays and Tuesdays, HMA is offering exclusive members-only access to the galleries on Mondays through June 6, 2021. Those interested in making arrangements to participate in Member Mondays should contact Hickory Museum of Art at 828-327- 8576.
Safety Precautions
Hickory Museum of Art is taking every precaution to keep visitors safe:
Museum staff and guests are required to wear masks per state guidelines
Surface spaces are sanitized every two hours
Hand sanitizer stations are located in each gallery
---
Hickory Museum of Art was founded in 1944 to collect, care for, and exhibit American art. Today, more than 75 years later, the Museum has evolved into an arts center featuring an extensive permanent collection of art objects across all mediums as well as offering a variety of educational classes for all ages. Hickory Museum of Art is located on the SALT Block, 243 3rd Avenue NE, Hickory. For more information about museum exhibitions, art classes, field trips, and events, visit www.HickoryArt.org or call the Museum at 828-327- 8576, ext 201. Business sponsorship information is also available at the same telephone number.