Yes, Charlotte, This Hornets Season Is Going to Be Different—Because We Are.
Analysis and scenes from a thrilling home opener that honored a late sports media legend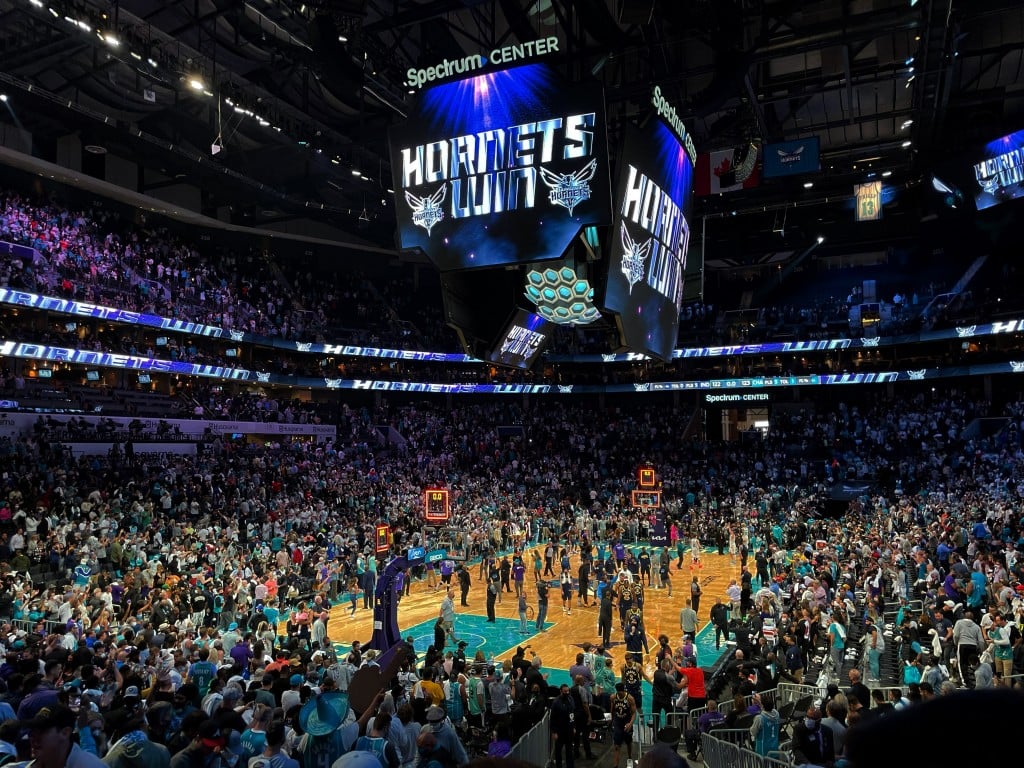 BEFORE TAKING THE FIRST QUESTION, Charlotte Hornets Coach James Borrego wanted to say a few words about Rick Bonnell. "He gave so much to this community, and it feels a little strange without him (on) opening night," Borrego said, at a press conference before Wednesday's season opener. "We honor him. It's great that the organization as a whole will honor him, and he'll always be a part of our team, our community, our organization. And it's great that we get to honor his family tonight. Just wanted to start with that today because we miss him. We miss him."
Bonnell, a Charlotte Observer beat writer whose tenure lasted more than three decades, passed away in June. Earlier this week, the Hornets announced a $10,000 scholarship in Bonnell's name—intended for a journalism student enrolled at a North Carolina university or college. Even before entering the press conference room, reporters are now greeted by a new marker at Spectrum Center: the Rick Bonnell Media & Employee Entrance.
Borrego went on to field questions surrounding all of the major storylines leading up to this hotly anticipated season: Terry Rozier's health; the growth of LaMelo Ball, Miles Bridges, and Gordan Hayward; the addition of veterans like Kelly Oubre Jr. and Mason Plumlee; and the development of two promising young draft picks.
The game itself followed a similar structure to the press conference: Spectrum Center staff dimmed the lights for a video tribute to Bonnell, followed by the action he covered for 33 years.
***
YOU PROBABLY KNOW WHAT HAPPENED NEXT. After the slog of the first two quarters, a spark ignites within the team—including Ball, whose startling series of three-pointers and rebounds was met with the chant of, M-V-P, M-V-P. By the time the Hornets turned a 23-point deficit into a lead, the voices surrounding the media section had become hoarse. The final score, partially thanks to late-game heroics from PJ Washington: 123-122. "We never gonna quit," Oubre said in a post-game interview. "We're gonna keep coming."
But again, you know this by now, and I can't tell you the exact in-game conditions that led to the victory. The Hornets beat writers, following the mold of greats like Bonnell, can you tell you far more about the casual nexus between the Hornets of the first and second halves: Their vital work, filed to editors just minutes after the final buzzer, has already made its way through the tributaries of social media.
My concern, as I've been following the fan culture supporting the team over the past year, is somewhere else: in the stands. In the minutes after that game, I tried to determine whether or not that fan response was as seismic as it seemed. Hornets fans, after all, are known as a laconic bunch. The crowd roaring inside Spectrum Center, though, sustained its colossal energy from the third quarter on. (And I don't think it was just because of the free "THE HIVE IS ALIVE" T-shirts.)
Hayward wasn't the only player to credit the turn during the third quarter to fans, but he put it most bluntly, in the context of a year prior with minimal fan involvement: "It just goes to show we need our fans. They brought us some life."
I reached Crown Club co-founder Evan Kent with a question. Kent and his brother, Scotty, have seen more games than most. "I have to get your perspective here: Was that crowd energy special or is this just recency bias?"
"Nah, that was nuts," he texted back. "If you've been on this team for less than a year as a player, that would've rocked your world …"
***
IT'S THE LEAGUE'S 75TH ANNIVERSARY. Charlotte's team has been around for less than half of that, but Hornets fans have endured enough drama for a few generations. But all of that's been ligated and re-ligated, and our deep dive this year already revealed one truth: The bandwagon is ready for all of us, no matter our reason for coming aboard. With each game, we're transitioning into a new fanbase.
Borrego recognized the energy in the stands was different this time around too, but he does have a request. "We just need them a little bit earlier," Borrego said. "My challenge for Hornet fans (is) we want you there for 48 minutes."
It's a fair ask. We're all roleplayers: The team is doing its job and growing, even after a perilous final preseason game that could have set a dimmer tone. The beat writers, like the late Bonnell, continue to ask difficult questions and offer context that works against fairweather notions; and we, as supporters, know there is no energy inside Spectrum Center if we don't provide it.
Let's get to work.
Andy Smith is associate publisher of this magazine.