Your guide to upcoming local craft beer fall festivals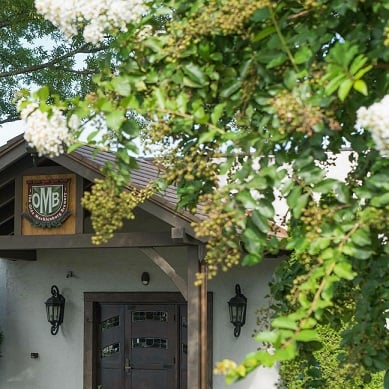 While spring is when many of Charlotte's craft beer fall festivals take place, there are also a good number set for the fall, including the largest one in the Queen City. Plan ahead over the next two months; here's the rundown:
–The (excellent) beer has been out for a while, and now it's time for the official Mecktoberfest celebration. Held at Olde Mecklenburg Brewery over the entire weekend (Friday – Sunday), Mecktoberfest is the local homage to the traditional Oktoberfest event.
Longtime event act (this is the band's ninth year headlining Mecktoberfest) Holzhackern Tyrolean Band is one of three bands playing all weekend, joining Sauerkraut Band and Little German Band. All three days will have the same schedule as follows: Sauerkraut Band (11 a.m. to 2 p.m.), Little German Band (3 p.m. to 6 p.m.) and Holzhackern Tyrolean Band (7 p.m. to 10 p.m.).
Expect traditional Oktoberfest food from OMB's kitchen such as currywurst and knockwurst, German potato salad, pork schnitzel and the ever-popular and delicious Bavarian pretzels with Olde Meck Copper beer cheese. Of course, the brewery will have a full lineup of beers on tap, including Mecktoberfest. There is no charge for this festival, and it will begin at 11 a.m. each day and run until 11 p.m. Friday and Saturday and 10 p.m. Sunday.
–Catawba Brewing is also celebrating the German festival with its Oktobeerfest this Saturday. The event runs from 2 p.m. to 6 p.m. and Catawba has brewed a small batch German flight for the occasion that includes an Altbier, Festbier, Marzen and Roggenbier. There will be live music from East Side Growlers as well as food onsite.
–For those up north, there are two festivals to watch for, beginning Saturday with the Fall Lakefront Hops Fest at the Langtree shopping development off exit 31 on I-77. A total of 16 breweries, including Catawba, D9, King Canary, Legion Brewing, Olde Mecklenburg and more will be pouring at The Kilted Buffalo and Sun Up Café at Langtree from 1 p.m. to 7 p.m. Coddle Creek and Little Johnny Trailer Trash will be performing as well. The event is free to attend and some proceeds from beer sales will benefit Ace & TJ's Grin Kids.
And the next month, the sixth annual Laketoberfest Music and Brew Fest is set for Oct. 20 from 4 p.m. to 9 p.m. at Bailey Road Park in Cornelius. There will be beers from the likes of Ass Clown, Birdsong, Blue Blaze, D9, Eleven Lakes, Olde Mecklenburg, Sugar Creek and more, as well as numerous food trucks, live music and a kids zone area.
–If you're a pumpkin beer fan, Sycamore Brewing is the place to be this Saturday. Postponed a week due to Hurricane Florence, the brewery is set for its Pumpkin Fest beginning at noon. Sycamore will be featuring a wide-ranging taplist of fall beers including two pumpkin ones – its stellar seasonal Gourd Have Mercy and the new Pumpkin Latte Blonde, a blonde ale brewed with coffee and spices (cans of PLB went on sale last Friday and will also be available). This festival will feature live music on two outdoor stages, along with an extensive lineup of food trucks including Baltimore Crab Cake Company, BUNappetit, Gyro Twins Truck, OooWee BBQ, The Dumpling Lady and Yummi Banh Mi. Sycamore is also selling special event T-shirts and koozies for Pumpkin Fest, which goes until 10 p.m.
–Centered among the city's fall festivals is the longest-running one, Charlotte Oktoberfest. After pausing for a year in 2016, the festival came back better than ever at Symphony Park at SouthPark last year. For the 19th iteration, Charlotte Oktoberfest will take place Sept. 29 inside Bojangles Coliseum at 1 p.m.
More than 75 breweries are scheduled to attend the event, including almost all of the ones in Charlotte, along with regional breweries from North Carolina, South Carolina and Virginia. There will also be plenty of food vendors as well. Tickets for Charlotte Oktoberfest are on sale now. General admission tickets are $42 for general admission and $62 for VIP tickets (which gets you in an hour early and also access to special VIP beers from many of the breweries) and can be purchased here.
In its history, the festival has been able to donate more than $600,000 from proceeds to local charities, and this year's beneficiaries are the Bravo Alpha Foundation, Dark Lite Initiative and North Carolina Homebrewers Alliance.
–The Taco Lucha festival also happens to be going on the same day (Sept. 29) at the N.C. Music Factory fairgrounds. For this one, think more regional and national breweries rather than primary local, along with Charlotte restaurants competing for the best tacos as judged by you. This festival also features performances by Coolio and Judah and the Lion, as well as live luchadore wrestling. The unlimited beer sampling runs from 2 p.m. to 5 p.m., followed by the wrestling and then music performances.
Tickets are $39 for the beer and music festival, and there is also a late entrance ticket option ($29) if you are just going for the music (Note: The tacos are not included in your ticket cost; you'll need to bring cash or a card for those). Tickets can be purchased here.
–One of the newest breweries to arrive in town is set for its first festival. Pumking has long been one of Southern Tier's most popular seasonals, and Brewers at 4001 Yancey (which houses Southern Tier and Victory) is putting on a Pumking festival Sept. 30 from 2 p.m. to 9 p.m. (the date was originally Sept. 16 but moved due to Hurricane Florence). The brewery will have Pumking on along with special versions (in the past, Southern Tier has released Cold Press Coffee Pumking, Chai Tea Infused Pumking and Rum Barrel-Aged Pumking), as well as Pumking-inspired dishes from the kitchen and live music throughout the day.
–Finally, the South End Craft Crawl has long been a popular staple of Charlotte Craft Beer Week in the spring, and for the first time ever the neighborhood will put on a fall edition on Oct. 6 from 2 p.m. to 6 p.m. Here's how it works: there is free transportation on the trolleys that will take you to bars and breweries within South End, however many you want to go to.
Participating establishments are Craft Tasting Room and Growler Shop, Hyde Brewing, Lenny Boy Brewing, Max & Lola Bodega, Pop the Top Craft Beer Shop, Red Clay Ciderworks, Sycamore Brewing, The Brass Tap, Triple C Brewing, Unknown Brewing and Wooden Robot. Oftentimes these bars and breweries will throw something special on tap for the event, so stay tuned.