Your Memorial Day local craft beer roundup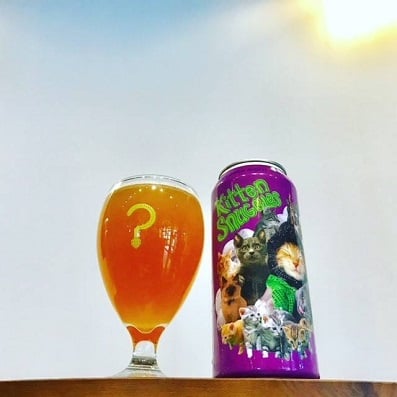 There is no shortage of events in Charlotte for Memorial Day weekend, and that includes the local craft beer scene. Check out the rundown below:
FRIDAY
–After ringing in the warm weather two weeks ago with its ever-popular seasonal NoDajito, NoDa Brewing is ready to release a brand-new beer that looks perfect for summer. Dreamsicle IPA is a West Coast IPA brewed with orange peel and vanilla beans. The result is as it sounds: a delicious beer sure to tantalize your taste buds.
Four-packs of Dreamsicle IPA are available for sale for $14.99 each, and the beer will also be on tap as well at NoDa. There is no limit to the amount of cans you can buy, and this beer will also see local distribution beginning next week.
–Meow is the time to check out Unknown's latest, and limited release. Kitten Snuggles is a farmhouse ale brewed with apricots, milk sugar and yes, catnip flowers (this is Unknown we're talking about). This beer actually was released a few years back and the brewery had numerous requests for its return, and decided to make a full event out of the new batch.
This is a taproom-only release (cans and draft) at 6 p.m., and Unknown has teamed up with Mac Tabby Cat Café to bring kittens to the brewery for the event. Also, $1 from every Kitten Snuggles pint sold Friday will go to the rescue organization Catering to Cats and Dogs.
SATURDAY
–Lobster fans rejoice: Sycamore is putting on a festival just for you. Several popular food trucks will be serving up their finest lobster dish for the Lobster & Beer Summer Fun Fest. This event will run from noon to 10 p.m. Saturday. Scheduled to be at the brewery are Baltimore Crab Cake Company, Cousins Maine Lobster, Cuzzo's Cuisine, Gyro Twins and Papi Queso. Expect such treats as lobster rolls, lobster mac and cheese, lobster grilled cheese and more.
Sycamore will also feature two stages of live music, headlined in the evening by TreeHouse and Falconheart. Of course, the brewery will have a full lineup of its beer, wine and newly introduced Wild Blossom Cider along with beer pops as well.
–Triple C Brewing's Hyzer Hefeweizen has been a staple for the South End brewery for some time, and Saturday marks its annual release. This German-style wheat beer named for disc golf aficionados comes in at 5.2 percent ABV, and brings a refreshing taste when you're out on the course, or doing other activities (my failure as a disc golfer puts me in the latter). Cans and draft of Hyzer Hefewizen will be available at Triple C beginning at noon, with local accounts seeing distribution next week.
–For the first time this year, Birdsong is putting its Take Flight Series in cans. This weekend's release is Weasels on Woodpeckers, a Belgian saison brewed with fresh peaches then aged in white wine barrels. Thanks to Birdsong's awesome sales rep and do-everything staff member Jenny Sassman, I managed to get an early taste of WoW and that acronym is fitting. The Belgian yeast has a little spice but at the same time it has a clean and sweet finish thanks to the peaches.
Weasels on Woodpeckers will be available at Birdsong's taproom at noon in 4-packs of 16-ounce cans, and it will be on draft too. A limited amount of cans will go into local distribution as well.
–Duckworth's is holding its annual Battle of the Casks event at 1 p.m. at the Park Road location. I wrote about this earlier in the week; find out all the details here.
–Finally, Catawba Brewing is set to release its second beer in the brewery's Cloud Cover hazy IPA series. Rebellion Roads is the latest of Catawba's NE-style IPAs, featuring Motueka, Nelson, Pacifica and Sauvin hops. This beer joins Rising Sun, the first in the series that was released last month. Rebellion Roads will be available in Catawba's tasting room Saturday at noon in both cans and on draft.