20 Charming Nearby S.C. Shops to Shop Local Art, Unique Gifts, Antiques, Plants & More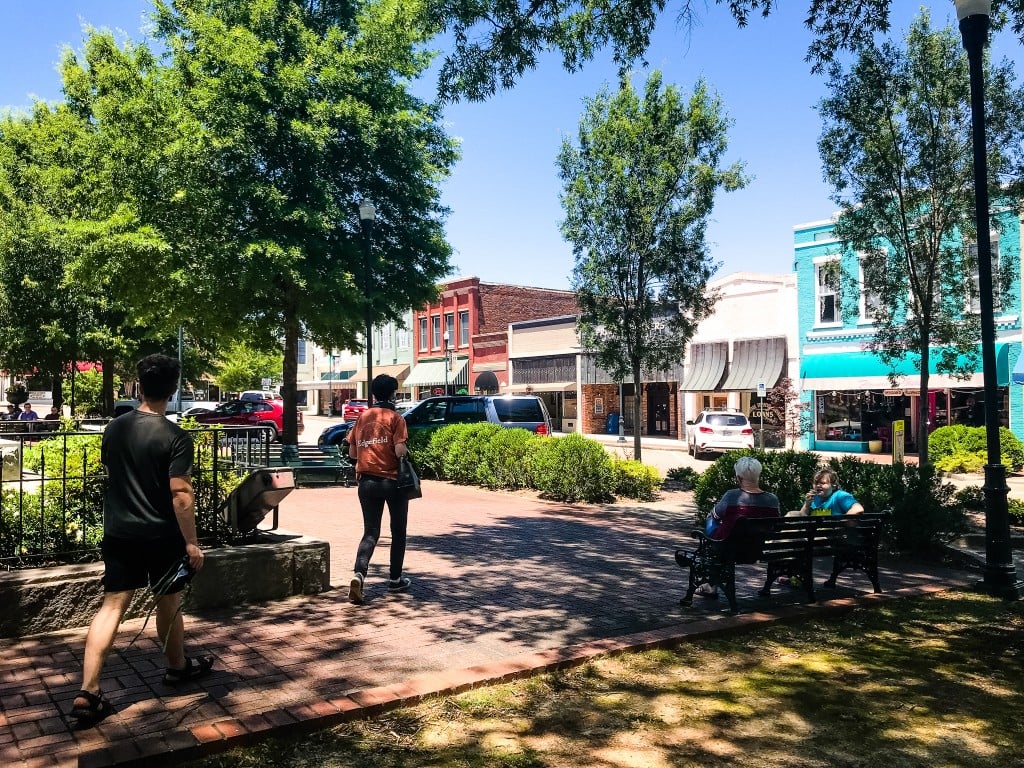 Holiday shopping is starting early in 2020, and it's never a bad time to get a headstart on your list. In a time that has tested our communities across the Carolinas and the country, small businesses and boutiques need your support now more than ever.
The best part is, small businesses are often goldmines for unique gifts. Mom-and-pop shops offer one-of-a-kind finds that mainstream stores can't compete with—you'll be so glad you decided to shop in the region instead of with corporate conglomerates.
It's true: When you buy from a small business, someone is on the other side is doing a "happy dance."
This holiday season, consider making a shopping trip out of your list and head down to northwest South Carolina, where adorable downtowns full of vintage stores, trendy shops, and artsy boutiques await. The area is known as the Old 96 District, a five-county region with unique shopping options galore and enough small-town charm to make you want to stay awhile. (You can, by the way. Check out these cute bed & breakfasts!)
No matter who is on your list this year, you'll find something special at the below shops just two hours from Charlotte. Happy shopping (small)!
Home, Garden & Gift Shops
Divine Your Space: This modern home and garden shop has it all for the homebody. 130 Trinity St, Abbeville, SC 29620; 864-366-8463.
The House Next Door: Shop collectibles, antiques, and other gifts here—with a side of classic Old 96 historic charm: The House Next Door has a one-room schoolhouse on site. 311 Jeter St, Edgefield, SC 29824; 803-637-4600.
Thayer's Furniture And Fine Gifts: Thayer's is a staple of South Carolina's history (est. 1916!). Find fine gifts and furniture pieces here for those celebrating a new marriage or another special occasion this holiday season. 302 Main Street, Greenwood, S.C., 29646.
Vintage Vault-Marketplace And Salon: Browse stylish apparel and home goods here, then consider taking a shopping break to get a pedicure at the salon in the back of the store! 331 Main St, Greenwood, SC 29646; 864-227-1914
Verdins Too: Enjoy this open-air plant market on the historic square of the town of Laurens as you browse the houseplants and garden decor for the green-thumbed giftees. 125 E. Laurens St, Laurens, SC 29360; 864-984-0244.
Urban 2 Country: Home chefs on your gift list will love the eclectic gourmet ingredients and chocolates you pick up at Urban 2 Country. Continue through the store and you can get gifts monogrammed and shop antiques upstairs! 102 E Pickens St, Abbeville, SC 29620; 864-366-0511.
Granny K: Great for gifting new homeowners or extra hospitable hostesses, this antique store has high-quality furniture and other fabulous finds. 3329 Highway 25 N, Hodges, SC 29653; 864-374-3040.
Rainbo Antiques & Interiors: Seek gifts here for the interior design lovers (or yourself!). From handcrafted furniture and fine china to reclaimed pieces, art, and other lovely homewares, it is easy to spend a lot of time browsing the showroom! 2720 Highway 25 South, Greenwood, SC 29646; 864-227-1921.
Breezy Quarters: Have someone on your list who loves all things scented, and does frequent home spa days? Breezy Quarters offers handmade self-care products that will fit the bill. 101 Church St, Abbeville, SC 29620; 864-362-0555.
Local Art, Clothing & Accessories Boutiques
View this post on Instagram

August + House: August + House sells a range of earthy-yet-refined home goods and accessories. Many of their goods are handcrafted in the store. 301 Main St, Edgefield, SC 29824, 803-510-7271
105 West: The boutique to shop for the Southern belles in your life—boasting brands like Simply Southern and carrying on-trend apparel and accessories. 120 Court Square, Abbeville, SC 29620; 864-366-9378.
Gift Gallery at the McCormick Arts Center At The Keturah (MACK): Check out local art at this museum, then hit the gift shop, where locally-made and hard-to-find uniquities await. 115 Main St, McCormick, SC 29835; 864-852-3216.
WolfTracks Gallery & Gifts: Find authentic Native American gifts made by a variety of artists, such as sculptures, baskets, jewelry, and other gifts. 121 Court Square, Abbeville, SC 29620; 864-366-0500.
Main & Maxwell: Browse art, pottery, and jewelry handcrafted by local and regional artists. 210 Main St, Greenwood, SC 29646; 864-223-6229.
Old Edgefield Pottery: Watch resident potter Justin Guy as he continues the 200-year-old tradition of making Edgefield pottery. Then, browse the selection of pieces available for sale. Read more about the Pottery's legacy crafted by hand here. 230 Simpkins St, Edgefield, SC 29824, 803-634-1634
Vintage & Antique Stores
Bottletree Antiques: Enjoy a refreshing shopping experience here—the antique store is on 11 acres of land where you'll see dogs, mini donkeys, and a lovely herb garden. 1962 Mt. Lebanon Rd, Donalds, SC 29638; 864-379-3479.
John Kemp Antiques: Shop local furniture and art antiques, among others. 306 Buncombe St, Edgefield, SC 29824; 803-637-3364.
Carnooosie Antiques at The Sheppard House: Housed in a historic governor's home built in 1870, shopping at this antique store is an experience itself. 407 Columbia Rd, Edgefield, SC 29824.
Nancy Roth Antiques And Joe Ewing Silver: This antique store sits right on the historic square of Laurens, SC, with silver and home goods. 120 S. Public Square, Laurens, SC 29360; 828-400-8110.
Southern Succotash: For a thoughtful gift, print your photo-loving friend's best Instagram images and add them to charming antique frames found here. 123 Washington St, Abbeville, SC 29620; 864-366-8447.
Click here for information about visiting the Old 96 District in S.C. for shopping and other leisurely weekend activities.