45 Years Later, Helen Adams Realty Carries on Founder's Legacy
Being woman-founded, family-owned, and locally-operated has allowed Helen Adams Realty to connect with friends and neighbors on a personal level while becoming the Charlotte area's trusted advisor for all things real estate.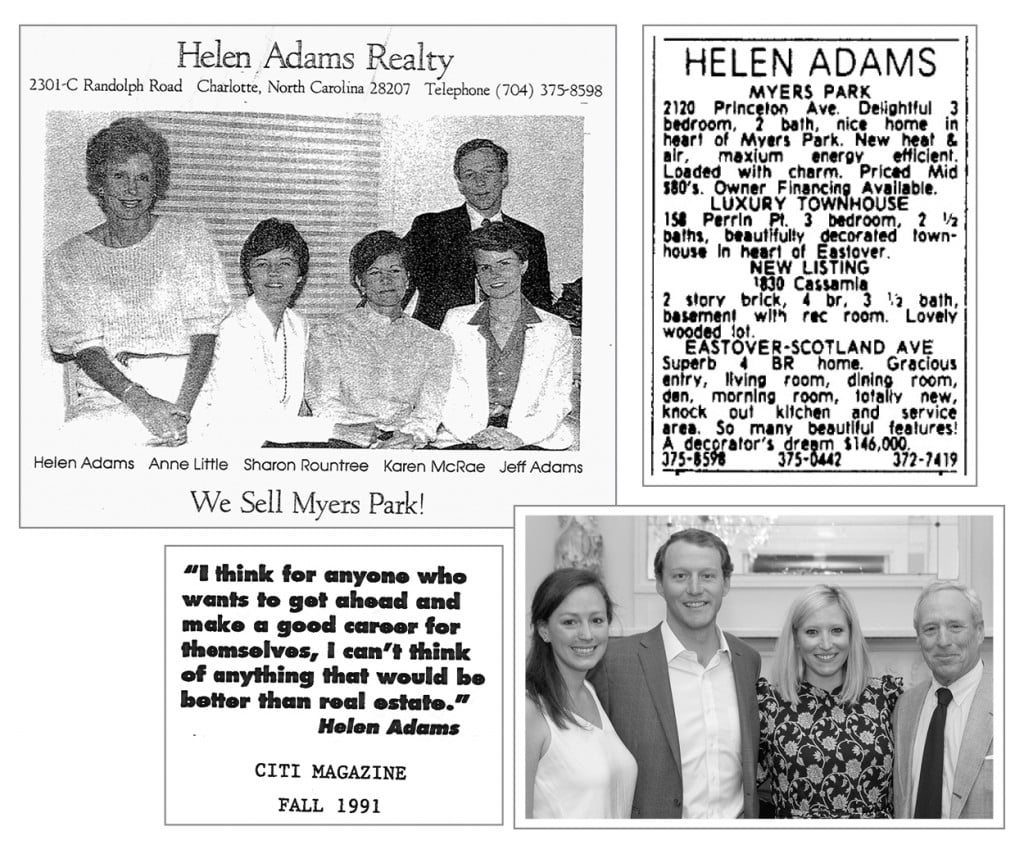 Helen Adams was born in Charlotte in 1928 with real estate in her bones.
As a sixth-generation Charlottean, her great grandfather was the president of Charlotte's Mutual Building and Loan Association, dating back to the late 1800s, and her father was a drugstore owner with many landholdings around town.
In 1975, Helen launched a venture of her own and founded her namesake firm with four female colleagues.
Forty-five years later, her legacy and deep local roots are carried on by her son, grandchildren, and the firm's agents and staff.
Reputation Is Everything
Helen's approach to the business was simple: Offer clients the highest level of personal service, unmatched local area knowledge, and unwavering ethical standards. This traditional, relationship-based approach is what continues to set her firm after all these years.
Agents at Helen Adams Realty consider themselves advisors and are dedicated to putting the client's best interests first. These agents understand that to provide the highest level of service, they must empathize and connect with each client's specific situation and become their trusted local expert.
As the firm continues to honor Helen's passion for providing personal service, Helen Adams Realty is committed to being the best. The firm has surveyed every client post-transaction since 2006, and they are honored that repeat and referral clients make up 75 percent of the business—a true testament to their agents' service and care.
"Your reputation is the only asset that truly belongs to you," says Jeff Adams, President of Helen Adams Realty and son of the fearless founder.
"If you understand this principle," he says, "then you realize that your true worth is measured not by deals but by the people and relationships behind them. Serve others with impeccable integrity and the rest will take care of itself."
"Welcome to the Family"
Today, Helen's son and grandchildren aim to uphold her legacy as they lead the firm toward a future that is deeply rooted in her standards of excellence.
Rebecca Adams Starrs, Frank Adams, Laurens Adams Threlkeld, and Eliza Adams have joined the family firm, as third-generation leaders, while learning firsthand from Jeff and the management team.
"What inspired me to join [the firm] was our grandmother's legacy of caring for her clients and giving them advice while navigating their transactions," says Frank Adams, Director of Affiliated Businesses and an agent out of the Randolph Road office.
"Our commitment to serving our clients, staying at the forefront of technology, and properly training our agents has allowed the company to be Charlotte's trusted real estate advisors for the last 45 years. Focusing on these commitments will allow for another 40-plus years of success," Frank elaborates.
Whether agents are new to real estate or have been at it for years, the team at Helen Adams Realty has them covered. The firm's personalized approach in partnering with agents ensures their individual goals are always top-of-mind.
Helen Adams Realty's staff offers assistance with everything from custom graphic design and strategic marketing to business planning and relocation partnerships. Continuous support is also provided through ongoing training classes and small group sessions that cover timely topics and provide value to experienced and new agents alike.
The feeling of family extends well beyond Adams' ownership structure. The firm's tight-knit management, staff, and agent community offer an environment of support and collaboration that is unlikely to be found anywhere else.
In fact, when an agent or staff member joins Helen Adams Realty, the message is not "welcome to the firm," but rather "welcome to the family."
Growing with Charlotte for Decades
Helen's achievements as a female entrepreneur and community leader laid the foundation for a thriving, multi-office real estate business. The firm has grown alongside its clients and neighbors, as Charlotte itself has experienced immense growth over the firm's tenure.
In 2018, Helen Adams Realty opened its fourth office and first across state lines in Fort Mill, South Carolina. This office joined Helen Adams Realty's other sites on Randolph Road (est. 1975), Ballantyne (est. 2000), and Cornelius (est. 2005).
Opening these offices in the booming suburbs of Charlotte helps provide hyperlocal service to agents and clients.
Agents at Helen Adams Realty can take advantage of the firm's campus-style approach and work at whichever office location is most convenient for them and their clients. These four office locations mean that agents can be an even greater asset to their clients.
Being woman-founded, family-owned, and locally-operated has allowed Helen Adams Realty to connect with their friends and neighbors on a personal level while becoming the trusted advisor for all things real estate.
Helen Adams Realty is now the largest independent residential real estate firm in the Charlotte area and continues to provide clients with exceptional real estate counsel, expertise, and customer service.
Today, second- and third-generation family members continue to successfully operate the four offices serving Charlotte's finest neighborhoods with a stalwart commitment to perfecting their craft and upholding their grandmother's legacy.
Click here to learn more about Helen Adams Realty.