5 Questions For Outgoing Catawba Riverkeeper Sam Perkins
Charlotte native's tenure marked by action on coal ash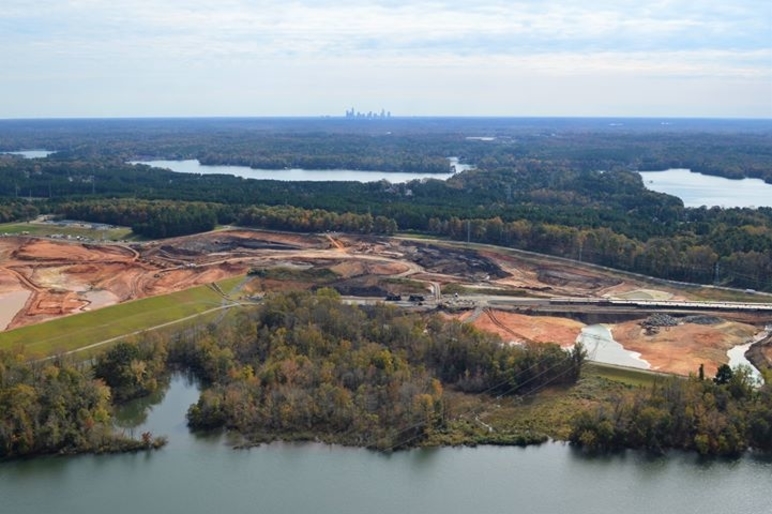 The Catawba Riverkeeper Foundation announced last week that Sam Perkins, a Charlotte native who had held the position of riverkeeper since 2012, was stepping down and that his understudy, Gastonia native Brandon Jones, would be taking his place. The foundation is a nonprofit educational and advocacy organization founded in 1997 and dedicated to protecting the Catawba-Wateree river basin from its headwaters in North Carolina to where it joins two other rivers in central South Carolina and becomes the Santee. Perkins, 32, is a Myers Park High and UNC Chapel Hill graduate whose custodianship of the river basin mainly centered on making coal ash ponds safe along the river, both before and after a 39,000-gallon spill into the Dan River near Eden in February 2014. Under his guidance, the foundation joined partners in suing Duke Energy, which at the time owned 32 basins at 14 sites in North Carolina, over its management of the waste. Perkins has also been one of the most visible advocates for erosion control and water quality at Charlotte's many construction sites. Answers are edited for clarity and space.
Charlotte magazine: Why are you leaving?
Sam Perkins: It's time. I had been there for six-and-a-half years, and I always loved the work itself. But I had a different vision from the local organization here for how to lead an organization to do that work. I don't have anything lined up. I am looking at other opportunities. I would of course like to continue to do something similar with water protection and working on some of the same campaigns. We will see what materializes.
CM: Looking back, what did you accomplish that you think had the most value?
SP: The coal ash work really was a point of pride because we have so much of it around here. During my time, we got two of the four sites on the Catawba-Wateree River secured for cleanup. It was always a very proud feeling to fly over Riverbend (Steam Station beside Mountain Island Lake and owned by Duke Energy) and see that site, at this point, almost completely cleaned up. That was 5.1 million tons of coal ash, and that took a tremendous amount of research on the ground and in the water investigating and sampling, and a push from us and the Southern Environmental Law Center, our counsel, to take on the largest utility in the nation. We got results there, and it breaks my heart that I'm not going to be there for Allen (Steam Station) on Lake Wylie and Marshall (Steam Station) on Lake Norman, because those sites have the same problem. They're two of the six sites in the Carolinas that have not been secured yet for cleanup.
CM: What you have not been able to accomplish that you wish you had?
SP: Being a small organization, it always comes down to time and money, and I wish I had been able to get more passed in terms of ordinances and legislation. Really, for the past decade in North Carolina, there have been a lot of attacks on environmental laws and regulations, so we've really just been in kind of fighting-rollback mode. We are hopefully going to start to see some movement on York County, mainly for Lake Wylie's sake, improving its sediment and erosion control regulations. The most common complaint we always got was sediment and erosion, and it's something where we have been able to work with developers, engineers, and regulators, and we've figured out what works to truly keep sediment on site so that even after a rain event, the lakes are still blue. That really needs to become the standard, and I hope we'll see that soon in York County and other counties where there's a lot of sprawling, booming development.
There are, I think, a lot of really commonsense regulations that I wish I could've spent more time on to get them put on the books. With sediment and erosion control, it's really design and performance standards; with sewer overflows, it's really a matter of notification requirements, reporting, and tracking when the sewer overflow occurs. One of the other most common questions we get is, "Is it safe to swim?" On the Coast, they do have a system where there's some bacteria testing, and they're able to say, "We've tested here, and the bacteria levels were OK." That doesn't exist for inland, freshwater recreation areas, though, and it really needs to throughout the Carolinas. We have a lot of people who live on fresh water and recreate, and they want to know if it's OK to hop in for a swim.
CM: Are the Catawba and its basin in better shape than when you became riverkeeper in 2012?
SP: I think in a lot of ways, yes, especially in having the protective measures in place to prevent some of the big incidents that could happen, like a failure of coal ash (ponds). What was really amazing, as someone who grew up in Charlotte and thought highly of Duke Energy, was to see how they cut a lot of corners and not been as diligent in maintaining their sites as a lot of people might have thought. So some of the discoveries we made, including for things that they literally lost track of and quit looking for; we were able to find old discharge pipes … so I think with a major coal ash disaster, with a big rain event that might have typically washed out a lot of the construction sites, with a lot of the flyovers for industrial agriculture waste, I definitely think there is a lot more awareness of what the issues are, and the big sources of pollution know we are watching.
CM: What are the two or three big issues that Brandon and the Riverkeeper Foundation need to continue to focus on?
SP: We have a fantastic network of a few hundred volunteers and members. Brandon is finishing up a master of science (degree) … The thing that is amazing coming from grad school is realizing that simple, logical science does not win out. You really have to engage the community to let their elected officials know that these things are important and that there's a lot more organizing to get the science to have weight than the typical graduate student would expect, sadly enough. So the main thing, I think, for him is going to be continuing to engage our great network of volunteers while organizing and speaking up on the issues. One of the toughest things with this job is that we cover the whole basin. That is 5,000 square miles, and it's an incredibly difficult balance to figure out what you're going to spend time on. It's really difficult, with a full-time staff of five, to cover. This is really a job that is supplementing what state and local governments should be doing in terms of environmental enforcement. So time management is one of the other key things.
A third thing, I'd say, is really keeping up the momentum on coal ash. We have fantastic partners, and SELC, and Waterkeeper Alliance … It has definitely been a marathon. But we are most of the way there. When I started in 2012, none of the coal ash sites in the Carolinas were secured for cleanup. We got the Wateree coal ash site near Columbia secured for cleanup. That was the first settlement of its kind, and South Carolina Electric & Gas has been ahead of schedule, under cost, and hasn't had to raise rates to cover the cost. They've shown how viable it is. We started our litigation before the Dan River spill on the other sites, but we now have all the sites in South Carolina secured for cleanup, and eight of the 14 in North Carolina. However, two of the six that are not secured for cleanup are Marshall on (Lake) Norman and Allen on (Lake) Wylie. So the Charlotte region still has a very potent chunk of the remaining coal ash … Simply put, these are unlined, leaking, old, mismanaged, and the solution is simple. You move it away from water, either to a lined site or recycle it into concrete. The concrete industry wants this stuff. And still, in North Carolina, we're importing coal ash from Asia. It's baffling … So this work, to continue to follow through and secure cleanups, is absolutely critical for trying to ensure we don't have a Dan River or Kingston, Tennessee, incident, but in a much more populated area … If we weren't in court pushing this, this would be completely dropped, without a doubt.