5 Reasons to Steal Away to Edisto Beach, S.C., This Spring
A paddleboard race, fishing tournament, and barbecue festival make this quaint South Carolina coastline an ideal spring getaway spot.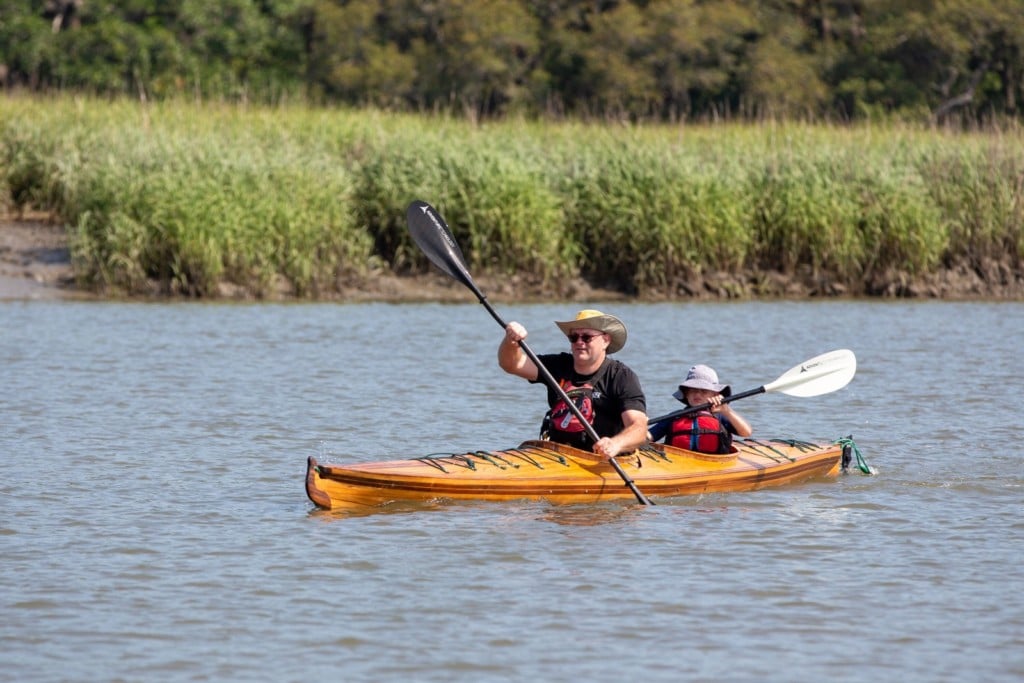 Spending weekends in Charlotte is something we recommend—it's a great way to get to know the place you call home. But sometimes, you just need to get away. In this city that feels like a small town, it's easy to dream about sandy beaches and the scenery of somewhere new—especially when the warmth of spring weather begs as it does.
So it often goes with quick getaways, all you need to flit away for the weekend is a great excuse. And Edisto Beach, South Carolina, has plenty for you to choose from. This secret oasis is just under four hours from Charlotte, and from April 20 through the month of May, you'll have (at least) five reasons to say "see ya later" to the Queen City. Plus, with the adorable beachfront accommodations and the road to paradise, how could you say no?
From a fishing tournament to arts and crafts shows, there's a reason for everybody to head to Edisto Beach this spring. Outdoor festival season in Edisto is just beginning, and you don't want to miss it.
1. Support Regional Artists
If you love soaking in the local culture, you'll have plenty of artsy affairs to choose from this spring in Edisto. On Saturday, April 20, from 10 a.m. to 4 p.m., you can peruse the annual Art Guild Spring Art Market beside the Edistonian. Or, if you're looking for a Memorial Day weekend getaway, the Jennie Gowan Memorial Art Show will take place May 24 through 26 at the Edisto Beach Civic Center. Lastly, if you choose to visit Edisto during the week, you're in luck, too! From April through October, there will be an Arts & Crafts Market every Wednesday from 9 a.m. to 4 p.m. at Bay Creek Park.
Support regional artists either by buying their work as a vacation memento or simply just attending these funky art markets. You never know when you'll fall in love with the newest piece for your collection.
2. Cast Your Line in a Fishing Tournament (or Just Hit the After-Party)
In someone in the household a fisherman? Those hoping to compete and those fascinated by the whole of fish are welcome to be part the 5th Annual Edisto Beach Dolphin Slam. This fishing competition takes place on May 4, 2019, at the Marina at Edisto Beach. Even if you don't cast a line in the competition, it's still a great reason to hang out at the marina. After the boats return to port, it's party time. Live music begins at 6 p.m. and goes until 10 p.m., while the winners are announced at 7 p.m.
3. Race Kayaks or Stand-up Paddleboards in Natural Waters
Spend your Saturdays paddling the Catawba River, Lake Norman, or even the waves of the Whitewater Center? Whether in a kayak or on a stand-up paddleboard, there is a place for you on Edisto Island this May. The 2nd Annual Edisto Island Classic Stand-up Paddleboard & Kayak Race is kicking off on May 11 at Edisto Beach State Park's Live Oak Landing, and if you know anything about Edisto, you know its untouched, natural beauty is worth exploring. Choose to compete or shout from the shoreline—you can't go wrong with this exciting event!
4. Chow Down at the Cookin' on the Creek BBQ Festival
On Friday, May 31, and Saturday, June 1, enjoy food, live music, and fun at the Cookin' on the Creek BBQ Festival, where you'll sink your teeth into tasty wings and barbecue. Of course, beer and wine will be on the menu. This official South Carolina Barbecue Association-sanctioned event features a Wing Throwdown on Friday night from 6 to 9 p.m. where guests can sample wing recipes from award-winning cooks while enjoying music from The Louie D Project.
Then, Saturday brings on the barbecue. Tastings will be available from 11 a.m. to 2 p.m. or until food runs out, and the live music will be provided by Mike Martin & The Beautiful Mess. Admission each day is $10, and the samplings, beer, and wine will be available via individual ticket purchases at the festival. Pro tip: Bring lawn chairs!
5. Treat Yourself to Beachfront Breezes
To be honest, nobody needs a reason to visit the beach more than, well, the fact that it's the beach! Not only is Edisto situated on the South Carolina shoreline, but this unique destination is a calming respite compared to other crowded beaches in the area. You can book an affordable yet luxurious stay at a beachfront rental home, enjoy the resort amenities of Wyndham Ocean Ridge, or drink in the views from a townhome on a lagoon. Click here to view accommodation options in Edisto Beach.