6 Experiences to Enjoy at Puntacana
Luxurious relaxation is calling your name. Opt for a Caribbean beach getaway at Puntacana Resort & Club, where you can have any experience you desire.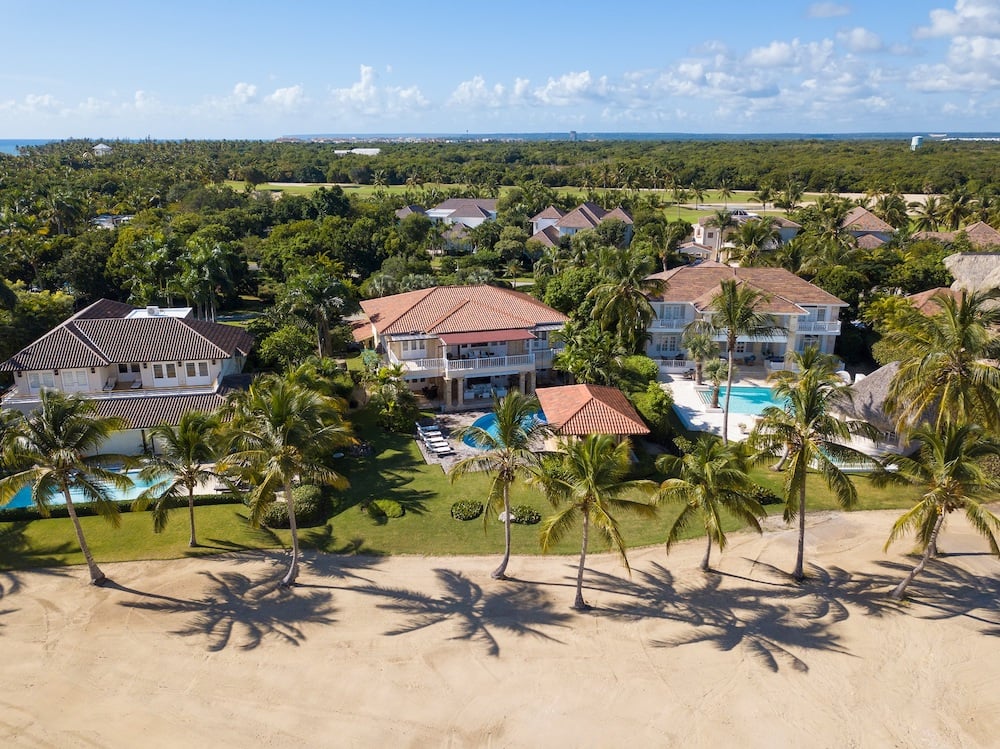 Any of your friends can visit the white-sand beaches of the Dominican Republic, but not everybody can experience the one-of-a-kind Puntacana Resort & Club.
With three luxury resorts (plus beach home rentals) across the island, each one offers its own experience for each kind of getaway. No matter if you're on a romantic adventure or it's a family affair, Puntacana Resort & Club has an option tailored to your needs.
When you book your vacation here, you indulge in the Caribbean's ultimate experience. You won't want to come back to Charlotte, to reality, when you find your zen at Punta Cana. From basking at the beach to playing at the most picturesque golf course you've ever been to and imbibing with a new dining experience every night, no matter where you stay at Puntacana Resort & Club, you're sure to have a vacation you'll never stop talking (or dreaming) about.
6 Experiences at Puntacana to Enjoy
1. Play 45 holes of championship golf
Refine your swing with a view unmatched. Puntacana Resort & Club features 45 holes of championship golf, so you'll have plenty of terrains to try. Especially if you're torn between golfing and spending time at the beach, scheduling a tee time will ensure you don't miss out—six holes are oceanfront and 14 are oceanview, featuring vistas of Tom Fazio's Corales and P.B. Dye's La Cana. Click here to learn more about seaside golfing.
2. Learn to kiteboard or scuba dive
Adventure is a must for some travelers. No matter if you're looking to learn something new or partake in a beloved hobby, Puntacana has the hook-up for watersports action. The resort recommends vendors for both scuba diving and kiteboarding from the Kite Club and Sea Pro to rent out kite- and windsurf boards, located at their eatery on the beach, Playa Blanca Restaurant. Click here to learn more about watersports experiences.
3. Eat to your heart's content
Are seven world-class restaurants enough to fill your appetite for a Carribean experience? With diversity in both cuisine and ambiance, the eateries onsite at Puntacana Resort & Club have something prepared for every palate.
Eat lunch seaside at Playa Blanca from your beach chair, or indulge in a traditional Dominican breakfast at Anani Restaurant. For a truly special dinner, get a table at the AAA Four Diamond Award-winning Bamboo Restaurant, tucked away at Tortuga Bay (more on this exclusive hotel below). Click here to view all on-site restaurants.
4. Treat yourself to a spa day
You deserve it. Let yourself relax and allow the master therapists at the world-renowned Six Senses Spa to work their magic on your muscles.
Your worries and tensions will melt in the hands of this gifted international team as they use patented holistic techniques and the unique Six Sphere Philosophy to rejuvenate your mind and body. Call 809-959-7772 or email SixSensesSpa@puntacana.com for more information about the spa.
5. Ride horses on the beach
This picturesque activity is a must for couples on a romantic Carribean getaway. If you're new to the island, embark on the Meet Puntacana ride, a unique tour of the beautiful resort. You can choose between daily one and two-hour beach rides, or a romantic hour-long sunset adventure if it is not already booked.
If you're new to horseback riding altogether, you can also learn to ride at the resort's new adult riding classes for beginners. Learn the basics in horse care and riding, then test your new skills on one of their beach tours! Young ones can also get in on the fun thanks to the ponies and school horses ready to help. Click here to learn more.
Where to Stay & How to Book
At Puntacana, it's about more than just the community; it's about a true sense of place. Feel right at home in a Caribbean villa, which will allow you to step into an authentically Dominican lifestyle of relaxation, excitement, and understated elegance.
The Westin Puntacana Resort & Club
a.k.a. the quintessential beach resort experience
Enjoy all of Westin's signature amenities at this exquisite resort located at Puntacana Resort & Club's magnificent Playa Blanca beach. Featuring 200 oceanview rooms, The Westin Puntacana features a huge outdoor pool, restaurants (including a beachside grill), a lobby bar, a hand-rolled cigar bar, a children's club, and walking trails.
Of course, you also get access to the dreamy white-sand beaches the Dominican is known for. Click here for more information.
The Tortuga Bay Hotel
a.k.a. the exclusive, luxury vacation you deserve
How do privacy, unparalleled personal service, and understated elegance sound? From the very beginning, your experience as a Tortuga Bay guest is memorable. As soon as you land, you are greeted as a VIP at the Punta Cana International Airport (PUJ) and are efficiently brought through immigration and customs, making for the most seamless international travel process you could ask for.
The Tortuga Bay Hotel offers convenience without nuisance—located within a private enclave within the resort, this gem, the only AAA Five Diamond-awarded hotel in the Dominican Republic, is comprised of 13 luxury beachfront villas.
The hotel is also a member of Leading Hotels of the World, and it makes sense why. The beachside one-, two-, three-, and four-bedroom suites boast interiors designed by Oscar de la Renta. Additionally, Tortuga Bay is home to Oscar de la Renta's first resort boutique. Tortuga Bay guests can also enjoy all of Puntacana Resort & Club amenities and facilities. Learn more here.
Four Points by Sheraton Puntacana Village
a.k.a. your Caribbean escape, close to everything
Conveniently located in front of Punta Cana International Airport (PUJ), The Four Points by Sheraton Puntacana Village gives you direct access to all the shopping and dining options Galerías Puntacana has to offer. If you're looking for a less secluded experience, this accommodation will be right for you!
Lean into the convenient location with day trips and easy drives to world-class golf courses, the immaculate white-sand beaches of Playa Blanca, and Santo Domingo (along the nearby Coral Highway). Click here for more information.
The Estates Experience
a.k.a. your private rental home with a pool
Be blissfully secluded at The Estates, where you can enjoy a residential vacation experience. This is a more private alternative to the hotel accommodations available, offering private villa and apartment rentals—including places with a pool and a magnificent view of the La Cana Golf Course. If you're hoping to gaze at the ocean, you're in luck, too—oceanfront rentals are also available. Learn more.